Welcome to our website
We hope everyone has a good Christmas and a peaceful New Year.
Our Next Event
Kevin Howells – Monday 23 January 2023 at the Olde House.
Our meetings take place at The Olde House, Loundsley Green Road, Newbold, Chesterfield, S40 4RN unless members are informed otherwise.
Membership costs £15. Visitors are welcome for a small fee which will be refunded if the visitor becomes a member on the evening.
Meetings begin at 7.30 p.m. and are held monthly from October to March. The evenings vary from Monday to Thursday.
Founded in 1963, we are the "senior" of the three societies in Derbyshire.
The aim of the Society is to further interest in and enthusiasm for cricket at all levels
Don't forget to visit the Derbyshire CCC website
THE VISIT OF DAVID GRIFFIN ON WEDNESDAY 7TH DECEMBER 2022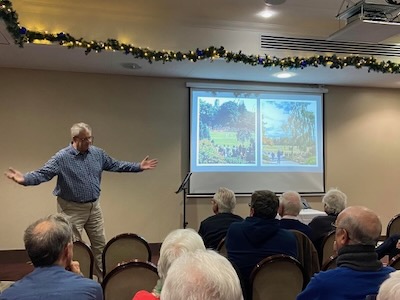 Photo courtesy of Paul Hand
Our last meeting before the Christmas break saw a capacity audience attend the Technique stadium to hear a talk on 'The Illustrated History of Derbyshire County Cricket Club' by David Griffin, who has served Derbyshire County Cricket Club in a number of roles over many years. He is probably best known for his work as the Club's Heritage Project Officer where he obtained over £100,000 of Heritage Lottery funding for the 'Proud to be Derbyshire' project.
David provided a comprehensive history of DCCC laced with photographs, statistics and good humour. He has the ability to draw out the personal qualities of past players which members found fascinating and it displayed his vast knowledge of his subject. Detailed statistics were recalled about all the players illustrated but these were not once anything approaching boring. He constantly put performances in perspective for the times and there were many comparisons with later players for the county. He was particularly interesting on the home lives of past cricketers and officials.
This was a dynamic presentation by David - his knowledge of, and passion for DCCC shone through a thoroughly enjoyable presentation laced with good humour, gravity and sincerity.
Everyone was staggered by his knowledge of all things Derbyshire. A wonderful way to go into the Christmas period, the evening was thoroughly enjoyed by all.
THE VISIT OF DEVON MALCOLM ON WEDNESDAY 30TH NOVEMBER 2022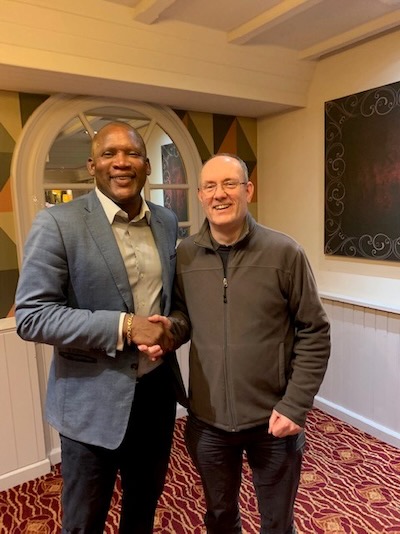 The photo shows Devon with Committee member, Bob Sargeant

Photo courtesy of John Windle
The Society was pleased to welcome the popular Devon Malcolm to the November meeting. He talked about the humble early stages in his cricketing career, based in Sheffield when he played for Sheffield Caribbean and Sheffield United cricket clubs. His major break came when he was spotted by Phil Russell from Derbyshire CC when he was playing for a Yorkshire League XI against a Yorkshire CCC XI. He made his debut at Queen's Park, Chesterfield in 1984 and since that time Queen's Park has been his favourite ground. He talked about his international career when he played in 40 Test matches and 30 One-Day Internationals. He gave an insight into the England dressing room and the characters within it. He was typically self-deprecating about his batting saying, 'it was comical'.
This under-average ability as a batsman seemed to add to his public popularity, and he was often given a big cheer when he went out to bat, more often than not at number eleven. He was a particular favourite of commentator Brian Johnston.
Devon talked with great fondness of his time at Derbyshire CCC, stating that he would always be grateful to the club for giving him his chance to prove himself as a cricketer. He talked about his life after retiring from playing – he is now a Match Referee for County Championship matches.
This was a typical Devon Malcolm evening – full of good humour and with a good relationship created with his audience. A very enjoyable evening.
---
Reports from Previous Meetings
2022/2023 Season
Paul Farbrace
Adrian Rollins
2021/2022 Season
Daryn Smit
Elizabeth Ammon
John Holder
David Millns
2020/2021 Season
Ian Morgan OBE, Ryan Duckett, Luis Reece
- Zoom Meeting
Ian Blackwell
- Zoom Meeting
Ryan Duckett
- Zoom Meeting
2019/2020 Season
Lawrence Booth
Steve Kirby
Dave Houghton
Chris Lewis
Tim O'Gorman
Stephen Chalke
2018/2019 Season
Ian Morgan OBE
Darren Bicknell
Malcolm Nash
Jim Cumbes
Geoff Cope
Tony Palladino
2017/2018 Season
John M Brown
Elizabeth Ammon
Richard Tomlinson
Jeremy Lloyds
Mal Loye
2016/2017 Season
Mike Hendrick
David Leatherdale
Kim Barnett
Wayne Madsen
Dave Fletcher
Neil Mallender
Alan Hill
Simon Jones MBE & Malcolm Ashton
2015/2016 Season
Richard Blakey
Angus Fraser MBE
Chris Watts & Steve Richardson
Paul Baldwin
Stephen Chalke
Wes Durston
2014/2015 Season
David Frith
Martin Bodenham
Grahame Lloyd & John Parkin
The Pyemont Brothers
Graeme Welch
Tony Borrington
2013/2014 Season
Simon Storey
Jeff Evans
Chris Marples
Colin Shindler
John Carr
Malcolm Ashton
2012/2013 Season
John Barclay
Cally Barlow
MJK Smith OBE
Stephen Chalke
John Lever MBE
Geoff Miller
2011/2012 Season
Chris Grant & Tom Poynton
Rev'd Mike Vockins OBE
Richard Kettleborough
Derbyshire Cricket Academy
Mick Newell
Roger Knight OBE
Clive Radley MBE
2010/2011 Season
Pat Murphy
Paul Edwards
Colin Tunnicliffe
Geoff Cook
Don Shepherd & Edward Bevan
David Morgan
Gallery

Members of the late Trevor
Bowring's family with
Mike Taylor and Jason Fage

Trevor's grandson, Sam, rings the
bell for the first time, with
Shirley Bowring and Mike Taylor
| | | | | |
| --- | --- | --- | --- | --- |
| David Marshall & James Pipe | John Barclay & Edwin Smith | David Marshall & John Barclay | Trevor Bowring, David Marshall & Bob Wood | John Barclay meeting,134 people enjoy a superb meal |
| John Morris & David Marshall | Trevor Bowring, Jim Parks & Jim Brailsford | Matthew Maynard & David Marshall | Niven Roper & Chris Kelly | Ray East & Mike Taylor |
| Chris Read & David Marshall | Steve Garratt & Niven Roper | Steve Franks & Alan West | Steve Kirby & David Marshall | Keith Loring & Mike Taylor |
Copyright © 2004-2017 Chesterfield Cricket Lovers' Society and CricketArchive