Welcome to our website
The next meeting of our 2023/24 programme will be held at Chesterfield FC's SMH Group Stadium
on Monday 11th December when the speaker will be David Griffin
Pie 'n Peas Lunch
with Fred Rumsey interviewed by Stephen Chalke
on Monday 22 January 2024 - 12 noon at Chesterfield FC's SMH Group Stadium
Members & Non-Members £20 each
Enquiries to johncwindle@hotmail.com
Our meetings take place at Chesterfield FC's SMH Group Stadium, 1866 Sheffield Road, Chesterfield S41 8NZ unless members are informed otherwise.
Membership costs £15. Visitors are welcome for a small fee which will be refunded if the visitor becomes a member on the evening.
Meetings begin at 7.30 p.m. and are held monthly from October to March. The evenings vary from Monday to Thursday.
Founded in 1963, we are the "senior" of the three societies in Derbyshire.
The aim of the Society is to further interest in and enthusiasm for cricket at all levels
Don't forget to visit the Derbyshire CCC website
THE VISIT OF BILL ATHEY ON WEDNESDAY 22ND NOVEMBER 2023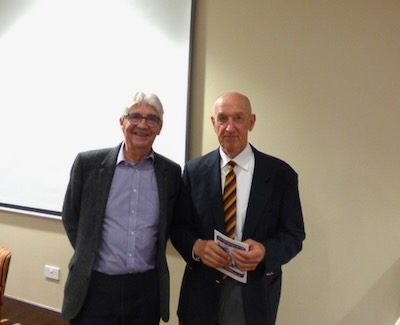 The photo shows Neil Swanwick and Bill Athey

Photo courtesy of John Windle
Bill Athey provided the society with an evening of humour, insights into the characters he had encountered during his career, and this was done with a great deal of self- deprecation and modesty. The feedback from members indicated that Bill was one of the best speakers that had been to the society.
Very proud of his roots in Middlesborough and he remains an avid Middlesborough FC fan (he did manage to get away with this despite reminders from some members that a certain FA Cup semi-final still provides distress amongst Chesterfield FC supporters!). He was a very talented footballer and cricketer with apprenticeship forms being offered by both Middlesborough FC and Yorkshire CCC. It was to the great benefit of cricket that he chose to sign for Yorkshire.
Bill made his debut for Yorkshire at Northampton in May 1976 and was confronted by a formidable bowling attack consisting of Sarfraz Nawaz, Bob Cottam, John Dye, Bishan Bedi and Peter Willey – quite a line up! His career progressed quickly, and he was selected to make his debut for England in the Centenary Test at Lord's in 1980. Eight years later he appeared in the Bicentenary Test in Sydney, one of only three England players to feature in both games.
He talked about many highlights of his test career including facing a number of ferocious West Indies attacks and being the nearest player to the Mike Gatting and Shakoor Rana face off at Faisalabad in the infamous 1987 Pakistan test. His best test memory was being part of the 1986/87 squad to contest the Ashes series in Australia. One correspondent had commented on the squad 'can't bat, can't bowl, can't field'. They won the series 2-1.
After his initial spell at Yorkshire he left, for well documented reasons, and went to Gloucestershire which he found to be a quieter environment. With Gloucestershire he spent nine seasons rooming and travelling with Jack Russell, as a result of which he had many stories about Jack's unique lifestyle – including his 25/30 cups of tea per day.
Bill is an affable and easy going individual who provided lots of anecdotes about his career which were thoroughly enjoyed by all attending the evening. It was generally thought that he was amongst the best speakers to recently visit the Society – with Bill's humour, humility and honesty to the fore.
---
Reports from Previous Meetings
2023/2024 Season
Daryl Mitchell
2022/2023 Season
Ryan Duckett and Wayne Madsen
Paul Aldred
Kevin Howells
David Griffin
Devon Malcolm
Paul Farbrace
Adrian Rollins
2021/2022 Season
Daryn Smit
Elizabeth Ammon
John Holder
David Millns
2020/2021 Season
Ian Morgan OBE, Ryan Duckett, Luis Reece
- Zoom Meeting
Ian Blackwell
- Zoom Meeting
Ryan Duckett
- Zoom Meeting
2019/2020 Season
Lawrence Booth
Steve Kirby
Dave Houghton
Chris Lewis
Tim O'Gorman
Stephen Chalke
2018/2019 Season
Ian Morgan OBE
Darren Bicknell
Malcolm Nash
Jim Cumbes
Geoff Cope
Tony Palladino
2017/2018 Season
John M Brown
Elizabeth Ammon
Richard Tomlinson
Jeremy Lloyds
Mal Loye
2016/2017 Season
Mike Hendrick
David Leatherdale
Kim Barnett
Wayne Madsen
Dave Fletcher
Neil Mallender
Alan Hill
Simon Jones MBE & Malcolm Ashton
2015/2016 Season
Richard Blakey
Angus Fraser MBE
Chris Watts & Steve Richardson
Paul Baldwin
Stephen Chalke
Wes Durston
2014/2015 Season
David Frith
Martin Bodenham
Grahame Lloyd & John Parkin
The Pyemont Brothers
Graeme Welch
Tony Borrington
2013/2014 Season
Simon Storey
Jeff Evans
Chris Marples
Colin Shindler
John Carr
Malcolm Ashton
2012/2013 Season
John Barclay
Cally Barlow
MJK Smith OBE
Stephen Chalke
John Lever MBE
Geoff Miller
2011/2012 Season
Chris Grant & Tom Poynton
Rev'd Mike Vockins OBE
Richard Kettleborough
Derbyshire Cricket Academy
Mick Newell
Roger Knight OBE
Clive Radley MBE
2010/2011 Season
Pat Murphy
Paul Edwards
Colin Tunnicliffe
Geoff Cook
Don Shepherd & Edward Bevan
David Morgan
Gallery

Members of the late Trevor
Bowring's family with
Mike Taylor and Jason Fage

Trevor's grandson, Sam, rings the
bell for the first time, with
Shirley Bowring and Mike Taylor
| | | | | |
| --- | --- | --- | --- | --- |
| David Marshall & James Pipe | John Barclay & Edwin Smith | David Marshall & John Barclay | Trevor Bowring, David Marshall & Bob Wood | John Barclay meeting,134 people enjoy a superb meal |
| John Morris & David Marshall | Trevor Bowring, Jim Parks & Jim Brailsford | Matthew Maynard & David Marshall | Niven Roper & Chris Kelly | Ray East & Mike Taylor |
| Chris Read & David Marshall | Steve Garratt & Niven Roper | Steve Franks & Alan West | Steve Kirby & David Marshall | Keith Loring & Mike Taylor |
Copyright © 2004-2017 Chesterfield Cricket Lovers' Society and CricketArchive