Welcome to our website
MEETING POSTPONEMENT
It is with considerable regret that the committee has decided to postpone the meeting scheduled for Thursday 14th December mainly because of uncertainties with the weather. Geoff Cope has agreed to come in the New Year.
The next meeting will take place on Thursday 25th January 2018 and the Guest Speaker will be Richard Tomlinson
An award-winning international journalist with The Independent and many publications around the world, Richard Tomlinson's Amazing Grace: The Man who was W.G. combines the author's passions for cricket and history to illuminate Grace's amazing feats on the cricket field against the backdrop of the British Empire and a wonderfully eclectic array of characters.
Future Speakers
Elizabeth Ammon, Geoff Cope and John M Brown.
Further details can be found under the Programme heading and, if you click on the speakers name, a little information about each speaker.
Our meetings take place in the pavilion at the Queen's Park cricket ground unless members are informed otherwise.
Membership costs £5. Visitors are welcome for a small fee which will be refunded if the visitor becomes a member on the evening.
Meetings begin at 7.30 p.m. and are held monthly from October to March. The evenings vary from Monday to Thursday.
Founded in 1963, we are the "senior" of the three societies in Derbyshire.
The aim of the Society is to further interest in and enthusiasm for cricket at all levels
Don't forget to visit the Derbyshire CCC website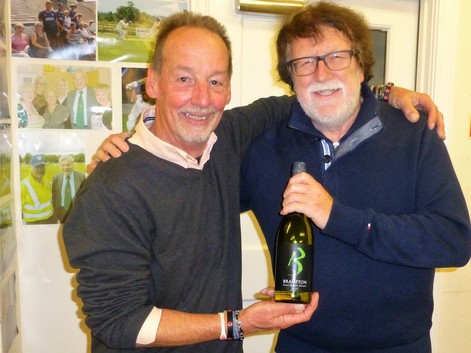 The photo shows Mike Taylor presenting a bottle of wine
to guest speaker, Jeremy Lloyds

Photo courtesy of John Windle
VISIT OF JEREMY LLOYDS ON TUESDAY 14TH NOVEMBER 2017
Another 'full house' for the latest meeting of Chesterfield Cricket Lovers' enjoyed an evening with umpire Jeremy Lloyds.
In his introduction the Chairman read out glowing tributes to Jeremy from three county players also playing with Chesterfield Cricket Club. Ross Whiteley, Ben Slater and Matthew Critchley all said that Jeremy was their favourite umpire.
Jeremy initially talked about his early life – he was born in Malaysia and when he moved to the UK he attended Blundell's school. He was a late starter in county cricket and after a long period on the MCC cricket staff at Lord's he made his debut for Somerset in 1979, by which time he was 24. During his thirteen years as a county cricketer he scored over 10,000 runs and took 333 wickets for Somerset and Gloucestershire. After finishing playing he went into coaching in South Africa before Barrie Meyer, the former umpire suggested he should think umpiring.
He was appointed to the first class list in 1998 and 'has enjoyed life immensely since then'.
Skilfully interviewed by Mike Taylor, Jeremy went on to describe some of the highlights of his umpiring career and the characters he had come across on the way. He also gave an insight in the art of umpiring and the secrets of what he takes out on the field with him. What he uses to count the balls in an over was fascinating – but only revealed if you hear him speak at a similar event!
He had firm views about how the game should be played and how it should be officiated. He believes that the best umpires go unnoticed.
He had a testing first experience as a Test umpire giving a batsman out lbw to the first ball of the Test, only to repeat the same (same bowler, same batsman) in his second Test as an umpire. At that time there were only five instances of a player being leg before to the first ball of a Test, two given by Jeremy!
The evening was enjoyed by all attending to see a real character of the game.
---
Reports from Previous Meetings
2017/2018 Season
Mal Loye
2016/2017 Season
Mike Hendrick
David Leatherdale
Kim Barnett
Wayne Madsen
Dave Fletcher
Neil Mallender
Alan Hill
Simon Jones MBE & Malcolm Ashton
2015/2016 Season
Richard Blakey
Angus Fraser MBE
Chris Watts & Steve Richardson
Paul Baldwin
Stephen Chalke
Wes Durston
2014/2015 Season
David Frith
Martin Bodenham
Grahame Lloyd & John Parkin
The Pyemont Brothers
Graeme Welch
Tony Borrington
2013/2014 Season
Simon Storey
Jeff Evans
Chris Marples
Colin Shindler
John Carr
Malcolm Ashton
2012/2013 Season
John Barclay
Cally Barlow
MJK Smith OBE
Stephen Chalke
John Lever MBE
Geoff Miller
2011/2012 Season
Chris Grant & Tom Poynton
Rev'd Mike Vockins OBE
Richard Kettleborough
Derbyshire Cricket Academy
Mick Newell
Roger Knight OBE
Clive Radley MBE
2010/2011 Season
Pat Murphy
Paul Edwards
Colin Tunnicliffe
Geoff Cook
Don Shepherd & Edward Bevan
David Morgan
Gallery

Members of the late Trevor
Bowring's family with
Mike Taylor and Jason Fage

Trevor's grandson, Sam, rings the
bell for the first time, with
Shirley Bowring and Mike Taylor
| | | | | |
| --- | --- | --- | --- | --- |
| David Marshall & James Pipe | John Barclay & Edwin Smith | David Marshall & John Barclay | Trevor Bowring, David Marshall & Bob Wood | John Barclay meeting,134 people enjoy a superb meal |
| John Morris & David Marshall | Trevor Bowring, Jim Parks & Jim Brailsford | Matthew Maynard & David Marshall | Niven Roper & Chris Kelly | Ray East & Mike Taylor |
| Chris Read & David Marshall | Steve Garratt & Niven Roper | Steve Franks & Alan West | Steve Kirby & David Marshall | Keith Loring & Mike Taylor |
Copyright © 2004-2017 Chesterfield Cricket Lovers' Society and CricketArchive