Welcome to our website
All at Chesterfield Cricket Lovers' Society hope that there will be an opportunity to watch first class cricket at some point during the season.
In the meantime, we encourage you to go and watch matches at your local cricket club.
Our area has many cricket clubs with some exceptionally good cricket being played.
Try it out – you'll not be disappointed.
We also hope to be able to hold 'ordinary' meetings from October 2021 but everything will depend on
what progress is made to make this possibility safe for all our members.
To all our members – Keep well, stay safe and enjoy the season.
Our meetings take place in the pavilion at the Queen's Park cricket ground unless members are informed otherwise.
Membership costs £10. Visitors are welcome for a small fee which will be refunded if the visitor becomes a member on the evening.
Meetings begin at 7.30 p.m. and are held monthly from October to March. The evenings vary from Monday to Thursday.
Founded in 1963, we are the "senior" of the three societies in Derbyshire.
The aim of the Society is to further interest in and enthusiasm for cricket at all levels
Don't forget to visit the Derbyshire CCC website
ZOOM MEETING – TUESDAY 30 MARCH 2021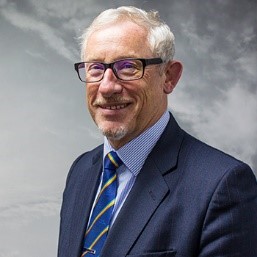 Ian Morgan OBE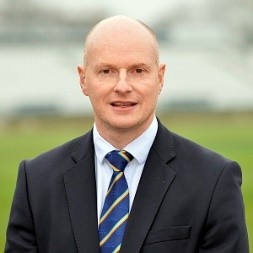 Ryan Duckett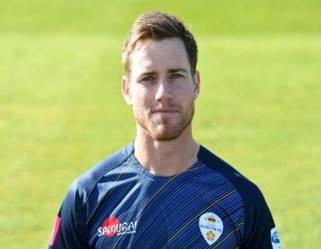 Luis Reece

A Further Zoom Meeting was held on Tuesday 30 March 2021 – this time a joint event with Friends of Queen's Park Cricket. Over 50 people attended with the main speakers being Ian Morgan (Chairman), Ryan Duckett (Chief Executive) and Luis Reece (player) from Derbyshire County Cricket Club.
The first half of the meeting was a Q&A session with Ian and Ryan answering questions about the coming season and when spectators would be allowed to watch games. In a rapidly changing environment, they stated that the Government's Road Map was the best guidance they could follow and there had been no additional information for them to use in their planning for the season.
It was currently hoped that members would be able to return to the County Ground from Monday 17 May, with the first-class match against Durham, the first to take place after the easing of restrictions. This fixture would remain exclusive to members due to a restricted capacity under the government's roadmap guidelines compared to our membership numbers.
For the second half of the meeting the popular Derbyshire CCC player, Luis Reece joined us from his hotel room at Old Trafford where the side had been playing a warmup match. In a Q&A session with Paul Hand, Luis talked openly about his career to date. Having been born in Somerset he moved to Lancashire where he went to school. He played for Lancashire Second XI and then went on to play non-first-class cricket for Leeds/Bradford UCCE in 2011. During this time, he also played for the Unicorns. He was on the Lancashire staff before signing for Derbyshire in October 2016.
Luis has had a number of setbacks during his career and he spoke candidly about these and the effects on his career.
Luis proved to be a very affable and interesting speaker exhibiting a high level of responsibility and dedication towards his career in general and Derbyshire CCC in particular
---
Reports from Previous Meetings
2020/2021 Season
Ian Blackwell
- Zoom Meeting
Ryan Duckett
- Zoom Meeting
2019/2020 Season
Lawrence Booth
Steve Kirby
Dave Houghton
Chris Lewis
Tim O'Gorman
Stephen Chalke
2018/2019 Season
Ian Morgan OBE
Darren Bicknell
Malcolm Nash
Jim Cumbes
Geoff Cope
Tony Palladino
2017/2018 Season
John M Brown
Elizabeth Ammon
Richard Tomlinson
Jeremy Lloyds
Mal Loye
2016/2017 Season
Mike Hendrick
David Leatherdale
Kim Barnett
Wayne Madsen
Dave Fletcher
Neil Mallender
Alan Hill
Simon Jones MBE & Malcolm Ashton
2015/2016 Season
Richard Blakey
Angus Fraser MBE
Chris Watts & Steve Richardson
Paul Baldwin
Stephen Chalke
Wes Durston
2014/2015 Season
David Frith
Martin Bodenham
Grahame Lloyd & John Parkin
The Pyemont Brothers
Graeme Welch
Tony Borrington
2013/2014 Season
Simon Storey
Jeff Evans
Chris Marples
Colin Shindler
John Carr
Malcolm Ashton
2012/2013 Season
John Barclay
Cally Barlow
MJK Smith OBE
Stephen Chalke
John Lever MBE
Geoff Miller
2011/2012 Season
Chris Grant & Tom Poynton
Rev'd Mike Vockins OBE
Richard Kettleborough
Derbyshire Cricket Academy
Mick Newell
Roger Knight OBE
Clive Radley MBE
2010/2011 Season
Pat Murphy
Paul Edwards
Colin Tunnicliffe
Geoff Cook
Don Shepherd & Edward Bevan
David Morgan
Gallery

Members of the late Trevor
Bowring's family with
Mike Taylor and Jason Fage

Trevor's grandson, Sam, rings the
bell for the first time, with
Shirley Bowring and Mike Taylor
| | | | | |
| --- | --- | --- | --- | --- |
| David Marshall & James Pipe | John Barclay & Edwin Smith | David Marshall & John Barclay | Trevor Bowring, David Marshall & Bob Wood | John Barclay meeting,134 people enjoy a superb meal |
| John Morris & David Marshall | Trevor Bowring, Jim Parks & Jim Brailsford | Matthew Maynard & David Marshall | Niven Roper & Chris Kelly | Ray East & Mike Taylor |
| Chris Read & David Marshall | Steve Garratt & Niven Roper | Steve Franks & Alan West | Steve Kirby & David Marshall | Keith Loring & Mike Taylor |