Welcome to our website
We hope all members keep well and see some great cricket during the coming season.
Details of our 2023/24 programme will be posted on the site as soon as arrangements are finalised.
Our meetings take place at The Olde House, Loundsley Green Road, Newbold, Chesterfield, S40 4RN unless members are informed otherwise.
Membership costs £15. Visitors are welcome for a small fee which will be refunded if the visitor becomes a member on the evening.
Meetings begin at 7.30 p.m. and are held monthly from October to March. The evenings vary from Monday to Thursday.
Founded in 1963, we are the "senior" of the three societies in Derbyshire.
The aim of the Society is to further interest in and enthusiasm for cricket at all levels
Don't forget to visit the Derbyshire CCC website
THE VISIT OF RYAN DUCKETT & WAYNE MADSEN ON WEDNESDAY 1ST MARCH 2023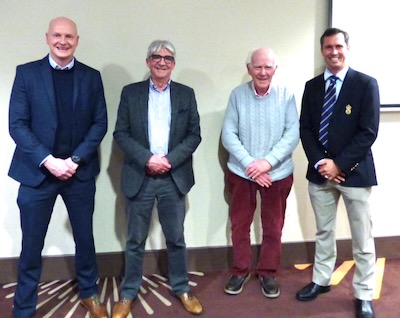 The photo shows Ryan Duckett, Neil Swanwick, David Marshall and Wayne Madsen

Photo courtesy of John Windle
Ryan Duckett
Ryan talked generally about his career at DCCC which had started in 2013 when he was appointed as the Club's Commercial Director. He was appointed Chief Executive in January 2019 after his predecessor moved to Kent CCC.
Over the years there had been many changes to the role of Chief Executive, as well as managing during the COVID shutdowns. Most of these changes arose from the different schedules that arose after COVID and there was even more emphasis on gaining additional income from non cricketing sources. The introduction of Concerts to the Incora County Ground caused concern amongst some of the members who thought that a cricket arena should be for playing cricket only. It was not too long before the doubters realised that this was a very significant and new stream of income which was been replicated by other counties.
Ryan went on to describe the decision making processes within DCCCC and how his role fitted into this structure. He also talked about his role in the direction of the Trent Rockets, co-owned with Nottinghamshire CCC and Leicestershire CCC and the financial benefits to Derbyshire CCC.
Ryan expressed his pleasure in bringing games to the Queen's Park and hoped that this would continue for the foreseeable future as all the players really enjoyed playing here.
Ryan's honesty, integrity and professionalism came across during the evening.
Cricket in Derbyshire is lucky to have him at the helm – he definitely added many more people towards that view during the evening.
Wayne Madsen
Is there a better ambassador for cricket generally, or Derbyshire CCC specifically than Wayne Madsen? Those few who may have not given the matter much thought but attended this meeting would have gone away extolling the virtues of this consummate professional. Dressed immaculately in regulation DCCC jacket and tie Wayne gave an insight into his life in sport and his days at Derbyshire.
He talked about his life growing up in South Africa within a family with sporting pedigree. His two major sports were cricket and hockey – he went on to play hockey for South Africa in both the Commonwealth games and the World Cup. Cricket eventually became his number one priority and he made his first class cricket debut for KwaZulu Natal in 2003.
When he first came across to this country he spent time playing in the Lancashire Leagues and was eventually asked to join Derbyshire CCC. His first match was at Cheltenham, against Gloucestershire in 2009. He opened the innings with Chris Rogers and after a disappointing seven runs in the first innings he exploded on the scene with a terrific 170 not out in the second innings.
Amongst other matters discussed were his captaincy and how proud he was that Derbyshire were promoted in his first year in that job. In that year he also scored a career best 231 not out. He went through the many highlights that have followed since then – they keep on coming as last season was one of his best when he scored 1273 first class runs at an average of 60.61.
Wayne talked about his love of playing at the Queen's Park where he has a very impressive record of 1033 first class runs at 57.38 including four centuries. He talked about the friendliness of the crowds at QP and the beautiful ground which adds to the experience. In one of the best quotes about QP he said' the trees around the ground seem to hold the atmosphere in'.
A truly great servant to Derbyshire CCC – full of principles and values – what a player as well.
THE VISIT OF PAUL ALDRED ON WEDNESDAY 22ND FEBRUARY 2023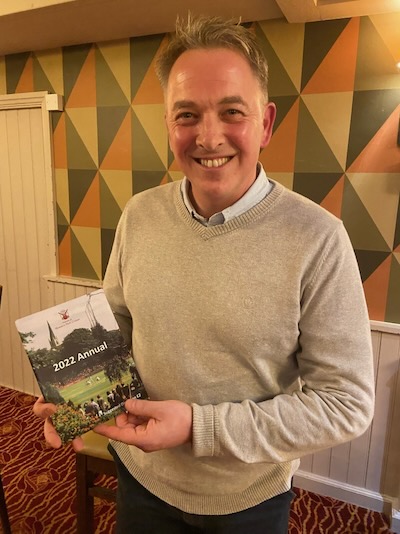 The photo of Paul courtesy of John Windle

Paul played cricket for Derbyshire CCC between 1995 – 2002. Since finishing his playing career, he firstly ran a coaching business but now he runs a successful business making handmade cricket bats.
Paul firstly talked about his playing career – he was a right-handed batsman and a right-arm medium-pace bowler. When starting at Derbyshire there were several strong characters in the dressing room – Adams, Cullinan, De Freitas, Cork, Krikken and captain Kim Barnett amongst them. He had many 'dressing room' stories as well as talking about players from other counties. During his career he had a top score of 83 and his best bowling figures were 7/101. He continued in First-class cricket until 2002, when he retired.
Paul then went on to talk about his current business making handmade bats. He brought along bats in varying stages of completion plus a piece of willow from which the bats are formed. Members were captivated with his description of the bat making process and the great skill which goes into this craft.
There were useful insights into the 'cricket bat market', the dominance of overseas manufacturers and the effect of using increasing amounts of English Willow. Members got tips about oiling bats and 'knocking them in'. His business continues to flourish – check out Aldred Cricket Bats online!
A really entertaining and different evening provided by Paul – we wish him well for the future.
---
Reports from Previous Meetings
2022/2023 Season
Kevin Howells
David Griffin
Devon Malcolm
Paul Farbrace
Adrian Rollins
2021/2022 Season
Daryn Smit
Elizabeth Ammon
John Holder
David Millns
2020/2021 Season
Ian Morgan OBE, Ryan Duckett, Luis Reece
- Zoom Meeting
Ian Blackwell
- Zoom Meeting
Ryan Duckett
- Zoom Meeting
2019/2020 Season
Lawrence Booth
Steve Kirby
Dave Houghton
Chris Lewis
Tim O'Gorman
Stephen Chalke
2018/2019 Season
Ian Morgan OBE
Darren Bicknell
Malcolm Nash
Jim Cumbes
Geoff Cope
Tony Palladino
2017/2018 Season
John M Brown
Elizabeth Ammon
Richard Tomlinson
Jeremy Lloyds
Mal Loye
2016/2017 Season
Mike Hendrick
David Leatherdale
Kim Barnett
Wayne Madsen
Dave Fletcher
Neil Mallender
Alan Hill
Simon Jones MBE & Malcolm Ashton
2015/2016 Season
Richard Blakey
Angus Fraser MBE
Chris Watts & Steve Richardson
Paul Baldwin
Stephen Chalke
Wes Durston
2014/2015 Season
David Frith
Martin Bodenham
Grahame Lloyd & John Parkin
The Pyemont Brothers
Graeme Welch
Tony Borrington
2013/2014 Season
Simon Storey
Jeff Evans
Chris Marples
Colin Shindler
John Carr
Malcolm Ashton
2012/2013 Season
John Barclay
Cally Barlow
MJK Smith OBE
Stephen Chalke
John Lever MBE
Geoff Miller
2011/2012 Season
Chris Grant & Tom Poynton
Rev'd Mike Vockins OBE
Richard Kettleborough
Derbyshire Cricket Academy
Mick Newell
Roger Knight OBE
Clive Radley MBE
2010/2011 Season
Pat Murphy
Paul Edwards
Colin Tunnicliffe
Geoff Cook
Don Shepherd & Edward Bevan
David Morgan
Gallery

Members of the late Trevor
Bowring's family with
Mike Taylor and Jason Fage

Trevor's grandson, Sam, rings the
bell for the first time, with
Shirley Bowring and Mike Taylor
| | | | | |
| --- | --- | --- | --- | --- |
| David Marshall & James Pipe | John Barclay & Edwin Smith | David Marshall & John Barclay | Trevor Bowring, David Marshall & Bob Wood | John Barclay meeting,134 people enjoy a superb meal |
| John Morris & David Marshall | Trevor Bowring, Jim Parks & Jim Brailsford | Matthew Maynard & David Marshall | Niven Roper & Chris Kelly | Ray East & Mike Taylor |
| Chris Read & David Marshall | Steve Garratt & Niven Roper | Steve Franks & Alan West | Steve Kirby & David Marshall | Keith Loring & Mike Taylor |
Copyright © 2004-2017 Chesterfield Cricket Lovers' Society and CricketArchive