Welcome to our website
We hope all members enjoy a great summer of cricket.
If you are participating, administering, assisting or watching cricket we hope the season lives up to your expectations.
If you don't already do so, why not lend your support to your local cricket club by helping or just watching.
Remember to support the junior and women's cricket teams as well.
Have a good summer – we will be back in September as usual.
Our meetings take place in the pavilion at the Queen's Park cricket ground unless members are informed otherwise.
Membership costs £5. Visitors are welcome for a small fee which will be refunded if the visitor becomes a member on the evening.
Meetings begin at 7.30 p.m. and are held monthly from October to March. The evenings vary from Monday to Thursday.
Founded in 1963, we are the "senior" of the three societies in Derbyshire.
The aim of the Society is to further interest in and enthusiasm for cricket at all levels
Don't forget to visit the Derbyshire CCC website
The photo shows The Mayor & Mayoress of Chesterfield
receiving a donation from CCLS to the Mayor's Appeal.
Mike Hendrick agreed to present this on behalf of the Society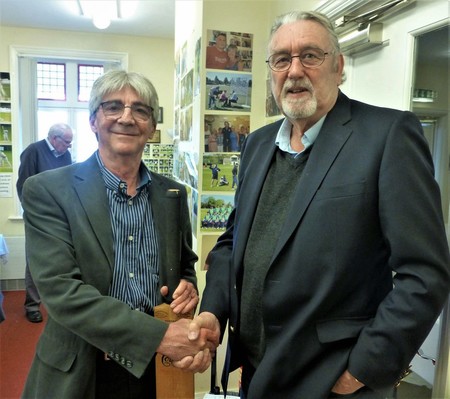 The photo shows Mike Hendrick with committee member Neil Swanwick
who was the successful bidder for a signed cricket bat
donated by member John Austin

Photos courtesy of John Windle
MIKE HENDRICK LUNCH MEETING ON TUESDAY 28TH MARCH 2017
For the second time the Society's Lunchtime meeting sold out within a few days of being announced. Those members lucky enough to get a ticket were more than satisfied by the visit of another 'one of our own' - Mike Hendrick.
Mike focussed his talk on his association with the Queen's Park and Chesterfield Cricket Club. Born in Darley Dale his father played for Darley Dale CC and his mother was involved in making teas. As a consequence of having to move as a result of his father's job his formative cricketing years were spent in Darlington and was further developed in Leicester, eventually with that county's 2nd XI. He eventually moved back to Derbyshire. It was strange that he would play cricket for the first time in his birth county (and the county that would go on to shape his career) at an age of over 20.
In 1969 it was suggested by Derbyshire that Mike spent some time playing with Chesterfield CC and this sealed his affection for the ground which he said had a profound effect on his career.
Just some of his Queen's Park highlights were:
In 1972 he bowled unchanged through the Northamptonshire innings on an overcast day to bowl them out for 97. He picked up 8 for 50 and with 2 more wickets in the second innings he acquired his first ten-for.
Later that season he had figures of 7 for 65 and 2 for 24 against Somerset
In 1973, in Derbyshire's opening match he picked up 8 for 45 and 3 for 53 against Warwickshire at Chesterfield. They remained his career-best innings and match hauls.
In 1980 he managed his first hat trick, against the West Indies.
Mike is a really engaging character who obviously really valued his days as a cricketer. Unassuming, humorous and thoughtful – he is a real credit to Derbyshire, England and cricket in general, a real ambassador for the game.
All attending thoroughly enjoyed the event and this was evident in the applause he received at the end.
This was a wonderful end to our 'season'. Two 'Proact' events, two lunch meetings and quality speakers throughout made it a memorable one.
---
Reports from Previous Meetings
2016/2017 Season
David Leatherdale
Kim Barnett
Wayne Madsen
Dave Fletcher
Neil Mallender
Alan Hill
Simon Jones MBE & Malcolm Ashton
2015/2016 Season
Richard Blakey
Angus Fraser MBE
Chris Watts & Steve Richardson
Paul Baldwin
Stephen Chalke
Wes Durston
2014/2015 Season
David Frith
Martin Bodenham
Grahame Lloyd & John Parkin
The Pyemont Brothers
Graeme Welch
Tony Borrington
2013/2014 Season
Simon Storey
Jeff Evans
Chris Marples
Colin Shindler
John Carr
Malcolm Ashton
2012/2013 Season
John Barclay
Cally Barlow
MJK Smith OBE
Stephen Chalke
John Lever MBE
Geoff Miller
2011/2012 Season
Chris Grant & Tom Poynton
Rev'd Mike Vockins OBE
Richard Kettleborough
Derbyshire Cricket Academy
Mick Newell
Roger Knight OBE
Clive Radley MBE
2010/2011 Season
Pat Murphy
Paul Edwards
Colin Tunnicliffe
Geoff Cook
Don Shepherd & Edward Bevan
David Morgan
Gallery

Members of the late Trevor
Bowring's family with
Mike Taylor and Jason Fage

Trevor's grandson, Sam, rings the
bell for the first time, with
Shirley Bowring and Mike Taylor
| | | | | |
| --- | --- | --- | --- | --- |
| David Marshall & James Pipe | John Barclay & Edwin Smith | David Marshall & John Barclay | Trevor Bowring, David Marshall & Bob Wood | John Barclay meeting,134 people enjoy a superb meal |
| John Morris & David Marshall | Trevor Bowring, Jim Parks & Jim Brailsford | Matthew Maynard & David Marshall | Niven Roper & Chris Kelly | Ray East & Mike Taylor |
| Chris Read & David Marshall | Steve Garratt & Niven Roper | Steve Franks & Alan West | Steve Kirby & David Marshall | Keith Loring & Mike Taylor |