Welcome to our website
A Happy Christmas and New Year to all CCLS members and to cricket lovers throughout the world.
Next Meeting
The next meeting of the Society will take place at Queen's Park on Tuesday 13th January 2015.
The Speakers will be Grahame Lloyd & John Parkin.
Grahame has written a book on the well documented but rather controversial over when Garry Sobers famously hit Malcolm Nash for six sixes. In an intriguing follow up he presents (on this occasion with the help of the non-striking batsman) his findings on this one over and what has happened since to everyone involved and the ball!.

Our meetings take place in the pavilion at the Queen's Park cricket ground unless members are informed otherwise. Membership costs £5. Visitors are welcome for a small fee which will be refunded if the visitor becomes a member on the evening.
Meetings begin at 7.45 p.m. and are held monthly from October to March. The evenings vary from Monday to Thursday.
Founded in 1963, we are the "senior" of the three societies in Derbyshire.
Society Objectives
To provide a source of contact between cricket enthusiasts everywhere and to promote, arrange and conduct meetings, social gatherings and other functions in order to enable members of the Society to meet one another and to encourage and facilitate the exchange of views and information concerning cricket.
To provide such facilities for playing cricket as may be in the interest of members and of the game as a whole.
To extend and explain the knowledge, appreciation and love of cricket amongst persons of all ages and all countries and to assist in any possible way towards the benefit of cricket players and all who are interested in the game.
Don't forget to visit the Derbyshire CCC website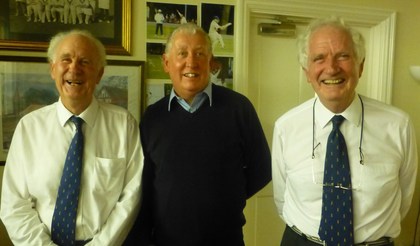 The photo shows Peter Pyemont, Niven Roper & Christopher Pyemont
Photo courtesy of John Windle
VISIT OF THE PYEMONT BROTHERS ON MONDAY 8TH DECEMBER 2014
And now for something completely different…………

Ex Headteachers Peter and Christopher Pyemont certainly achieved this with a distinctive, unconventional talk to CCLS members that could be better described as a performance or an entertainment.

Whatever the definition it left members thrilled with such a different evening which incorporated speech, drama, song, film, humour and 'props'. Despite their long trip from Sussex on which they encountered serious delays they displayed an infectious love of the game and boundless energy.

The subject for the two brothers was 'A History of the Ashes', their presentation starting with the 'birth' of cricket and ending with the last Ashes series, of which we really did not wanted to be reminded.

A typical comment from the evening was, when describing the Bodyline Tour it was stated that it had 'shifted cricket's tectonic plates'.

Film footage of W G Grace, Harold Larwood, Bradman, Laker etc. were shown, with commentaries from amongst others, John Arlott who, when commenting on Bradman's first ball in his last innings in an Ashes series said ' he plays back and gently hits the ball in the direction of the Houses of Parliament'. The next ball Arlott is rendered speechless for obvious reasons!

During the evening tributes were paid to another commentator, Christopher Martin – Jenkins who had attended the school the two brothers had taught at.

The Movietone News clip of Laker's final two wickets at Old Trafford showed when the 19th wicket fell just gentle handshakes all round rather than the 'high fives' which may have been offered in modern times.

When the last ball of the 2005 Edgbaston Test was shown, Niven Roper was unable to comment on the question of if it was out. Of course it was?

In a span of 132 years there has been 320 Ashes matches of which Australia have won 128 (40%), England 103 (32%) with 89 (28%) being drawn.

A thoroughly enjoyable evening ended with great appreciation being shown by all present.
Something to do during the Christmas holidays
The night with the Pyemonts has inspired a 'Best Of' debate. You are invited to submit your Best Derbyshire Eleven to the CCLS Secretary (johncwindle@hotmail.com). For ease of comparison your side should consist of the following:

Five Batsmen, One All-rounder, One Wicketkeeper, Three Fast Bowlers, One Spinner. You should also nominate a captain. Good luck with that.
---
Reports from Previous Meetings
2014/2015 Season
Graeme Welch
Tony Borrington
2013/2014 Season
Simon Storey
Jeff Evans
Chris Marples
Colin Shindler
John Carr
Malcolm Ashton
2012/2013 Season
John Barclay
Cally Barlow
MJK Smith OBE
Stephen Chalke
John Lever MBE
Geoff Miller
2011/2012 Season
Chris Grant & Tom Poynton
Rev'd Mike Vockins OBE
Richard Kettleborough
Derbyshire Cricket Academy
Mick Newell
Roger Knight OBE
Clive Radley MBE
2010/2011 Season
Pat Murphy
Paul Edwards
Colin Tunnicliffe
Geoff Cook
Don Shepherd & Edward Bevan
David Morgan
Gallery
| | | | | |
| --- | --- | --- | --- | --- |
| David Marshall & James Pipe | John Barclay & Edwin Smith | David Marshall & John Barclay | Trevor Bowring, David Marshall & Bob Wood | John Barclay meeting,134 people enjoy a superb meal |
| John Morris & David Marshall | Trevor Bowring, Jim Parks & Jim Brailsford | Matthew Maynard & David Marshall | Niven Roper & Chris Kelly | Ray East & Mike Taylor |
| Chris Read & David Marshall | Steve Garratt & Niven Roper | Steve Franks & Alan West | Steve Kirby & David Marshall | Keith Loring & Mike Taylor |