Welcome to our website
Next Meeting
The next meeting of the Society will be in the pavilion at the Queen's Park cricket ground on Thursday 15th December 2016 beginning at 7.30pm and the guest speaker will be Dave Fletcher.

With a background in journalism and a passion for cricket, rugby league and football, Dave is a freelance broadcaster who has worked for BBC stations in Leeds, Manchester and London. As well as commentating and summarising, he does pre- and post-match interviews and has hosted talk shows. Dave is currently the knowledgeable and popular cricket commentator with BBC Radio Derby.
Our meetings take place in the pavilion at the Queen's Park cricket ground unless members are informed otherwise. Membership costs £5. Visitors are welcome for a small fee which will be refunded if the visitor becomes a member on the evening.
Meetings begin at 7.30 p.m. and are held monthly from October to March. The evenings vary from Monday to Thursday.
Founded in 1963, we are the "senior" of the three societies in Derbyshire.
The aim of the Society is to further interest in and enthusiasm for cricket at all levels
Don't forget to visit the Derbyshire CCC website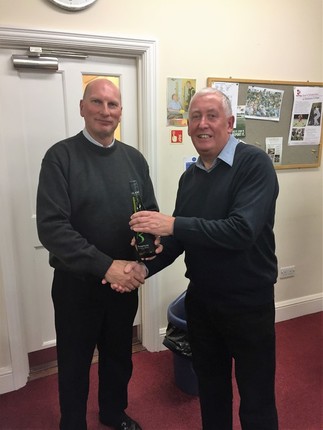 The photo shows Treasurer, Niven Roper,
presenting a bottle of wine to Neil Mallender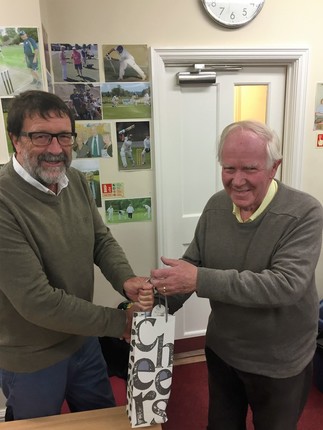 The photo shows President, David Marshall,
presenting a gift from Society members,
to Chairman, Mike Taylor, marking a significant birthday

Photos courtesy of Jonathan Brookes
VISIT OF NEIL MALLENDER ON WEDNESDAY 9TH NOVEMBER 2016
Members were pleased to welcome former right-arm fast-medium bowler and widely respected current umpire, Neil Mallender to our third society meeting of the season at Queen's Park. His thoughtful and considered manner, mixed with a wonderfully dry sense of humour engaged the audience throughout the evening.
Neil started by paying tribute to both of his parents, stating that it was their love of sport that first inspired him to participate in both cricket and football at an early age. However, it was during his time at Beverley Grammar School that he really began to excel at cricket. From here he progressed to representative honours via Humberside Schools, to England Schools and ultimately to captaining England U19's on their tour of the West Indies. He spoke of his happiness at being offered a two-year professional contract with Northants and how, in those early days, he dreamt of 'moving across from the uncapped to the capped dressing rooms.'
It was clear that his ten-year playing time in New Zealand for Otago brought back particularly poignant memories for Neil. He remarked that he had and still has a great 'fondness for the country', and that it was 'a special place, at a special time.'
Neil also recounted his delight at being called up to the England Test squad. Thrilled with his eight wickets on debut, he said that he felt that the Headingley crowd had treated him as 'one of their own,' during the Test match. Unfortunately a flat track at the Oval in the final game of the same series didn't offer the same level of reward for Neil and the curtain came down somewhat prematurely on his England Test career.
An extended question and answer session proved fascinating, as members asked for opinions from Neil about the fineries of top-level umpiring, the ICC Elite Panel and the use of modern day technology within the game. It was almost inevitable that in an audience packed with Derbyshire supporters, there would also be questions about the famous 1981 NatWest final triumph over Mallender's Northants at Lord's. Needless to say he responded with typically good humour every time he was reminded of the occasion!
With 937 first-class wickets, nearly 5000 runs and extensive top-level umpiring experience, Neil Mallender gave members an enjoyable, excellent and thought-provoking evening that included lively discussion across a broad range of cricketing topics.
---
Reports from Previous Meetings
2016/2017 Season
Alan Hill
Simon Jones MBE & Malcolm Ashton
2015/2016 Season
Richard Blakey
Angus Fraser MBE
Chris Watts & Steve Richardson
Paul Baldwin
Stephen Chalke
Wes Durston
2014/2015 Season
David Frith
Martin Bodenham
Grahame Lloyd & John Parkin
The Pyemont Brothers
Graeme Welch
Tony Borrington
2013/2014 Season
Simon Storey
Jeff Evans
Chris Marples
Colin Shindler
John Carr
Malcolm Ashton
2012/2013 Season
John Barclay
Cally Barlow
MJK Smith OBE
Stephen Chalke
John Lever MBE
Geoff Miller
2011/2012 Season
Chris Grant & Tom Poynton
Rev'd Mike Vockins OBE
Richard Kettleborough
Derbyshire Cricket Academy
Mick Newell
Roger Knight OBE
Clive Radley MBE
2010/2011 Season
Pat Murphy
Paul Edwards
Colin Tunnicliffe
Geoff Cook
Don Shepherd & Edward Bevan
David Morgan
Gallery

Members of the late Trevor
Bowring's family with
Mike Taylor and Jason Fage

Trevor's grandson, Sam, rings the
bell for the first time, with
Shirley Bowring and Mike Taylor
| | | | | |
| --- | --- | --- | --- | --- |
| David Marshall & James Pipe | John Barclay & Edwin Smith | David Marshall & John Barclay | Trevor Bowring, David Marshall & Bob Wood | John Barclay meeting,134 people enjoy a superb meal |
| John Morris & David Marshall | Trevor Bowring, Jim Parks & Jim Brailsford | Matthew Maynard & David Marshall | Niven Roper & Chris Kelly | Ray East & Mike Taylor |
| Chris Read & David Marshall | Steve Garratt & Niven Roper | Steve Franks & Alan West | Steve Kirby & David Marshall | Keith Loring & Mike Taylor |