Welcome to our website
Next Meeting
The first meeting of the 2016/2017 season will be in the pavilion at the Queen's Park cricket ground on Monday 3rd October 2016 beginning at 7.30pm. The meeting will be preceded by a short AGM at 7.15 pm prompt.

Simon Jones MBE will be the guest on the evening and he will be in conversation with Malcolm Ashton.

Fast bowler Simon Jones was a key member of the England squad that won the Ashes in 2005 when he bamboozled the Australian batsmen with a combination of raw pace and reverse swing. "What a player, what a man. Simon was the unsung hero in the 2005 Ashes." (Kevin Pietersen) This was of course after a series of injuries, including the horrific one to his knee at Brisbane in the opening Test of the 2002/03 Ashes.
Our meetings take place in the pavilion at the Queen's Park cricket ground unless members are informed otherwise. Membership costs £5. Visitors are welcome for a small fee which will be refunded if the visitor becomes a member on the evening.
Meetings begin at 7.30 p.m. and are held monthly from October to March. The evenings vary from Monday to Thursday.
Founded in 1963, we are the "senior" of the three societies in Derbyshire.
The aim of the Society is to further interest in and enthusiasm for cricket at all levels
Don't forget to visit the Derbyshire CCC website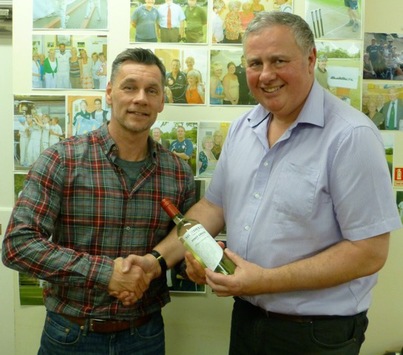 The photo shows Martin Willows presenting a bottle of wine to guest speaker, Richard Blakey

Photos courtesy of John Windle
VISIT OF RICHARD BLAKEY ON THURSDAY 10TH MARCH 2016
A seasoned 'performer' at Cricket Societies, Richard Blakey certainly lived up to his reputation as he provided an entertaining conclusion to our 2015/2016 season.
Richard debuted for his county at the age of 18 and had a distinguished career playing over 750 matches for Yorkshire, making him Yorkshire's fifth most capped player of all time - an amazing feat. During that time he never missed one day through injury which is remarkable for a wicket-keeper.
He was part of Yorkshire's County Championship winning team in 2001 and captained them to victory at the C&G final in 2002. He also played in five matches for England, making his international debut against Pakistan at Lords in 1992. He scored close to 15,000 first class runs with a personal best of 223 not out off 206 balls against Northamptonshire in 2003 and after taking over as glove man from David Bairstow he claimed 835 victims.
In taking us through the highlights of his career, humour was never far away. The story of the young bowler who significantly contributed to Yorkshire winning the County Championship in 2001 was hilarious, particularly with the use of props!
None of our members could also ever go into a coffee shop in the future without thinking of Darren Gough!!
Richard was a person who made a highly significant contribution to cricket generally and to Yorkshire. He continues to make a contribution by recalling cricket in his era with great humour, skill and modesty.
Members went home with lots of stories to relay to their fellow cricket enthusiasts.
On behalf of all members we thank Mike Taylor for providing us with a superb season of speakers. The quality and variety has been excellent and continues the high standard established by the society over many years.
---
Reports from Previous Meetings
2015/2016 Season
Angus Fraser MBE
Chris Watts & Steve Richardson
Paul Baldwin
Stephen Chalke
Wes Durston
2014/2015 Season
David Frith
Martin Bodenham
Grahame Lloyd & John Parkin
The Pyemont Brothers
Graeme Welch
Tony Borrington
2013/2014 Season
Simon Storey
Jeff Evans
Chris Marples
Colin Shindler
John Carr
Malcolm Ashton
2012/2013 Season
John Barclay
Cally Barlow
MJK Smith OBE
Stephen Chalke
John Lever MBE
Geoff Miller
2011/2012 Season
Chris Grant & Tom Poynton
Rev'd Mike Vockins OBE
Richard Kettleborough
Derbyshire Cricket Academy
Mick Newell
Roger Knight OBE
Clive Radley MBE
2010/2011 Season
Pat Murphy
Paul Edwards
Colin Tunnicliffe
Geoff Cook
Don Shepherd & Edward Bevan
David Morgan
Gallery

Members of the late Trevor
Bowring's family with
Mike Taylor and Jason Fage

Trevor's grandson, Sam, rings the
bell for the first time, with
Shirley Bowring and Mike Taylor
| | | | | |
| --- | --- | --- | --- | --- |
| David Marshall & James Pipe | John Barclay & Edwin Smith | David Marshall & John Barclay | Trevor Bowring, David Marshall & Bob Wood | John Barclay meeting,134 people enjoy a superb meal |
| John Morris & David Marshall | Trevor Bowring, Jim Parks & Jim Brailsford | Matthew Maynard & David Marshall | Niven Roper & Chris Kelly | Ray East & Mike Taylor |
| Chris Read & David Marshall | Steve Garratt & Niven Roper | Steve Franks & Alan West | Steve Kirby & David Marshall | Keith Loring & Mike Taylor |
Copyright © 2004-2016 Chesterfield Cricket Lovers' Society and CricketArchive