Welcome to our website
At the AGM of the Society the resignation of Mike Taylor as Chairman and Speaker Secretary was regretfully received. Mike has been suffering with ill health for some time and decided it was in the best interests of the Society that he resigned. Whilst disappointed at the news, members thought that he had made the correct decision to enable him to concentrate fully on his recovery. Mike has made an immeasurable contribution to CCLS over many years and the Society intends to formally recognise this in an appropriate way in the near future. In the meantime the Society members send their best wishes to Mike, Jan and their family.
Next Meeting
The next meeting of the Society is on Monday 18th February 2019 when the guest speaker will be Darren Bicknell
A tall left-hand opening batsman, Darren enjoyed 13 years with Surrey before moving to Nottinghamshire in 2000 where he played a key role with 1,131 runs at 49.17 in their 2005 Championship winning season. Since retiring in 2006 with almost 20,000 first-class runs at just under 40, he has been cricket coach at Oakham School, Notts U15 head coach, Chairman of Cricket at Trent Bridge and is currently Chief Executive of Belvoir Cricket & Countryside Trust.
March Meeting
On Tueday 12th March 2019 the guest speaker will be Ian Morgan OBE
Our meetings take place in the pavilion at the Queen's Park cricket ground unless members are informed otherwise.
Membership costs £10. Visitors are welcome for a small fee which will be refunded if the visitor becomes a member on the evening.
Meetings begin at 7.30 p.m. and are held monthly from October to March. The evenings vary from Monday to Thursday.
Founded in 1963, we are the "senior" of the three societies in Derbyshire.
The aim of the Society is to further interest in and enthusiasm for cricket at all levels
Don't forget to visit the Derbyshire CCC website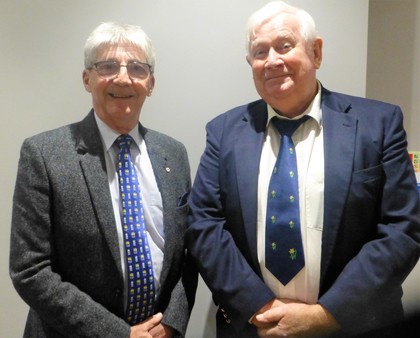 The photo shows CCLS Vice-Chairman, Neil Swanwick with Malcolm Nash

Photo courtesy of John Windle
VISIT OF MALCOLM NASH ON TUESDAY 15TH JANUARY 2019
Malcolm Nash, speaking at the meeting of CCLS, admitted that he would be remembered 'for just 5 minutes in my life', but at the end of the meeting those present realised that there was so much more to admire in a career which spanned 17 seasons. During this time he played 336 first class matches, scored 7129 runs, held 148 catches and took 993 wickets.
Inevitably he talked about that over on 31 August, 1968. At the start of the over he had taken 4-64 but after six more balls this became 4-100 as Gary Sobers became the first batsman to hit six sixes in an over in a first-class cricket match. The venue was St Helens, Swansea and the bowler Malcolm Nash.
Malcolm observed that he had met so many people since then who said they were in the ground on that day that the attendance must have been around 300,000 when the TV recordings suggest that it was nearer three hundred.
In speaking to Gary Sobers about his world record, Malcolm had reminded him 'you couldn't have done it without me'.
He also talked about the controversy regarding the ball that was auctioned by Christies as the 36 ball – he made it quite clear what he thought about the validity of the auction!
Malcolm enjoyed playing cricket at the Queen's Park and related some incidents on the ground – most significantly Eddie Barlow's reaction to a Nash stroke that smashed straight through Phil Russell's helmet grill.
He answered members' questions and made it plain what he thought of current cricket when compared to his era.
Another 'full house' enjoyed the ex-Glamorgan cricketer and his firm opinions about the state of the game.
---
Reports from Previous Meetings
2018/2019 Season
Jim Cumbes
Geoff Cope
Tony Palladino
2017/2018 Season
John M Brown
Elizabeth Ammon
Richard Tomlinson
Jeremy Lloyds
Mal Loye
2016/2017 Season
Mike Hendrick
David Leatherdale
Kim Barnett
Wayne Madsen
Dave Fletcher
Neil Mallender
Alan Hill
Simon Jones MBE & Malcolm Ashton
2015/2016 Season
Richard Blakey
Angus Fraser MBE
Chris Watts & Steve Richardson
Paul Baldwin
Stephen Chalke
Wes Durston
2014/2015 Season
David Frith
Martin Bodenham
Grahame Lloyd & John Parkin
The Pyemont Brothers
Graeme Welch
Tony Borrington
2013/2014 Season
Simon Storey
Jeff Evans
Chris Marples
Colin Shindler
John Carr
Malcolm Ashton
2012/2013 Season
John Barclay
Cally Barlow
MJK Smith OBE
Stephen Chalke
John Lever MBE
Geoff Miller
2011/2012 Season
Chris Grant & Tom Poynton
Rev'd Mike Vockins OBE
Richard Kettleborough
Derbyshire Cricket Academy
Mick Newell
Roger Knight OBE
Clive Radley MBE
2010/2011 Season
Pat Murphy
Paul Edwards
Colin Tunnicliffe
Geoff Cook
Don Shepherd & Edward Bevan
David Morgan
Gallery

Members of the late Trevor
Bowring's family with
Mike Taylor and Jason Fage

Trevor's grandson, Sam, rings the
bell for the first time, with
Shirley Bowring and Mike Taylor
| | | | | |
| --- | --- | --- | --- | --- |
| David Marshall & James Pipe | John Barclay & Edwin Smith | David Marshall & John Barclay | Trevor Bowring, David Marshall & Bob Wood | John Barclay meeting,134 people enjoy a superb meal |
| John Morris & David Marshall | Trevor Bowring, Jim Parks & Jim Brailsford | Matthew Maynard & David Marshall | Niven Roper & Chris Kelly | Ray East & Mike Taylor |
| Chris Read & David Marshall | Steve Garratt & Niven Roper | Steve Franks & Alan West | Steve Kirby & David Marshall | Keith Loring & Mike Taylor |
Copyright © 2004-2017 Chesterfield Cricket Lovers' Society and CricketArchive