Welcome to our website
Next Meeting
Wayne Madsen Evening – Tuesday 24 January 2017 – Members & Non Members welcome
Please note the venue for this meeting is Chesterfield FC's PROACT STADIUM (Whittington Moor, S41 8NZ).
Non members welcome £2 (no need to pre book nor attend with a member)
We hope you will join us and help make this early initiative in Wayne's Benefit Year a resounding success!
Our meetings take place in the pavilion at the Queen's Park cricket ground unless members are informed otherwise.
Membership costs £5. Visitors are welcome for a small fee which will be refunded if the visitor becomes a member on the evening.
Meetings begin at 7.30 p.m. and are held monthly from October to March. The evenings vary from Monday to Thursday.
Founded in 1963, we are the "senior" of the three societies in Derbyshire.
The aim of the Society is to further interest in and enthusiasm for cricket at all levels
Don't forget to visit the Derbyshire CCC website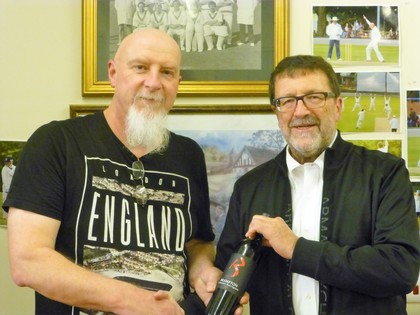 The photo shows Mike Taylor presenting a bottle of wine
to guest speaker, Dave Fletcher

Photo courtesy of John Windle
VISIT OF DAVE FLETCHER ON THURSDAY 15TH DECEMBER 2016
Dave Fletcher, the very popular BBC Radio Derby cricket correspondent was the guest speaker at the last Society meeting of 2016. Dave, who commentates on every ball of Derbyshire's season, was recently named the Christopher Martin- Jenkins County Broadcaster of the Year at the recent County Cricket Journalism Awards.
Dave also works for Radio Leeds during the football season and spent 15 years covering Halifax Town for the Halifax Evening Courier.
He proved to be a very humorous speaker giving details of his life in journalism from his days at Liverpool University. The insights into life in the commentary box reporting on cricket proved that it is not all glamorous and he has had to cope with some strange broadcasting locations – this does not include the County Ground, of course, where he feels facilities are as good as anywhere.
A good attendance, some friendly banter and lots of questions proved how popular this relatively new cricket personality has become. His insights into some of the Derbyshire players were always respectful but funny nevertheless.
A good end to 2016 – but we are back in January!!
We would like to send our greetings for a Happy Christmas and New Year to all our members and the wider cricket community.
---
Reports from Previous Meetings
2016/2017 Season
Neil Mallender
Alan Hill
Simon Jones MBE & Malcolm Ashton
2015/2016 Season
Richard Blakey
Angus Fraser MBE
Chris Watts & Steve Richardson
Paul Baldwin
Stephen Chalke
Wes Durston
2014/2015 Season
David Frith
Martin Bodenham
Grahame Lloyd & John Parkin
The Pyemont Brothers
Graeme Welch
Tony Borrington
2013/2014 Season
Simon Storey
Jeff Evans
Chris Marples
Colin Shindler
John Carr
Malcolm Ashton
2012/2013 Season
John Barclay
Cally Barlow
MJK Smith OBE
Stephen Chalke
John Lever MBE
Geoff Miller
2011/2012 Season
Chris Grant & Tom Poynton
Rev'd Mike Vockins OBE
Richard Kettleborough
Derbyshire Cricket Academy
Mick Newell
Roger Knight OBE
Clive Radley MBE
2010/2011 Season
Pat Murphy
Paul Edwards
Colin Tunnicliffe
Geoff Cook
Don Shepherd & Edward Bevan
David Morgan
Gallery

Members of the late Trevor
Bowring's family with
Mike Taylor and Jason Fage

Trevor's grandson, Sam, rings the
bell for the first time, with
Shirley Bowring and Mike Taylor
| | | | | |
| --- | --- | --- | --- | --- |
| David Marshall & James Pipe | John Barclay & Edwin Smith | David Marshall & John Barclay | Trevor Bowring, David Marshall & Bob Wood | John Barclay meeting,134 people enjoy a superb meal |
| John Morris & David Marshall | Trevor Bowring, Jim Parks & Jim Brailsford | Matthew Maynard & David Marshall | Niven Roper & Chris Kelly | Ray East & Mike Taylor |
| Chris Read & David Marshall | Steve Garratt & Niven Roper | Steve Franks & Alan West | Steve Kirby & David Marshall | Keith Loring & Mike Taylor |
Copyright © 2004-2017 Chesterfield Cricket Lovers' Society and CricketArchive