Welcome to our website
At the AGM of the Society the resignation of Mike Taylor as Chairman and Speaker Secretary was regretfully received. Mike has been suffering with ill health for some time and decided it was in the best interests of the Society that he resigned. Whilst disappointed at the news, members thought that he had made the correct decision to enable him to concentrate fully on his recovery. Mike has made an immeasurable contribution to CCLS over many years and the Society intends to formally recognise this in an appropriate way in the near future. In the meantime the Society members send their best wishes to Mike, Jan and their family.
Next Meeting
The next meeting of the Society is on Tuesday 15th January 2019 when the guest speaker will be Malcolm Nash
Malcolm enjoyed 18 years with Glamorgan, captaining his county for two seasons, and taking just under 1,000 first-class wickets at around 25. Although often remembered as the victim of Sobers' famous six sixes in an over, Malcolm struck many sixes himself including a then club record nine in a championship innings. Since leaving Glamorgan he has coached in California and Kansas.
February Meeting
On Monday 18th February 2019 the guest speaker will be Darren Bicknell
Our meetings take place in the pavilion at the Queen's Park cricket ground unless members are informed otherwise.
Membership costs £10. Visitors are welcome for a small fee which will be refunded if the visitor becomes a member on the evening.
Meetings begin at 7.30 p.m. and are held monthly from October to March. The evenings vary from Monday to Thursday.
Founded in 1963, we are the "senior" of the three societies in Derbyshire.
The aim of the Society is to further interest in and enthusiasm for cricket at all levels
Don't forget to visit the Derbyshire CCC website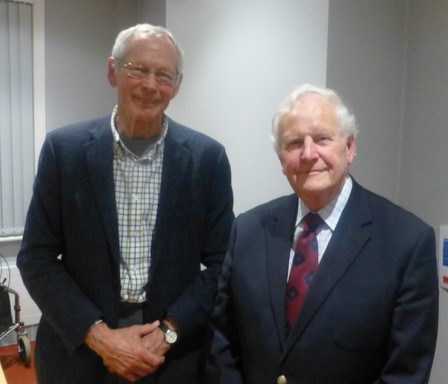 The photo shows Jim Cumbes with CCLS Committee Member, John Paulson

Photo courtesy of John Windle
VISIT OF JIM CUMBES ON WEDNESDAY 5TH DECEMBER 2018
Another near capacity meeting welcomed Jim Cumbes as the speaker at the latest meeting of Chesterfield Cricket Lovers' Society.
Prior to the meeting David Marshall, the President informed the meeting of the death of former Derbyshire CCC committee member, Derek Sederman. A period of silence was held in remembrance of Derek.
The President also informed the meeting that he had received a letter from Mike Taylor expressing his appreciation and delight in being appointed as a Vice President of CCLS and to be awarded the CCLS Services to Cricket Award.
The Chair for the meeting, John Paulson, then gave an informative introduction to Jim Cumbes, making a return visit to the Society. From 1963 to 1982 he played 161 first-class cricket matches for Lancashire, Surrey, Worcestershire and Warwickshire, as well as 376 Football League games for Tranmere Rovers, West Bromwich Albion, Aston Villa and Southport. He also squeezed in a summer with Portland Timbers in the North American Soccer League. After retiring from playing cricket he eventually became Chief Executive of Lancashire County Cricket Club, having held the post from 1998 to 2012.
Jim, an accomplished speaker, entertained the meeting with lots of stories covering his three 'careers' – football, cricket and cricket administration. Alex Ferguson, Bill Shankly and Pele were included in his football tales with Fred Trueman, Geoffrey Boycott and Basil D'Olivera amongst the cricket personalities. One of his biggest regrets in cricket was not playing with Brian Statham – his boyhood hero.
During his talk about his playing career in both sports there was plenty of evidence of his acting in an honest and straightforward manner which he obviously maintained in his role as Chief Executive at Lancashire.
When asked what was the main differences between football and cricket he said that cricket had more humour on a day to day basis and more stories about people playing the game.
He thought his last big project; securing Old Trafford's future with a £42 million redevelopment was probably his greatest achievement.
Members thoroughly enjoyed the evening, in the company of an amiable, accomplished speaker with a seemingly never-ending store of stories on football, cricket and the world in general.
---
Reports from Previous Meetings
2018/2019 Season
Geoff Cope
Tony Palladino
2017/2018 Season
John M Brown
Elizabeth Ammon
Richard Tomlinson
Jeremy Lloyds
Mal Loye
2016/2017 Season
Mike Hendrick
David Leatherdale
Kim Barnett
Wayne Madsen
Dave Fletcher
Neil Mallender
Alan Hill
Simon Jones MBE & Malcolm Ashton
2015/2016 Season
Richard Blakey
Angus Fraser MBE
Chris Watts & Steve Richardson
Paul Baldwin
Stephen Chalke
Wes Durston
2014/2015 Season
David Frith
Martin Bodenham
Grahame Lloyd & John Parkin
The Pyemont Brothers
Graeme Welch
Tony Borrington
2013/2014 Season
Simon Storey
Jeff Evans
Chris Marples
Colin Shindler
John Carr
Malcolm Ashton
2012/2013 Season
John Barclay
Cally Barlow
MJK Smith OBE
Stephen Chalke
John Lever MBE
Geoff Miller
2011/2012 Season
Chris Grant & Tom Poynton
Rev'd Mike Vockins OBE
Richard Kettleborough
Derbyshire Cricket Academy
Mick Newell
Roger Knight OBE
Clive Radley MBE
2010/2011 Season
Pat Murphy
Paul Edwards
Colin Tunnicliffe
Geoff Cook
Don Shepherd & Edward Bevan
David Morgan
Gallery

Members of the late Trevor
Bowring's family with
Mike Taylor and Jason Fage

Trevor's grandson, Sam, rings the
bell for the first time, with
Shirley Bowring and Mike Taylor
| | | | | |
| --- | --- | --- | --- | --- |
| David Marshall & James Pipe | John Barclay & Edwin Smith | David Marshall & John Barclay | Trevor Bowring, David Marshall & Bob Wood | John Barclay meeting,134 people enjoy a superb meal |
| John Morris & David Marshall | Trevor Bowring, Jim Parks & Jim Brailsford | Matthew Maynard & David Marshall | Niven Roper & Chris Kelly | Ray East & Mike Taylor |
| Chris Read & David Marshall | Steve Garratt & Niven Roper | Steve Franks & Alan West | Steve Kirby & David Marshall | Keith Loring & Mike Taylor |
Copyright © 2004-2017 Chesterfield Cricket Lovers' Society and CricketArchive