Welcome to our website
Chesterfield Festival 2018.
Sunday 22 – Wednesday 25 July; Derbyshire CCC v Northants CCC (4 day County Championship game)
Saturday 28 July Derbyshire Falcons v Yorkshire Vikings (T20)
Our meetings take place in the pavilion at the Queen's Park cricket ground unless members are informed otherwise.
Membership costs £5. Visitors are welcome for a small fee which will be refunded if the visitor becomes a member on the evening.
Meetings begin at 7.30 p.m. and are held monthly from October to March. The evenings vary from Monday to Thursday.
Founded in 1963, we are the "senior" of the three societies in Derbyshire.
The aim of the Society is to further interest in and enthusiasm for cricket at all levels
Don't forget to visit the Derbyshire CCC website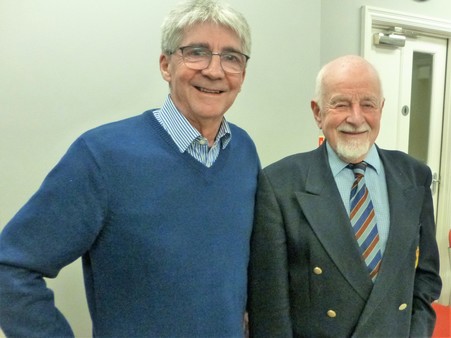 The photo shows Neil Swanwick - CCLS committee member with John M Brown

Photo courtesy of John Windle
VISIT OF JOHN M BROWN ON TUESDAY 20TH MARCH 2018
The last meeting of the Society's 2017/18 season saw over 50 members attending to hear John Brown, the Derbyshire CCC's scorer recall the major steps in his scoring career.
John recalled getting a cricket scorebook as a Christmas present in 1948 and from that time he was hooked. He scored every ball of every test at the Oval between 1949 and 1955 and still has the books (including the Christmas present) to prove it. He played cricket regularly and is proud that he was John Emburey's first captain in senior cricket.
He has travelled the world extensively following the England cricket team and has, of course always scored at the matches he attended.
He was appointed as scorer to Derbyshire CCC in 2000 and has progressed to be one of the most experienced and well respected scorers in the country. Amongst the many highlights of his career has been scoring for Test Match Special and appearing on the 'Eggheads' TV quiz programme.
In the second half of the evening John took us through the changes to the laws of cricket being introduced for the 2018 season.
He brought many scorebooks and other items for members to peruse and this caused an extension to our break in the middle of the evening.
At the commencement of the meeting Committee member Neil Swanwick welcomed Mike Taylor back to chair the meeting and presented him with a cheque from the Society to Chesterfield CC for their Junior Cricket section.
A most enjoyable evening and members went away in anticipation of a glorious summer of cricket and looking forward to the Society's new season in the autumn.
---
Reports from Previous Meetings
2017/2018 Season
Elizabeth Ammon
Richard Tomlinson
Jeremy Lloyds
Mal Loye
2016/2017 Season
Mike Hendrick
David Leatherdale
Kim Barnett
Wayne Madsen
Dave Fletcher
Neil Mallender
Alan Hill
Simon Jones MBE & Malcolm Ashton
2015/2016 Season
Richard Blakey
Angus Fraser MBE
Chris Watts & Steve Richardson
Paul Baldwin
Stephen Chalke
Wes Durston
2014/2015 Season
David Frith
Martin Bodenham
Grahame Lloyd & John Parkin
The Pyemont Brothers
Graeme Welch
Tony Borrington
2013/2014 Season
Simon Storey
Jeff Evans
Chris Marples
Colin Shindler
John Carr
Malcolm Ashton
2012/2013 Season
John Barclay
Cally Barlow
MJK Smith OBE
Stephen Chalke
John Lever MBE
Geoff Miller
2011/2012 Season
Chris Grant & Tom Poynton
Rev'd Mike Vockins OBE
Richard Kettleborough
Derbyshire Cricket Academy
Mick Newell
Roger Knight OBE
Clive Radley MBE
2010/2011 Season
Pat Murphy
Paul Edwards
Colin Tunnicliffe
Geoff Cook
Don Shepherd & Edward Bevan
David Morgan
Gallery

Members of the late Trevor
Bowring's family with
Mike Taylor and Jason Fage

Trevor's grandson, Sam, rings the
bell for the first time, with
Shirley Bowring and Mike Taylor
| | | | | |
| --- | --- | --- | --- | --- |
| David Marshall & James Pipe | John Barclay & Edwin Smith | David Marshall & John Barclay | Trevor Bowring, David Marshall & Bob Wood | John Barclay meeting,134 people enjoy a superb meal |
| John Morris & David Marshall | Trevor Bowring, Jim Parks & Jim Brailsford | Matthew Maynard & David Marshall | Niven Roper & Chris Kelly | Ray East & Mike Taylor |
| Chris Read & David Marshall | Steve Garratt & Niven Roper | Steve Franks & Alan West | Steve Kirby & David Marshall | Keith Loring & Mike Taylor |
Copyright © 2004-2017 Chesterfield Cricket Lovers' Society and CricketArchive