Welcome to our website
Next Meeting
The next evening meeting of the Society will be in the pavilion at the Queen's Park cricket ground on Wednesday 9th November 2016 beginning at 7.30pm and the guest speaker will be Neil Mallender.

One of the most respected umpires in the game, Neil has officiated in 3 tests and 22 ODIs and has served on the ICC's Elite Panel. As a player he enjoyed success with Northamptonshire and Somerset as well as with Otago during ten successive seasons in New Zealand. Amazingly, after a second innings 5-50 against Pakistan on his test debut (meaning a personal tally of 8 wickets in the match), he only played once more for England.
Alan Hill Lunchtime Meeting - Wednesday 2nd November 2016 This event is now sold out
Our meetings take place in the pavilion at the Queen's Park cricket ground unless members are informed otherwise. Membership costs £5. Visitors are welcome for a small fee which will be refunded if the visitor becomes a member on the evening.
Meetings begin at 7.30 p.m. and are held monthly from October to March. The evenings vary from Monday to Thursday.
Founded in 1963, we are the "senior" of the three societies in Derbyshire.
The aim of the Society is to further interest in and enthusiasm for cricket at all levels
Don't forget to visit the Derbyshire CCC website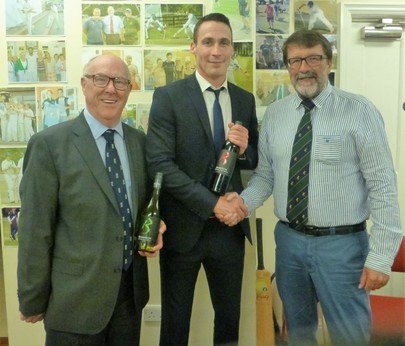 The photo shows Mike Taylor presenting a bottle of wine
to guests, Malcolm Ashton & Simon Jones

Photo courtesy of John Windle
VISIT OF SIMON JONES & MALCOLM ASHTON ON MONDAY 3RD OCTOBER 2016
Simon Jones, the Glamorgan and England fast bowler provided a great start to our 'season' with an engaging insight into his career. The evening was enhanced by Malcolm Ashton, the ex TMS statistician, acting as a skilled and humorous interviewer. A fine 'double act'
Although his father, Jeff Jones was obviously a huge influence on Simon he said he was never pressurised to play cricket as a young boy. When his talent eventually emerged he went on a scholarship to Millfield School and his career developed from there.
Simon also named Rod Marsh as a crucial person in his cricket development, returning from an England Academy training camp run by Marsh as 'a more confident, fitter and focussed individual'.
After a debut for England against India in 2002 Simon was chosen in the Ashes squad to tour Australia later that year. On the first morning of the first Test at Brisbane Cricket Ground he suffered a severe injury, rupturing an anterior cruciate ligament while sliding to field a ball.
He talked at length and with openness about his feelings immediately on realising he had a bad injury and his subsequent rehabilitation. His immense determination, courage and total focus on recovery were evidenced in what he said.
After returning to the England team to play the West Indies in the Caribbean he was then part of the historic Ashes series in 2005. He gave a fascinating insight into the team ethos of that Ashes side, particularly regarding the roles of the captain and coach. He gave praise to Ashley Giles for his role during that series saying he was a vital member of the bowling team yet did not get the same plaudits as the 'quickies'. Simon was very modest about his own contribution of 18 wickets at an average of 21.00 in the four tests he played. Unfortunately an injury during the fourth test was eventually to result in that being his last Test match.
He was genuinely moving about the role his wife and two sons had played in helping him deal with his injuries.
A packed house of over 80 members and guests gave Simon and Malcolm a richly deserved round of applause and agreed this had set a high standard for the season.
---
Reports from Previous Meetings
2015/2016 Season
Richard Blakey
Angus Fraser MBE
Chris Watts & Steve Richardson
Paul Baldwin
Stephen Chalke
Wes Durston
2014/2015 Season
David Frith
Martin Bodenham
Grahame Lloyd & John Parkin
The Pyemont Brothers
Graeme Welch
Tony Borrington
2013/2014 Season
Simon Storey
Jeff Evans
Chris Marples
Colin Shindler
John Carr
Malcolm Ashton
2012/2013 Season
John Barclay
Cally Barlow
MJK Smith OBE
Stephen Chalke
John Lever MBE
Geoff Miller
2011/2012 Season
Chris Grant & Tom Poynton
Rev'd Mike Vockins OBE
Richard Kettleborough
Derbyshire Cricket Academy
Mick Newell
Roger Knight OBE
Clive Radley MBE
2010/2011 Season
Pat Murphy
Paul Edwards
Colin Tunnicliffe
Geoff Cook
Don Shepherd & Edward Bevan
David Morgan
Gallery

Members of the late Trevor
Bowring's family with
Mike Taylor and Jason Fage

Trevor's grandson, Sam, rings the
bell for the first time, with
Shirley Bowring and Mike Taylor
| | | | | |
| --- | --- | --- | --- | --- |
| David Marshall & James Pipe | John Barclay & Edwin Smith | David Marshall & John Barclay | Trevor Bowring, David Marshall & Bob Wood | John Barclay meeting,134 people enjoy a superb meal |
| John Morris & David Marshall | Trevor Bowring, Jim Parks & Jim Brailsford | Matthew Maynard & David Marshall | Niven Roper & Chris Kelly | Ray East & Mike Taylor |
| Chris Read & David Marshall | Steve Garratt & Niven Roper | Steve Franks & Alan West | Steve Kirby & David Marshall | Keith Loring & Mike Taylor |
Copyright © 2004-2016 Chesterfield Cricket Lovers' Society and CricketArchive