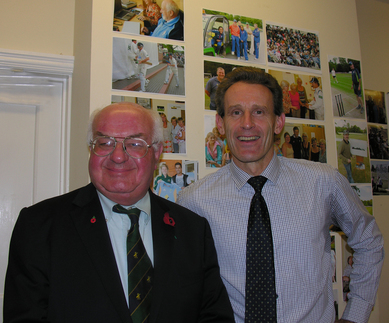 Chesterfield Cricket Lovers' Secretary, John Cook, pictured with John Carr.
Photo: Mike Taylor
VISIT OF J D CARR ON 11TH NOVEMBER 2013
It was with much pleasure that we welcomed John Carr to the Queen`s Park Pavilion - his first visit to The Society in over a decade. John is a former Repton School (where he was coached by the legendary Eric Marsh), Oxford University and Middlesex batsman. He is, of course, the son of the distinguished former Derbyshire and England Test Captain, Donald Carr, and nephew of Major Douglas Carr, who succeeded Donald as Derbyshire`s Secretary when the younger man moved to Lord`s to take over as MCC Assistant Secretary in 1962. John told us that he had checked through old records and that his father had played more first class matches on Queen`s Park than at any other Ground. Our guest stated that one claim to fame which he enjoyed was that he came into the World in a house next to Lord`s and must, therefore, be the first class cricketer born closest to Cricket`s HQ!

Mr. Carr ran through his Cricket career with us. Middlesex had some superb players in its ranks whilst he was there - Gatting and Fraser, for example, but he felt that the County was projected to its greatest successes by its three English Test spinners, Emburey, Edmonds and Tuffnell.

John briefly left the Game to enter Banking, with Barclays but then returned for a second spell at Middlesex, before finally retiring in order to take up an Administrative Post at Lord`s. For the best part of the last two decades he has held important positions within the ECB, latterly as Director of England Cricket Operations. Over the years his duties have encompassed such diverse subjects as the organization of Contracts within the Game, the setting up of the various County Premier Leagues (thereby bringing professional cricket little closer to the recreational Game) and the planning of overseas Test tours to, and by England, thereby enabling him to undertake some travel, which he much enjoys.

In Questions & Answers our guest handled with much thought and honesty a wide range of topics, including the relationship between the Recreational and the Professional Games; the DRS Review System in its various forms, the comings and goings on short term Contracts of overseas players in the County Game and finance.

A great evening, conducted by a thoughtful and thoroughly pleasant and likeable man, in front of another bumper audience. At the end of the meeting Mr. Carr thanked The Society for being the first ever Cricket Organisation to have ever invited him back for an encore - surely not true and just a joke!
Copyright © 2004-2017 Chesterfield Cricket Lovers' Society and CricketArchive