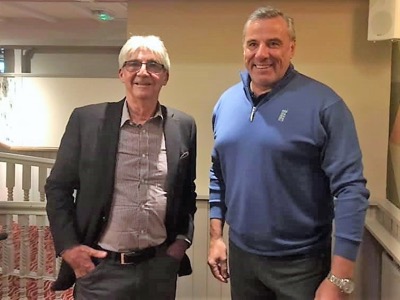 The photo shows Vice-Chairman, Neil Swanwick with David Millns

Photo courtesy of Paul Hand
CCLS AGM & THE VISIT OF DAVID MILLNS ON MONDAY 25TH OCTOBER 2021
There was an excellent attendance for the Society's first physical meeting since 4 March 2020. The committee were somewhat nervous about the likely attendance given the time since the last meeting and the fact that we were meeting at a new venue.

Over 50 members attended the Olde House to attend the Society's AGM and to hear our guest speaker, David Millns.

David proved to be an excellent speaker who talked about his experiences as an umpire since his appointment to the International Panel in 2020. He gave a fascinating insight into the roles of the third and fourth umpires in international matches and his first experience of those functions within this arena.

His description of the perils of the third umpire having to judge DRS reviews was particularly enlightening and the majority of members present will now sympathise with the strain umpires are under in doing this role – as David said –' you just can't get it wrong!' The perils of the 'Double Review' were also explained! The rule differences between ICC and ECB regulations for international matches complicated role in undertaking the third umpire and on-field duties.

David also spoke about being selected as an umpire for the three-match T20 International series against Australia in the Covid-19 summer of 2020, having the unusual experience of being part of the bio-secure 'bubble' for players, coaches, media teams and officials during the re-arranged season. The pressure of being an international umpire was exacerbated with the added strain of being part of the 'bubble' and David talked about the mental strain that this placed upon international umpires throughout the world.

Maybe the experience of walking into the Trent Bridge dressing room for his first match for Notts and encountering characters such as Eddie Hemmings, Derek Randall Tim Robinson, Clive Rice, Chris Broad and Richard Hadlee prepared him for anything he could encounter in his future cricketing experiences.

An evening very much appreciated by all attending, as was evidenced by the number of questions to David in the second part of the evening.

We are very grateful to David in providing such a wonderful start to the season.