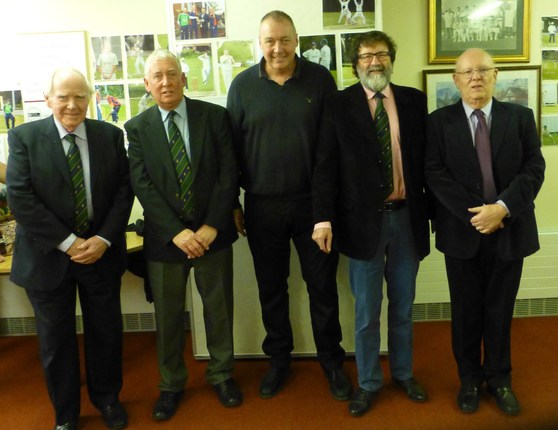 The photo shows (L-R) David Marshall (CCLS President), Niven Roper (CCLS Treasurer), Angus Fraser MBE,
Mike Taylor (CCLS Chairman) and John Windle (CCLS Secretary)

VISIT OF ANGUS FRASER MBE ON MONDAY 15TH FEBRUARY 2016
(plus an appreciation of Ken Roe and the presentation of the 'Ray Buxton Services to Cricket Award 2016' to Niven Roper)
A packed house for the visit of Angus Fraser was rewarded with a memorable evening. Not always a' given', this was a night when members got to know the speaker, his philosophy and values. Angus provided a talk that was mixed with countless anecdotes, tremendous humour and a self-deprecating style.
'Gus' has been described as 'the most controlled and consistent England bowler of the 1990s, being a classic English seamer, landing ball after ball outside the off stump'. He represented England in 46 test and 42 ODI matches.
He first represented England in 1989, a season when 29 players represented their country. On his debut he had first innings figures of 33 – 8 – 63 – 4 (econ. 1.90). He finished his test career with 177 wickets at an average of 27.32 (econ rate 2.66).
He told lots of stories about incidents during his playing career with Middlesex and England. His favourite player was Brian Lara, who he described as a 'a genius'. He talked about spending a great amount of time in the field just watching Lara batting 'for ever and never looking like getting out'. He is very proud that he managed to claim Lara's wicket as his 100th in test cricket.
After finishing his career he has had careers in the media, cricket management and for the last two years has been an England selector. He gave an insight into the work of a selector stating that they followed three principles in undertaking their role: - Honesty, Fairness and Commitment.
The only bias he showed during the evening was lamenting that all the rule changes that have been made in recent years have been exclusively to make the batsman's life easier!!
The enthusiasm and length of the applause at the end of the evening was indicative of how much our members had enjoyed a night with Gus Fraser. He is a most entertaining, modest, insightful and sincere man.
KEN ROE
The meeting commenced with our President, David Marshall giving a touching speech of appreciation of Ken Roe, the Society Vice President, who had recently died.

David stated 'There are few people who have done more for cricket in Derbyshire than Ken Roe who died in January at the age of 92

. Ken gave magnificent service to Derbyshire County Cricket Club. He served on the committee, was a Vice President, the public address announcer for many years, and was Chairman of the Ground Committee which involved countless hours of work, during both winter and summer. He was also invited to sit on the TCCB pitches committee at Lord's – a great honour.

He was a member of the Chesterfield Cricket Lovers' Society for over 40 years, a committee member for many of them, served a term as President and was one of our Vice-Presidents.

The Society was well-represented at Ken's funeral which was held at Amber Valley Crematorium and which was very well-attended. Among those I saw present were several distinguished past players, including Kim Barnett, Devon Malcolm, Alan Hill and Colin Tunnicliffe. There may have been others.

He was held in high esteem and was universally liked and respected. We shall all miss him'.

Members stood in silence to remember Ken and all the work he had undertaken for cricket in the county.
NIVEN ROPER is the recipient of the 'Ray Buxton Services to Cricket Award 2016'
Members were delighted when Angus Fraser, on behalf of the Society, presented the 'Ray Buxton Services to Cricket Award 2016' to Niven Roper.

Niven is a well-respected umpire commencing in the Bassetlaw League in 1991, progressing to Premier Leagues shortly after their inauguration in 1999. Over the last decade, he has also featured on the ECB officials panel for County 2nds fixtures and other national competitions, as well as being appointed to prestigious matches on behalf of ICC in the rapidly emerging women's arena.

He has served as Treasurer of our Society for 25 years also covering/co-ordinating other Society roles and duties as needs have dictated and, without him there were times when the Society may have folded.

He has also provided training and subsequent mentor support to new umpires and scorers, as well as undertaking the coaching of local youth players.

After the completion of 25 consecutive seasons, personal circumstances were considered right to call 'time' on the professional game, thus enabling the next generation to step forward. In conveying his congratulations and thanks, Chris Kelly, ECB Umpires Manager, declared Niven had lots to be proud of during his umpiring career.

Hopefully his on-field participation in the Derbyshire Premier League, as well as his conscientious discharge of many remaining administrative roles for leagues, clubs and other associated organisations, will continue for a few more years yet.