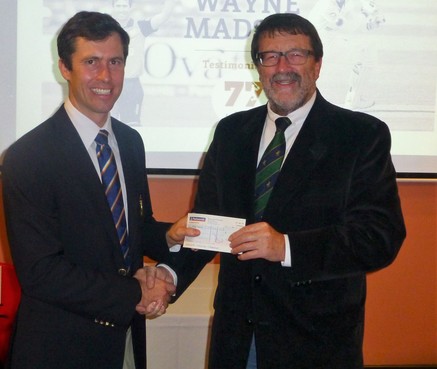 The photo shows Mike Taylor presenting a cheque
to guest speaker, Wayne Madsen

Photo courtesy of John Windle
VISIT OF WAYNE MADSEN ON TUESDAY 24TH JANUARY 2017
An attendance of nearly 100 members and guests enjoyed the first of Wayne Madsen's Testimonial Year events which was proudly hosted by the Society It is entirely appropriate that this testimonial year has been awarded to Wayne by the Derbyshire club in recognition of his outstanding service to the county.

The evening began with a viewing of the promotional video for Wayne's testimonial. This excellent video showed highlights from Wayne's professional career interspersed with a very young Wayne playing in his first hard ball cricket match back home in South Africa. Borrowed team kit of only one pad, an oversized bat and, of course, no helmet did not prevent this youngster from displaying some very promising shots early in his career.

Wayne then talked about his early life in South Africa and his sporting family containing both South African hockey and cricket internationals. In 2004 he made his international hockey debut and his first class cricket debut for KwaZulu-Natal. After four seasons with them he and his wife moved to England in 2008.

He first secured a two-year Derbyshire contract in 2009 after cracking two centuries in his first four games with the county and averaged 57.78 in the County Championship in his first season.

He became captain in 2012 and guided Derbyshire to promotion in his first season - their first honour for 20 years. His personal highlight was a career-best 231 against Northamptonshire and he shared a ninth-wicket partnership of 261 with Tom Poynton which fell only 23 runs short of the world record.

Wayne shared with the audience the fact that he would always remember 2012 with very mixed feelings as he and his wife suffered a tragedy during that year.

It brought cricket into perspective and that is the impression that many attending the evening will remember. Wayne is a man of great principles and values – dedicated to his family and caring about many issues in the world. He talked often of 'giving thanks' for many things that had happened in his life. Here is a very engaging, pleasant and rounded sportsman who is a great credit to himself, his family and his cricket club. A well-spoken, immaculately dressed, well-mannered and extremely talented cricketer who is genuinely friendly to all. Why then did James Pipe come up with the nickname 'Psycho' which some people still use? It's worth going to hear Wayne at his other testimonial events to get the answer.

Members were captivated by this performance from one of Derbyshire's favourite cricketers and this was shown in the applause at the end of evening and of the donations made to his Testimonial Year. It is hoped that the rest of his year is as successful both on and off the field as he richly deserves it.