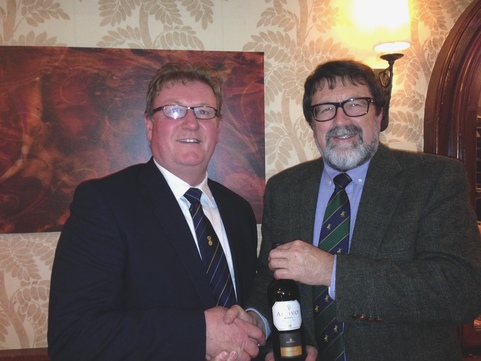 The photo shows Chris Marples receiving a bottle of wine from Society Chairman, Mike Taylor
Picture: Jan Taylor
VISIT OF CHRIS MARPLES ON 13TH JANUARY 2014
Two thousand and fourteen began with a most welcome visit by the Chesterfield Cricket Club Head Coach, Chris Marples, the former Derbyshire Wicket Keeper and Chesterfield F C Goalkeeper. Chairman Mike Taylor revealed that Chris was the 154th sportsman to have held professional first class Contracts with both Cricket and Football clubs - and would almost certainly be the last in the long line of players to do so, now that the seasons of our national Summer and Winter Sports overlapped to such an extent. (Chris himself told us later that, upon leaving Derbyshire, he felt obliged to decline an engagement with Glamorgan, owing to his increasing commitments with Chesterfield F C .)

Mr. Marples told us that Cricket had always been his first love and that he had signed professional forms with Derbyshire before John Duncan had invited him to play football with his home town Club. Derbyshire had been on the look out for wicket keeping cover in view of the impending retirement of the peerless Bob Taylor, but Chris made his footballing debut before playing Cricket for the County when Goalkeeper Jim Brown fractured a finger and Mr.Marples was needed urgently! Chris made his Derbyshire First Team debut in the following summer at Harrogate in the old Tilcon Trophy Competition; his first class debut came some time later ( in 1985 against Yorkshire, on Queen`s Park). Our speaker told us that Derbyshire always had first call on his services, as he had signed a Contract with them first but they were always willing to co-operate with the Football Club when fixtures clashed - this was particularly so when Chesterfield F C was pressing for promotion.

Mr. Marples entertained us with anecdotes from his professional careers - many of them relating to his experiences in football, which he played professionally for a dozen years. One of his disappointments had been that he had never enjoyed a decent FA Cup run, but that ill luck changed in the twilight of his career, after he had signed for the small non-league Yorkshire club, Emley, whose Ground was located within a stone`s throw of the famous Radio Mast, high on Emley Moor.

Having negotiated four Qualifying Rounds the Club found itself contesting the First Round Proper. The replay went to a Penalty Shootout, at which point Chris` father left the Ground, never having seen his son save a penalty in such circumstances in a dozen years. Three penalty saves later Emley were into the Second Round, against Lincoln City (then a League Side). At Sincil Bank Emley were leading 4-3 after 90 minutes, but in the ninth minute of injury time Lincoln secured a fortuitous equalizer. The Replay (at Huddersfield Town`s Ground) went through Extra Time to another Penalty Shootout. For the crucial penalty Goalkeeper Marples was faced by a John Stant, whose penalty-taking habits were well known to him. John Beck, the Lincoln Manager who, in years gone by had briefly managed Chris, was urging on his player from the sidelines. Mr. Marples Senior had again left the Stadium - but was in a prime position in the stands at Upton Park when his son`s Team faced West Ham United in the Third Round. After 89 minutes the score was an incredible 1-1, but then Emley hearts were finally broken and the adventure ended by a late goal. The Team had done its little community proud, however.

Regarding Cricket our speaker considered that the two best players with whom he had appeared were Michael Holding and John Wright. An opponent who received a particularly honourable mention was the late Malcolm Marshall. Mr. Marples much preferred the 4 -Day County Cricket Format to that of only 3 Days duration. During his County career he had played around 20 First Class Matches - all scheduled to last for 3 Days. Approximately half of these had to be subjected to "contrived" finishes in order to try to secure a result.

Chris` sporting career ended when he broke a leg. During his recovery he sat for his Advanced ECB Coaching Badges. As the Chesterfield Coach he still turns out occasionally for the Club in extremis and I have witnessed him in recent summers clumping opposition bowlers to obscure parts of Queen`s Park which are still on my list of "places to visit"!

On a not particularly pleasant mid-winter`s evening, at a new venue ("The Olde House Hotel" in Newbold) there was a splendid turnout of well over 50 Members and Visitors (some of whom were footballing fans and friends of Chris` from the Cricket Club) for what was another thoroughly enjoyable evening.

One of the visitors was the young Derbyshire batsman, Ben Slater, who gave us an insight into the early pre-season preparations at The County Ground.

Derbyshire CCC's new Regional Ambassador, Society Member and former County Treasurer, Malcolm Nicholas, said a few words about his new role.

At the beginning of the Meeting Chairman Mike Taylor stated that he had sent congratulations to Society Honorary Life Member, Geoff Miller, on his appointment as OBE in the New Year`s Honours List and there had been a short silence in memory of the late Gerald Mortimer, the former Cricket and Football Correspondent of "The Derby (Evening) Telegraph".