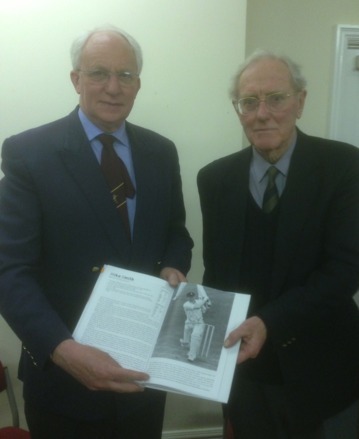 Chris Middleton with MJK Smith OBE at Queen's Park
Picture: Mike Taylor
VISIT OF MJK SMITH OBE ON 26TH FEBRUARY 2013
It was a particular pleasure to welcome to the Queen`s Park Cricket Pavilion on Tuesday 26th February the distinguished former England Test Captain, Mike Smith - especially since we had been obliged to cancel at very short notice his previous projected visit in mid-January, thwarted by the abysmal weather conditions. Grateful thanks, too, were due to longstanding Society Member and former Derbyshire Chairman, Chris Middleton, for kindly offering to sponsor the evening and to entertain Mike prior to the Meeting. This was greatly appreciated.

Following his career as a Test and County Cricketer Mike spent many years in Administration - with Warwickshire and England - and invited his audience to contemplate the often thankless task of endeavouring to identify budding young talent which might be able to make the grade in top class Cricket. He drew attention to the many young players who had been introduced to the County Game because of their perceived talent in a particular discipline, but who subsequently made the grade as a result of achievements in quite different aspects of the sport. Jim Parks, who gained his early Test caps as a batsman, had never kept wicket in his life until he was asked to take the gloves in Sunday Benefit/Charity Matches. He went on to enjoy a lengthy career as the England wicketkeeperů.. For the benefit of Derbyshire supporters Mr. Smith cited the examples of the Rhodes family. Bert had begun as a seamer, but it was as a spinner that he became pre-eminent in the Game. Son Harold, on the contrary, was signed as a burgeoning spinner, but of course went on to become a most fearsome fast bowler, gaining two test Caps against India in 1959, There have been countless other examples over the years.

It was also surprising to learn how many instances there have been of First Class Cricket Clubs failing to recognize the potential of players to whom they have given trials. Immediately after the Second World War Derbyshire hesitated over signing the great Leslie Jackson and nearly lost him to another County. Many years earlier Warwickshire had declined to offer a Contract to the young Wilfred Rhodes; Essex did not consider Jack Hobbs to be what they were looking for; Mr. Smith felt that Lancashire would not have had to wait from 1930 until 2011 to add to their Championship Trophies if, in the 1950s, they had taken the opportunity to augment their already very impressive bowling armoury of Statham, Higgs, Lever and Tattersall with the names of Frank Tyson and Norman Gifford.

In Questions & Answers after the Break M J K shared with us his views on a number of aspects of the Game - he disliked, for instance, the Two-Division County Championship, but had enjoyed immensely playing on uncovered pitches - the variety helped players to hone their skills (Burton-on-Trent got a mention!).He also dealt with a question regarding the fact that he was the last Double International, having been capped by the Rugby Football Union against Wales in January 1956. He had played a fair amount of Rugby at University, but never a full Season of Club Rugby, owing mainly to the fact that he spent a part of most Winters on overseas Cricket tours. Mr. Smith felt that he would not even have been looked at today as an England Rugby "possible" because of the far higher levels of fitness required in the professional era.

A modest and unassuming man Mr. Smith dealt very little with his own Cricket career, but could not entirely conceal his pride in the fact that his son, Neil, had followed him into the Warwickshire Team, had captained the County for several years and had won a number of England Limited Overs "Caps". It was left to Chris Middleton, in his vote of thanks, to put some perspective into our Guest`s achievements. He had captained England in 25 of his 50 Tests, during which he had led his Country on 3 overseas tours, all of them against major opposition - India, South Africa and Australia. England had drawn two, and won one, of those Test Series.

Another great evening in our 50th Anniversary Celebrations!
Copyright © 2004-2017 Chesterfield Cricket Lovers' Society and CricketArchive