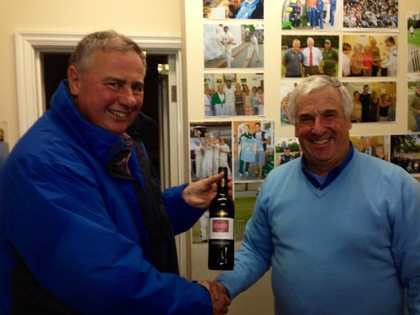 The picture shows Martin Willows presenting Colin Shindler with a bottle of wine at the end of another entertaining evening.
Photo: Mike Taylor
VISIT OF DR COLIN SHINDLER ON 5TH DECEMBER 2013
We were pleased to welcome Colin Shindler to the Queen`s Park Pavilion as our guest. A Mancunian by birth and a City fan (he is the author of a best-selling book: "Manchester United Ruined My Life") Dr. Shindler is a History Graduate of Cambridge University, where he completed a PhD relating to the film industry in Hollywood. He is now a Lecturer at that University. Outside of academia he wrote the screen play for the Film "Buster", produced the TV Series "Lovejoy" and has also written books and plays on various diverse subjects. One of his most recent projects has been a biography of the former England opening batsman, Bob Barber.

For the benefit of his fellow Cricket Lovers (us!), Colin contrasted memories of County Cricket in his youth with Championship Cricket today, illustrating his point with a comparison of Roses Matches which he had watched as a youngster, with recollections of pulsating performances from such icons as Geoff Pullar, Peter Lever, Geoff Clayton (Lancs. Wicketkeeper), Clive Lloyd, Farokh Engineer and (on the other side) Geoff Boycott and Fred Trueman, with his thoughts on seemingly more anodine encounters in more recent times. The concentration on Cricket nowadays is on the International Arena, whereas the love of County Cricket is based more on Locality. In Colin`s youth County supporters came to identify with their heroes; even the overseas stars such as Lloyd and Engineer became attached to Lancashire, stayed for many years and became indelibly identified with the County. Nowadays, overseas players seem to drop into, and out of, the County Scene - sometimes on short term Contracts of just a few weeks - without establishing any identity, let alone roots, with the Club (by next year they may well have signed up with a competitor).

Colin felt, too, that the aura of the traditional Roses Matches had been diminished by the coming of the M62 Motorway, easing access between the two protagonist Counties across the Pennines.

Our visitor had admired the literary prose of the late Neville Cardus, former Cricket Correspondent of The (Manchester) Guardian , but his work had fallen somewhat out of favour in more recent times. He also had a very high regard for David Green, the former Lancashire and Gloucestershire batsman, who had subsequently become a much respected Cricket and Rugby Correspondent with "The Daily Telegraph". Dr Shindler still marvelled at Green`s achievement in 1965, when he scored over 2000 First Class Runs without the aid of a single century (Highest Score, I believe, 85).

It was with some reluctance that Chairman Mike Taylor felt obliged to call "Time" on the Meeting - considerably later than our normal Closing Hour.
Copyright © 2004-2017 Chesterfield Cricket Lovers' Society and CricketArchive