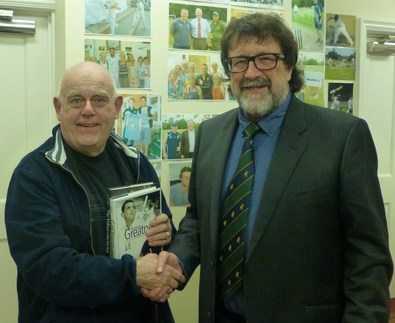 The photo shows Jonathan Salisbury receiving the
'Ray Buxton Service to Cricket Award' from Chairman, Mike Taylor.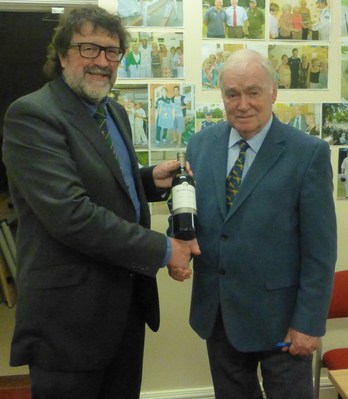 The photo shows Mike Taylor presenting a bottle of wine
to guest speaker, David Frith

Photos courtesy of John Windle
VISIT OF DAVID FRITH ON WEDNESDAY 18TH MARCH 2015
We were delighted at the commencement of our final meeting of the winter season to make the presentation of 'The Ray Buxton Service to Cricket Award' (presented annually since inauguration in 1968) to Jonathan Salisbury.

Jon's 'cricketing CV' dates back to at least 1967 when he ran teams at Henry Cavendish School, Derby with a then almost parallel role with Derby City U13 & U15 sides. He chaired Derbyshire Cricket Association from 1980 before evolving into a similar role with Derbyshire Cricket Board until retirement in 2013, an impressive 33 years of positive and successful leadership. His contribution to the cause of Umpiring in Derbyshire must also be unrivalled – an ongoing on-field presence of 38 years (including officiating in 4 National Finals and 28 years in County Seconds) and 30+ years already recorded as Appointments Secretary, Mentor and all-round respected Champion of 'The Men in White Coats'!

Jon's considerable achievements ensured he received very warm acknowledgement from the audience and his response in acceptance of the award was typically sincere and humble.

It was then time to welcome David Frith to speak to Society members. Over the years he has built a reputation for excellence as a reporter, editor and author. The startling point arising from his talk was his contact and friendship with so many great cricket players throughout the world. He recounted with ease and without notes some conversations he had with these greats in the game (which are detailed in his recent book 'Frith's Encounters'). Amongst his favourite characters were Godfrey Evans, Ray Lindwall and John Arlott.

As in his writing, he had definite opinions about individuals and subjects. Monthly cricket magazines are not as good as they were in the past; he would like the current crop of international cricketers to display more human qualities and be 'less machine like'. As an avid collector of cricketing memorabilia he was particularly critical of modern cricketers giving unidentifiable scribble as an autograph – this would not have been done in times past. Regarding comments about individual cricketers you will have to read the book!

He informed the meeting that his latest book, being published in April 2015 was' Stoddy': England's Finest Sportsman' – a book about A E Stoddart. This means he returns, after 45 years and 45 books, to the subject of his first book, written in 1970, 'My Victorious Stod' which won the inaugural Cricket Society Book of the Year award.

The evening was a fascinating insight into David Frith's extensive life built around the game he loves. It was enjoyed by all attending.