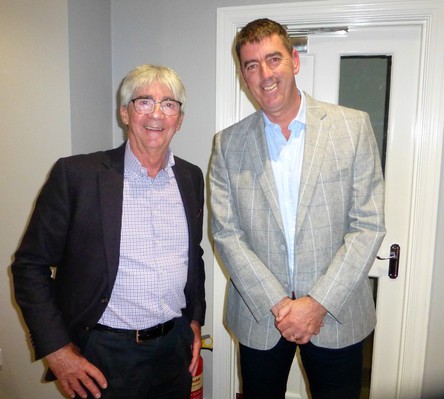 The photo shows CCLS Vice-Chairman, Neil Swanwick with Darren Bicknell

Photo courtesy of John Windle
VISIT OF DARREN BICKNELL ON MONDAY 18TH FEBRUARY 2019
The Society was pleased to welcome Darren Bicknell to their latest meeting. The former Surrey and Notts player proved to be an entertaining and engaging speaker.

He spoke of his days of playing cricket with his younger brother, Martin. He stated that the reason he became a batsmen and his brother a bowler was the fact that he was the oldest and insisted on batting first in any games between the two of them. These games provided good practice in their formative cricketing years. Darren played for his local club and gave special praise and thanks to one of the volunteer coaches who further developed his game.

He talked with pride about the thirteen years he spent at Surrey and the tours he made with the England 'A' side, even though the tours were not as enjoyable as they might have been due to 'external factors' in Pakistan, Sri Lanka and Zimbabwe.

He particularly recalled his first century, in 1987 v Hampshire, who included Malcolm Marshall in their team. Marshall remained the fastest bowler he had faced and a moment Darren will never forget was as he was walking back to the Pavilion after scoring his century Marshall sprinted from the other side of the ground to congratulate him.

After Surrey he moved to Notts and spent many successful seasons with them. He remains a member of the Notts Committee and Chair of the Cricket Committee.

He is also now the Chief Executive of the Belvoir Cricket and Countryside Trust, a charitable organisation which aims to provide cricket and other sporting activities for young people.

This was a thoroughly enjoyable evening with a self-effacing, modest man who is an accomplished speaker and a great ambassador for cricket. The number of questions and length of applause from members at the end indicated what a pleasing evening this had been.