VISIT OF PAUL EDWARDS - 9TH MARCH 2011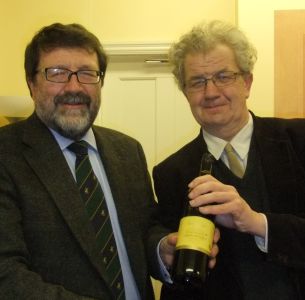 Acting Chairman Mike Taylor (left) presenting Paul Edwards with the customary bottle of wine at the end of another entertaining evening at Queen's Park
Picture: John Cook

We were privileged to be addressed at our March Meeting by PAUL EDWARDS and, from his comments, he was equally pleased to see us, since he announced that he was flattered that so many people had chosen him in preference to Gareth Bale (Tottenham had an important televised European fixture on the same evening). In the absence of our President and Chairman (both vacationing in different parts of the Iberian Peninsula) Mike Taylor ably took the Chair.

Paul Edwards is a long standing freelance journalist, based on Merseyside, who has made frequent contributions to Wisden (both the Almanack and the monthly magazine) as well as to at least two Counties' Yearbooks. He has been Cricket Correspondent to the Liverpool Evening Post and has also written many pieces for the Internet. Mr. Edwards made it clear from the outset that he has a great deal of time for all aspects of Cricket, from Test Matches down to the Recreational Game. He covered the entire 2009 Ashes Series, for example, but surprised many of his colleagues in the Press Box by insisting upon simultaneously updating himself on Club League Cricket Results - particularly, in his case with his own local teams in the Liverpool Competition. He had thoroughly enjoyed the Winter Ashes Series but, in response to a question from the floor, considered that England would need to be at their very best this summer if they were to prevent India from beating them. What particularly attracted him, however, to Test Matches between two fairly evenly-matched Sides was the power of the contest, rather than who eventually won.

Mr. Edwards is a big fan of County Cricket and, in particular, the Four Day Championship format. Even Twenty/20 has a place in the scheme of things - although he was not yet sure where that place was. He was disappointed with the Fixture Schedule for 2011, when, because of the need to prioritise One Day Cricket, many Counties were finding that they would have completed one quarter of their Championship Programme before the end of April , which is not a summer month. Lancashire, for example, had two Championship Matches to fulfil at Liverpool during April - the weather and the bitter breeze blowing from the nearby Mersey permitting, of course.

Our guest spoke highly of Derbyshire's Captain, Luke Sutton - an excellent cricketer and a fine man, with whom he had enjoyed contact during Luke's time at Lancashire.

Paul was all in favour of technology as an aid to procuring correct decisions in International Matches. How the technology was used, however, was crucial to its success. The same level of technology needed to be used consistently in all International Series.

Mr. Edwards told us that he thoroughly enjoyed his role as a freelance journalist, a job which he found very rewarding, but pointed out that he could not get every judgment and prediction correct on every occasion. In 2010, he felt that Jimmy Adams (Hampshire) had made a very strong case for himself to be the opening batsman for the Ashes Series - our guest had seen him play two very impressive innings against Lancashire and Yorkshire respectively. Paul felt that the player to make way for Adams in Australia should be.Alastair Cook (whoops!).

We came away from the Meeting with the impression that Mr. Edwards had a great deal more in the locker about which to talk to us - food, perhaps for a return visit in due course?
Copyright © 2004-2017 Chesterfield Cricket Lovers' Society and CricketArchive