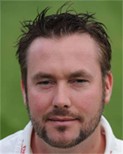 Ian Blackwell

ZOOM MEETING - IAN BLACKWELL ON MONDAY 11TH JANUARY 2021
Encouraged by the success of the first Society's Zoom, we were very grateful to Ian Blackwell for accepting our invitation to appear at the January meeting. We were pleased that some members of Chesterfield Cricket Club and Friends of Queen's Park Cricket could join us and even more so that our Secretary, John Windle, heavily involved in the success of the first meeting with Ryan Duckett, was well enough to be with us too.

With Chesterfield cricket connections at all levels Ian Blackwell was an obvious target for this meeting. Neil Swanwick conducted the interview clearly and helpfully, encouraging Ian to talk about his early cricketing days with school and local club He spoke warmly about the support he had had from everyone throughout this period and in his early days with the Derbyshire youth sides before discussing winter coaching at Lord's (his favourite ground after Queen's Park) and Durham, and his first experiences of County Cricket. His views on Derbyshire County Cricket Club and the personalities there at the time were very interesting.

Ian spoke of his moves to Somerset and then Durham before a shoulder injury brought unwelcome early retirement. We heard about his experience in the international field and his views on many of those he had played with and against were fascinating. He spoke frankly about differences of opinion with Justin Langer at Taunton and was appreciative of Dale Benkenstein's somewhat different approach at Durham.

Early retirement made a move to umpiring possible and he has clearly made considerable progress in a short space of time, moving quickly onto the ECB First-Class umpires list. He enjoys it greatly, making clear his view of the importance of thoughtfulness, respect and integrity.

Ian answered the questions honestly and directly, both questions submitted beforehand and also from those present at the Zoom. His warm, relaxed and friendly approach was greatly appreciated by us all.

Our thanks then to Ian, to everyone present, to Neil Swanwick for the thoughtful way he led the evening and not least to Niven Roper for the immense amount of preparatory work done behind the scenes - one of the main reasons for another successful evening.