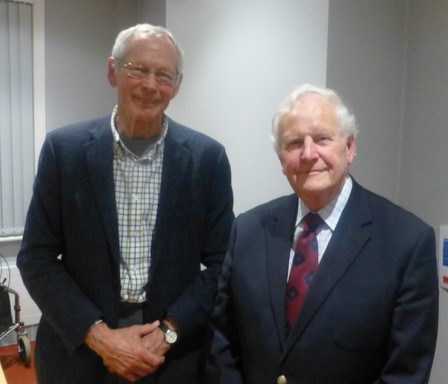 The photo shows Jim Cumbes with CCLS Committee Member, John Paulson

Photo courtesy of John Windle
VISIT OF JIM CUMBES ON WEDNESDAY 5TH DECEMBER 2018
Another near capacity meeting welcomed Jim Cumbes as the speaker at the latest meeting of Chesterfield Cricket Lovers' Society.

Prior to the meeting David Marshall, the President informed the meeting of the death of former Derbyshire CCC committee member, Derek Sederman. A period of silence was held in remembrance of Derek.

The President also informed the meeting that he had received a letter from Mike Taylor expressing his appreciation and delight in being appointed as a Vice President of CCLS and to be awarded the CCLS Services to Cricket Award.

The Chair for the meeting, John Paulson, then gave an informative introduction to Jim Cumbes, making a return visit to the Society. From 1963 to 1982 he played 161 first-class cricket matches for Lancashire, Surrey, Worcestershire and Warwickshire, as well as 376 Football League games for Tranmere Rovers, West Bromwich Albion, Aston Villa and Southport. He also squeezed in a summer with Portland Timbers in the North American Soccer League. After retiring from playing cricket he eventually became Chief Executive of Lancashire County Cricket Club, having held the post from 1998 to 2012.

Jim, an accomplished speaker, entertained the meeting with lots of stories covering his three 'careers' – football, cricket and cricket administration. Alex Ferguson, Bill Shankly and Pele were included in his football tales with Fred Trueman, Geoffrey Boycott and Basil D'Olivera amongst the cricket personalities. One of his biggest regrets in cricket was not playing with Brian Statham – his boyhood hero.

During his talk about his playing career in both sports there was plenty of evidence of his acting in an honest and straightforward manner which he obviously maintained in his role as Chief Executive at Lancashire.

When asked what was the main differences between football and cricket he said that cricket had more humour on a day to day basis and more stories about people playing the game.

He thought his last big project; securing Old Trafford's future with a £42 million redevelopment was probably his greatest achievement.

Members thoroughly enjoyed the evening, in the company of an amiable, accomplished speaker with a seemingly never-ending store of stories on football, cricket and the world in general.