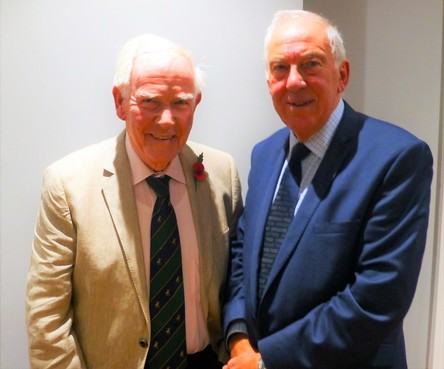 The photo shows CCLS President, David Marshall with Geoff Cope

Photo courtesy of John Windle
VISIT OF GEOFF COPE ON THURSDAY 8TH NOVEMBER 2018
The late Christopher Martin- Jenkins described Geoff Cope as "an exceptional professional cricketer, and a man of immense character and determination". After his appearance at our Society, members present would certainly agree with that assessment.

Geoff talked about his long career with Yorkshire and typically talked of the people who had helped him during those years. An early mentor was Fred Trueman who proved to be a sympathetic and patient advisor. He was one of the people to suggest going to see Johnny Wardle when Geoff had problems with his bowling action. Johnny was effective in assisting in his change of action and went on to be a reliable friend. Contrary to his reputation Wardle also proved to be a sensitive and caring support for Geoff.

His easy going and quiet manner in talking about the incidents and characters he encountered during his career enhanced the stories which contained much humour enhanced by his 'matter - of - fact' delivery. In his career Geoff took 686 first-class wickets in 246 games, with a best of 8 for 73 against Gloucestershire at Bristol in 1975.

He talked openly about his role in helping save Yorkshire CCC from bankruptcy.

Geoff is recognised as one of cricket's most accomplished raconteurs and he enhanced this reputation at our meeting. He is a man of integrity and dry humour - a true gentleman of cricket.

This was a meeting which was enjoyed by all – a thoroughly enjoyable evening with great humour.
Copyright © 2004-2017 Chesterfield Cricket Lovers' Society and CricketArchive