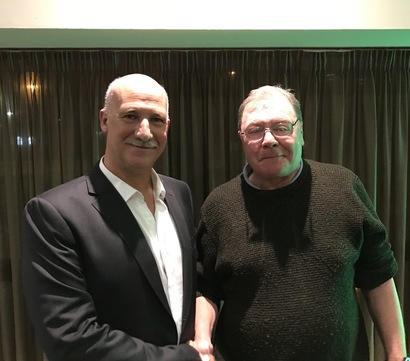 The photo shows Kim Barnett alongside Society member, Steve King

Photo courtesy of Mike Taylor
VISIT OF KIM BARNETT ON MONDAY 13TH FEBRUARY 2017
Members of the society have had an excellent start to 2017. After last month's visit from the widely-respected and immensely popular former captain, Wayne Madsen, Derbyshire's new Director of Cricket, Kim Barnett, gave an interesting talk at the February meeting at the Proact Stadium in Chesterfield.

Kim is, of course, not new to Derbyshire. Far from it. He is the county's record run scorer and was captain for several years. He mentioned how much in his early days he was indebted to the great Eddie Barlow, and spoke with great warmth about former players such as Peter Kirsten, John Wright and Adrian Kuiper, talking as well about the long-serving groundsman, Walter Goodyear. He spoke of how he hoped to improve the on-field results, clearly believing in the importance of handing responsibility back to the captain and the players, and regarding his own approach as "old school".

He responded pleasantly and directly, and with wit and good humour, to questions from the Chairman, Mike Taylor, and from the floor. He spoke with great confidence about the abilities of his captain Billy Godleman. He talked about the new signings and how importantly he saw the role of mentors. Asked about his own batting, he made it clear that he valued a well-made 60 on a difficult pitch more than a double century in less demanding circumstances. He touched on some of the current problems brought by agents and spoke about attitudes to dissent. Most appreciated of all probably were his account of the approach and achievements of the legendary Michael Holding and the amusing stories he told about some of the umpires he had played under.

Many Derbyshire members went home with the impression that the future of the club is in very capable hands.
Copyright © 2004-2017 Chesterfield Cricket Lovers' Society and CricketArchive