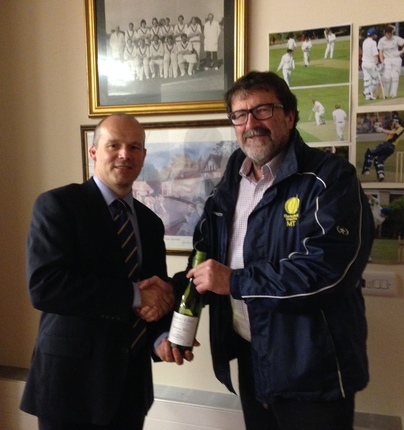 The photo shows Simon Storey (left) receiving a customary bottle of wine from Mike Taylor.
Photo: Roger Birkin
VISIT OF SIMON STOREY ON 17TH MARCH 2014
For our last meeting of 2013-2014 we were privileged to welcome to the Queen's Park Pavilion Mr. Simon Storey, Chief Executive of Derbyshire County Cricket Club since 2012. Most appropriately he started with fulsome praise of Queen's Park and cited the opinion of the legendary 'Dickie' Bird that it is the most beautiful cricket ground in the world.

Simon reminded us that The County Club was founded 144 years ago back in 1870 with the aim of demonstrating "the strength of the entire county". He explained the reasoning behind and the rationale for the transition from the traditional county committee to a supervisory board with the clear intention of impressing the E.C.B. and, with obvious pride, hailed the pending appointment of Chesterfield's own Geoff. Miller as the County Club's new President subject only to endorsement by the following week's A.G.M.

Mr. Storey set out his and Chairman Chris. Grant's three principal objectives:-

1. Rapid return to and then staying in Division 1 of the L.V. County Championship.
2. Limited overs silverware and
3. Creating England players.

These objectives clearly require high performance and elite standards and Mr. Storey went on to describe in some detail the 'Elite Player Pathway' and the appointment on 6th January of Graeme Welch as Elite Performance Director supported by specialist coaches in each of the main cricketing disciplines, i.e. batting, seam bowling, spin bowling, fielding and wicket-keeping. Mr. Storey reminded us that from his first day in post, Graeme instilled a new spirit of discipline amongst his players with 7.00 a.m. starts for training in January and a very deliberate change to a smaller office from which he could closely observe the players' training.

Even after recent significant additions, Derbyshire has a cricket budget of 'only' £1.2m. whereas the average amongst competing county clubs is £1.8m. - £1.9.m. Active consideration is still being given to a move from the County Ground in Derby where the main problem is the lack of freehold ownership.

All present gained the conviction that, with Chris. Grant and Simon Storey at the helm, the future of our beloved Derbyshire County Cricket Club is in safe and professional hands.