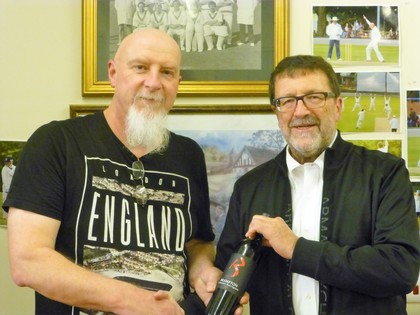 The photo shows Mike Taylor presenting a bottle of wine
to guest speaker, Dave Fletcher

Photo courtesy of John Windle
VISIT OF DAVE FLETCHER ON THURSDAY 15TH DECEMBER 2016
Dave Fletcher, the very popular BBC Radio Derby cricket correspondent was the guest speaker at the last Society meeting of 2016. Dave, who commentates on every ball of Derbyshire's season, was recently named the Christopher Martin- Jenkins County Broadcaster of the Year at the recent County Cricket Journalism Awards.

Dave also works for Radio Leeds during the football season and spent 15 years covering Halifax Town for the Halifax Evening Courier.

He proved to be a very humorous speaker giving details of his life in journalism from his days at Liverpool University. The insights into life in the commentary box reporting on cricket proved that it is not all glamorous and he has had to cope with some strange broadcasting locations – this does not include the County Ground, of course, where he feels facilities are as good as anywhere.

A good attendance, some friendly banter and lots of questions proved how popular this relatively new cricket personality has become. His insights into some of the Derbyshire players were always respectful but funny nevertheless.

A good end to 2016 – but we are back in January!!

We would like to send our greetings for a Happy Christmas and New Year to all our members and the wider cricket community.
Copyright © 2004-2017 Chesterfield Cricket Lovers' Society and CricketArchive