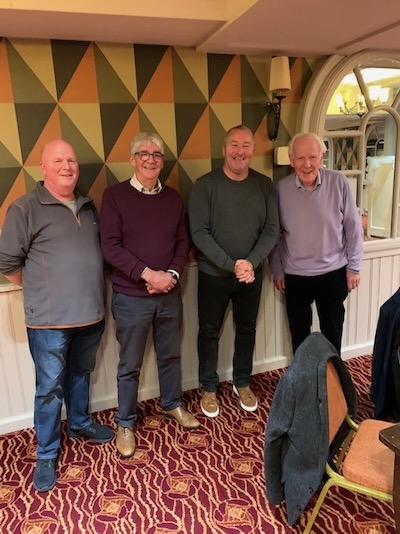 The photo shows Paul Hand, Neil Swanwick, Paul Farbrace and President, David Marshall

Photos courtesy of John Windle
VISIT OF PAUL FARBRACE ON MONDAY 31ST OCTOBER 2022
If anyone has not heard Paul Farbrace speak at their local Cricket Lovers' Society, then they should immediately find out when he is speaking, within travelling distance of you and book a firm date in your diary.
The feedback from a near full house of CCLS members after his visit was unprecedentedly positive, praising his speaking style, content, humour and modesty.
He spoke of his introduction to cricket, through his parents involvement at the local cricket club. He was very young when he appeared in 2nd X1 matches at the Club – but this was mostly as a replacement for the opposition if they arrived with a man short! He subsequently played for Kent CCC with his heroes at that time – Alan Knott and Derek Underwood. After his playing days he coached at Kent where he stated he was not too successful. He spoke candidly about his problems whist coaching Kent and his realisation that he had to change He spent a period after leaving the county when he analysed what he had to do differently and put in place plans to do this.
The rest is history as he went on to be part of the coaching teams with Sri Lanka and England. He spent time talking about the many great players he had worked with and the many differences in what players needed from a coach. He stated how hard players train in the international arena and the pressures they have to face both off and on the field. He gave many examples of the personal and public pressure top cricketers face and the major differences in how they manage these.
His appreciation of dealing with cricketers differently according to their needs was a value he repeated often, as were the essentials for them to 'enjoy it' and a reminder when practising or playing that 'simplicity is easily repeatable'
. He spent some time discussing his views on the future of cricket and was very forthcoming – not once 'sitting on the fence'. He was particularly informative and thought provoking on the way cricket may be organised in the future and the possibility of new contractual arrangements for players that may have to be put in place in the near future to satisfy the requirements of the burgeoning number of competitions that compete with each other within the cricket calendar.
The content of Paul's talk was both superb and fascinating. What was also agreed by all members was the honesty, integrity and care he displayed that makes him such a special coach and special man. This was all done with a lightness of touch, self-deprecation and humour.
We have never received so many positive remarks about a speaker.
We will be inviting him back!!!