VISIT OF REV. PREBENDARY MIKE VOCKINS, OBE ON 14TH MARCH 2012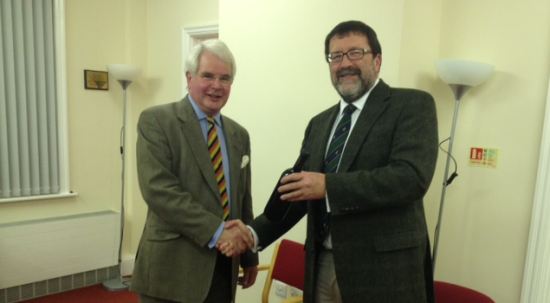 A most welcome return visit to the Society by Mike Vockins - after far too long a gap - was celebrated by a large turnout of members on Wednesday 14th March. Until his retirement, Mike had been Secretary/Chief Executive of Worcestershire for thirty years, as well as Managing five overseas Tours by England "A" or "Under 19" Teams.

Mr. Vockins recently completed a highly praised biography of Arthur Milton, the twelfth (and last) Soccer and Cricket Double International. The project had started when Mr. Milton had approached our guest for assistance with his own plans to write an autobiography of his life, but this sadly had stalled with the sudden death of Arthur in April 2007 at the age of 79.

Mr. Milton won his International Soccer Cap against Austria at Wembley in 1951, when he was called up at outside right as a late injury replacement for the legendary Tom Finney - this was after just a dozen appearances for The Arsenal. He was still in his mid-20s when he retired from Soccer, but played First Class Cricket, for his native Gloucestershire, from 1948 until 1974, mainly as a graceful opening batsman and fine, athletic fielder. Only W R Hammond exceeded his career tally of runs for Gloucs. Milton scored a Century on Test Debut against New Zealand in 1958 (at Leeds), which more or less secured his place on the Ashes Tour to Australia that winter. In all he gained 6 Test caps.

Milton continued to play County Cricket for Gloucs. throughout the 1960s. By the beginning of the 1970s, and now into his 40s, he began threatening to retire, but such was his continuing excellence as a player and the County's own need for him, that he kept being persuaded to carry on for . just one more year! (As an aside, I had not realised, or had forgotten, until Mike Vockins` visit that in 1970 Arthur Milton had missed two months' cricket with a fractured arm, following an early -season encounter with one of Queen's Park's "green top" pitches), When he did finally retire he spent time coaching Oxford University: he later worked as a Postman in Bristol and after that finished, became a "paper boy". Late in life (2002) he was awarded an Honorary MA Degree by Bristol University.

What shone through Mike Vockins' account to us of Mr. Milton was not so much the statistics of his sporting careers but the fact that he was such a thoroughly, lovely, unassuming, modest gentleman, who was liked and respected by everyone who came across him throughout his life.

On other subjects Mr. Vockins recounted to us some of the joys and vicissitudes of his years in charge of Worcestershire, not the least of the latter being the seasonal proneness of the New Road Ground to become flooded, necessitating each Autumn the removal to offices in the City Centre of everything that might float below the waterline! He had nothing but unstinting praise for the contributions to Worcestershire Cricket over the years of such well known players as Graeme Hick, (Sir) Ian Botham and the very recently -deceased Basil D'Oliveira and Graham Dilley. We were also given some insight into the work and function of the ECB's Major Match Group - a Committee on which Mr. Vockins still serves and which is involved in the allocation of major international matches to the designated Test and Limited Overs' Grounds.

All too soon Mike Taylor (deputising for the vacationing David Marshall) was apologetically having to call "Time" on the evening's proceedings, but, once again we had been given such a cracking time that the hope was expressed that, before too long, our guest would be given the opportunity to make it a "hat trick" of visits to the Chesterfield Cricket Lovers' Society.
Copyright © 2004-2017 Chesterfield Cricket Lovers' Society and CricketArchive