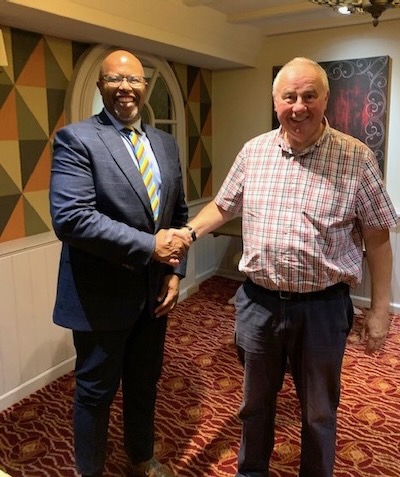 The photo shows Adrian with Committee Member, Martin Willows

Photos courtesy of John Windle
VISIT OF ADRIAN ROLLINS ON MONDAY 10TH OCTOBER 2022
The Society entered its 60th season with a very well attended, successful first meeting where they were joined by guest speaker, Adrian Rollins.
Prior to the meeting the AGM of the Society took place when Neil Swanwick was elected Chairman, after serving as Vice Chairman for a number of years. The Society had a number of very prominent and popular members who had sadly passed away during the summer and, after tributes from Society President, David Marshall, members stood in remembrance of them.
Adrian Rollins, the very popular ex Derbyshire player is an imposing figure, he held the record as the tallest wicketkeeper appearing in County Cricket. Since leaving cricket he qualified as a teacher and is now a Deputy Head and Head of Maths at a Derby School. It is very doubtful that Mr Rollins has any disciplinary problems in his classes.
Having said that Adrian showed that he is a warm and sensitive man with a great deal of humility, learnt from a very supporting family life, despite difficult circumstances. He is an excellent speaker (highly recommended to other Societies) who captivated his audience with the story of his challenging early life. His development in cricket was through his local club, who had Nasser Hussain and Ravi Bopara amongst its membership. In addition to the discrimintation he encountered because of his ethnicity he spoke of the difficulty he experienced through being a cricketer from a state school.
He recounted a great number of humorous and enlightening episodes during his cricketing career, the majority of which was spent at Derbyshire CCC. These were warmly received by members present. His openness included the story that, in the innings in which he made his first century he was sure he was 'plumb out LBW first ball', but he went on to make the most of that early piece of luck.
After the interval Adrian answered questions with honesty and openness and was particularly interesting when quizzed about his views on the future of cricket. One of the many memorable phrases was 'First Class Cricket provides First Class Cricketers' and we have to record his opinion that the Queen's Park, with its special atmosphere, had provided him with his fondest memories in cricket. He stated that he counted himself very fortunate to have had a career in cricket followed by a career in education, which he talked about with great passion.
The feedback from members on the evening with Adrian was amongst the most positive ever received. A man with a warm personality, good humour and with a humility that shines through strongly. It will surely not be long before members are requesting a return visit.
Thank you Adrian.