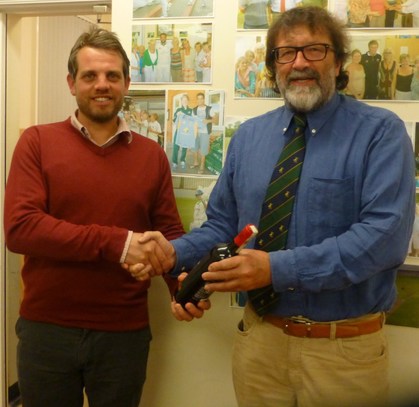 The photo shows Mike Taylor presenting a bottle of wine
to guest speaker, Wes Durston

Photo courtesy of John Windle
VISIT OF WES DURSTON ON TUESDAY 13TH OCTOBER 2015
A packed first meeting of the season thoroughly enjoyed Wes Durston's speaking debut on the Cricket Lovers circuit.

Wes talked of his early love of cricket, being influenced by his family, particularly his father. His progress through Millfield School and the Somerset County system was described along with the various characters he encountered. He was particularly stunned to find himself sharing a dressing room with his long-time cricketing hero – Keith Parsons.

Perhaps the most poignant part of the evening was when Wes was describing the feeling on not having his contract renewed by Somerset and having no offers to play from other counties. The experience of being rejected was hard to take – an experience he always shares with young cricketers to impress upon them the need to gain qualifications for life outside a full time cricket career.

Thankfully, John Morris, the Derbyshire coach, snapped him up later in the following season, initially to play T20 cricket. After scoring a club record 111 off 59 deliveries against Nottinghamshire he was offered a full-time contract. The rest, as they say, is history.

He has been an invaluable player for Derbyshire since the 2010 season and was able to give some insights into his time at the club. A couple of examples – he regards Martin Guptill as one of the very best fielders in world cricket and his favourite batting partner is Wayne Madsen.

Wes came across as a modest, thoughtful individual, ready to continue learning about the game and generous with his time in helping younger players. He spoke very intelligently about the professional game.

It is obvious why he is a well respected and popular figure both inside and outside the Derbyshire dressing room. A much appreciated speaking debut from a very impressive man.