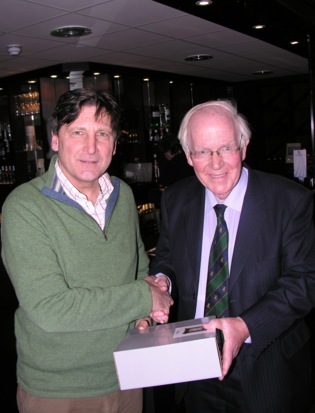 John Barclay presents retiring Chairman and Speaker Secretary, David Marshall,
with an inscribed clock as a memento of his outstanding service to the Society
Picture: Mike Taylor
VISIT OF J R T BARCLAY ON 8TH APRIL 2013
The Fiftieth Anniversary Celebrations of The Society reached a tumultuous climax on the evening of Monday 8th April 2013 when 135 Members and their guests sat down to a superb commemorative supper at Chesterfield F C`s PROACT Stadium. The meal was followed by a speech of the highest possible quality from our Special Guest Speaker, John Barclay, the former MCC President and Sussex County Cricket Captain. In his youth Mr. Barclay had played Schools Cricket with Geoff Miller (a friend of his), who, of course, had been our opening speaker for the Winter, back in October.

John chose as his (hilarious!) theme the tribulations of being a County Captain. On one occasion Sussex were entertaining Middlesex and the late order batsman, Wayne Daniel, arrived at the crease to begin his innings. The Sussex bowler promptly greeted the ferocious West Indies pace man with a devastating "bouncer", which Mr. Daniel only just managed to avoid. Wayne promptly marched down the wicket in order to remonstrate with the bowler. Our guest genuinely feared that a major incident might occur. After some waving of arms the two protagonists turned and pointed towards Second Slip, where the skipper (and, coincidentally, the Sussex opening batsman) was fielding. "He told me to do it" said the Bowler.

In the mid 1980s Sussex were playing Somerset at Taunton in a Sunday League Match and, batting first, had posted a respectable score. During tea the main discussion centred on how best to defend this total and the overriding Team opinion was that every effort should be made not to dismiss the opening batsmen. This was not quite such a ludicrous suggestion as might first appear, since, excellent County players as the two openers were, Nos 3 and 4 in the Somerset line up were I V A Richards and I T Botham! Fairly early in the Somerset innings, Team opinion dictated that the most effective way to carry out the stratagem would be for the skipper to come on to bowl his off breaks. His first ball, however, resulted in a brilliant catch by Ian Greig, which brought in Viv Richards, who promptly carted him twice into the neighbouring Churchyard. When, soon afterwards, Ian Botham joined Viv, the Match was very quickly settled.

Mr. Barclay had many other amusing anecdotes with which to regale us, but his philosophy was that, even if you could not always be successful yourself, you could often have the consolation (as he had experienced that afternoon in Taunton) of leaving the field in the knowledge that you had contributed signnificantly to someone else`s success.

Earlier in the evening, David Marshall, the retiring Chairman/Speaker Secretary, had welcomed three other special guests, two of whom, Edwin Smith the former Derbyshire off spinner, and Barry Marsden, who had kept in touch with Chesterfield after moving with his work to Bingley in the 1970s, were Founder Members of The Society. Peter Robinson, son of the late Founding Secretary, Frank, had travelled from his home in Ipswich in order to be with us.

After John Barclay`s address, Mr. Marshall presented two cheques to Mike Taylor (as Chairman of Chesterfield Cricket Club); one for use in the development of Youth Cricket; the other as a donation to the" Electronic Scoreboard" Fund; and then made a presentation of "The Ray Buxton Service to Cricket" Award to long standing Member and former Speaker Secretary, Campbell Gilmore. He also thanked Treasurer, Niven Roper, for meticulously overseeing the organization of the evening, as well as the staff of Chesterfield F C for helping to make the event such a huge success. Mike Taylor then proposed a vote of thanks to John Barclay for his speech and his friendship towards The Society and then paid proper tribute to David Marshall for his eleven years as Chairman and Speaker Secretary. On behalf of the Society John Barclay presented Mr.Marshall with a small memento (an inscribed carriage clock) in appreciation for all his work.

This brought down the curtain on what (despite the weather problems in mid-winter) had been a thoroughly memorable and successful 50th Anniversary Celebration.
Copyright © 2004-2017 Chesterfield Cricket Lovers' Society and CricketArchive