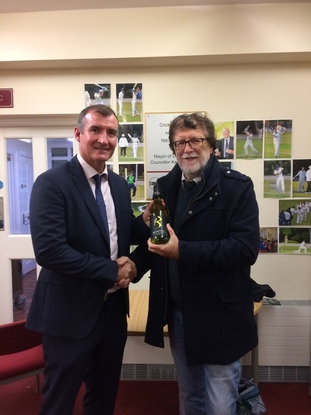 The photo shows Mike Taylor presenting a bottle of wine
to guest speaker, Mal Loye

Photo courtesy of John Windle
VISIT OF MAL LOYE ON WEDNESDAY 11TH OCTOBER 2017
Mal Loye, the Development Coach of Derbyshire CCC was the speaker at the first meeting of the Society's 2017/18 season. Expertly interviewed by Society Chairman, Mike Taylor, Mal took us through his cricketing career and the characters he had met along the way. He spoke of great pride at playing in the same team as his boyhood hero, Wayne Larkins –'a player who always emptied the bar at Northants when he was batting'. His first spell at Northants (1991-2002) included him achieving the county's highest individual score of 322 not out scored in 1998 against Glamorgan. At the end of that season he was named the PCA Player of the Year.

In 2003 he moved to Lancashire where he enjoyed further success before returning once more to Northants.

When he finished playing he held the roles of Batting Coach at Natal and High Performance Head Coach with Bangladesh.

In December 2016 Mal joined Derbyshire as Development Coach and he explained to the meeting what that role entailed and how it fitted into the new DCCC structure. He obviously enjoys working with the 2nd. XI and the Academy players very much and is very proud of the progress made by them.

This was a very enjoyable meeting in the presence of a knowledgeable and affable man. Anyone who scores 322 runs in a first class innings has to have been a pretty good cricketer too – and he certainly was that.

Lots of questions and warm applause confirmed the enjoyment of members present. A really good start to the season.

Many thanks Mal!
Copyright © 2004-2017 Chesterfield Cricket Lovers' Society and CricketArchive