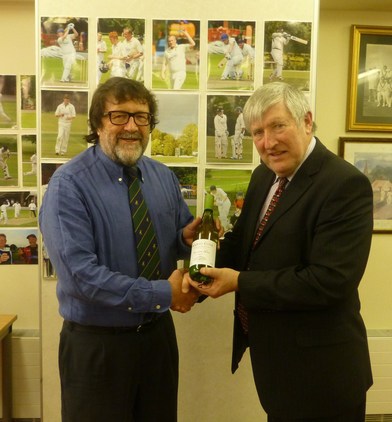 The photo shows Mike Taylor presenting a bottle of wine
to guest speaker, Martin Bodenham

VISIT OF MARTIN BODENHAM ON WEDNESDAY 11TH FEBRUARY 2015
It's Just Not Cricket!
Martin Bodenham's talk to the Society started well when he stated that he was very pleased to be back at the idyllic Queen's Park as it reminded him of the Arundel Castle Cricket Club ground which is close to where he now lives.

This has surely got to be taken up by the marketing people when selling the Chesterfield Festival – 'Come to the idyllic Queen's Park – it's as good as being at Arundel Castle!'

Martin went on to describe the life of a first class umpire, having been appointed in 2009 after a prestigious career as a top football referee (he officiated at the 1997 League Cup Final at Wembley).

The job of a first class Umpire entails officiating on 96 days per season plus travelling between grounds on 'rest days'. In Martin's opinion this schedule was too demanding and he hoped the match days would be reduced in the future. He described the feedback that Umpires received from various sources which Martin felt was helpful in assisting Umpires to improve.

Asked what he thought were the main characteristics of an Umpire in today's first class game he said 'You have to always make a decision. Don't be seen to dither'.

He also talked about getting decisions wrong and how he coped with them. Umpires needed to be very resilient and when decisions were made you had to move on. Any particularly tricky moments had to be 'parked' for later reflection.

The evening was going very well until members were given the opportunity to ask questions on cricket or football. Soon the inevitable was raised………Old Trafford 1997. Chesterfield lead Middlesbrough 2-1 with 21 minutes of normal time left in the semi- final of the FA Cup and have a third goal dubiously disallowed. Unfortunately Martin stated that the referee for that match – David Elleray, was a friend of his! The Chair, Mike Taylor just managed to keep control of the barrage of supplementary questions that followed!

Martin, with much good humour, was able to retrieve the situation and promised he would raise the matter with his friend.

An informative meeting which was enjoyed by all.