VISIT OF PAT MURPHY - 9TH APRIL 2011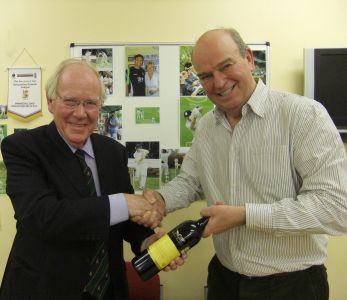 Chairman David Marshall presents Pat Murphy with a bottle of wine after a hugely entertaining evening to round off the Society's winter season.
Picture: Mike Taylor

There was a near-record attendance in the Queen's Park Cricket Pavilion to greet the long awaited visit of PAT MURPHY, the Radio Live Sports Broadcaster. For his part Mr. Murphy said he was honoured to be with us, not least because a Reserved Parking Space had been arranged for him - not always the case at some of the venues which he was obliged to attend in his professional broadcasting capacity when far too often, it seemed, he was obliged to leave his car in a dimly lit side street some distance from where he was required to lug his briefcase, computer, etc. The Chesterfield Cricket Club bar was even serving his favourite "tipple". A good start to the evening, therefore, which became better and better as a highly entertaining, thought provoking and articulate Speaker developed his theme, always seeking to include the audience's views in his discussions. Pat had begun his journalistic career with Peterborough's local newspaper, but had been the BBC's Midlands Sports Correspondent (based in Birmingham) since 1981, combining this with his BBC Five Live duties, for which radio network he has, among other commissions, covered 15 Overseas Test Series. Also a prolific author, Mr. Murphy produced for us a World Cricket XI comprised exclusively of players with whom he had collaborated in the publication of books. So strong was the Team that three outstanding names who were eligible for selection (Andrew Flintoff, Chris Broad and Bob Taylor) had to be omitted. Pat was the first to point out that his Team was weak on spin bowling - it would be left to Sir Vivian to "tweak" a few of his off breaks - and there was also some uncertainty as to who should be entrusted with the captaincy - D'Oliveira got his vote, with Procter as Vice Captain.

On other matters Mr. Murphy had enormous affection and admiration for Brian Clough as well as tremendous respect for the recent Aston Villa Manager, Martyn O'Neill. He spoke with compassion regarding the recently published travails of the Sussex & England player, Mike Yardy and was a great admirer of the former Gloucs. & England wicketkeeper, Jack Russell. Of the Cricket broadcasters, John Arlott was his hero and he also had special words of praise for Don Mosey, Christopher Martin-Jenkins, Tony Lewis and Tony Cozier.

A thoroughly riveting speaker who left us all wanting more and a great rounding off of the Society's 48th Season.

Earlier in the evening a cheque had been presented to Mike Taylor in his capacity as Chairman of Chesterfield Cricket Club, to be used for the development of youth cricket within the Club. Our own Chairman, David Marshall, was able to report that plans for The Society's 50th Anniversary Season, in 2012-2013, were well in hand.
Copyright © 2004-2017 Chesterfield Cricket Lovers' Society and CricketArchive