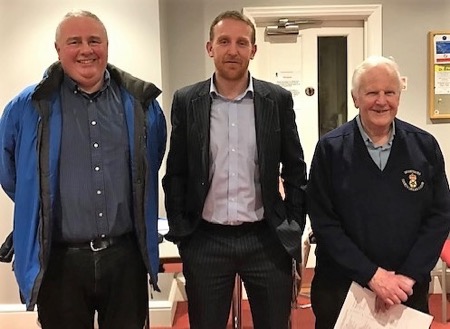 The photo shows Martin Willows, Steve Kirby and John Paulson

Photo courtesy of John Windle
VISIT OF STEVE KIRBY ON WEDNESDAY 12TH FEBRUARY 2020
Members were very pleased to welcome Steve Kirby, the Derbyshire Bowling Coach, to their February meeting, for a Q and A evening ably chaired by our Secretary, John Windle.

On the field of play Steve was known for his aggressive, belligerent approach to bowling and it was common knowledge that cricketers were much happier to see him in their own side rather than as an opponent!

He answered questions on his first-class career – an undistinguished start with Leicestershire, followed by a major breakthrough with Yorkshire and further success with Gloucestershire and Somerset. His career included two call-ups to the England Lions. Injury, which had caused him problems over the years, brought early retirement in 2014. He was quickly held in very high regard as a coach and, after a spell as Head Coach at the MCC, he joined Derbyshire in 2019.

Members saw a very different side to Steve during the evening. His friendly, relaxed and affable approach to answering questions with engaging honesty and humour was appreciated. He showed his social conscience and his values, together with a passionate concern to help others and to "make a difference". It was easy to see why, with such a positive and optimistic attitude, he is held in such high regard by Dave Houghton, Derbyshire's Head of Cricket.