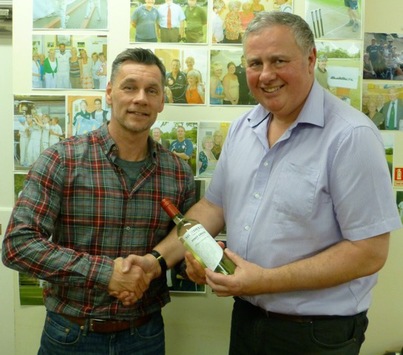 The photo shows Martin Willows presenting a bottle of wine
to guest speaker, Richard Blakey

Photo courtesy of John Windle
VISIT OF RICHARD BLAKEY ON THURSDAY 10TH MARCH 2016
A seasoned 'performer' at Cricket Societies, Richard Blakey certainly lived up to his reputation as he provided an entertaining conclusion to our 2015/2016 season.

Richard debuted for his county at the age of 18 and had a distinguished career playing over 750 matches for Yorkshire, making him Yorkshire's fifth most capped player of all time - an amazing feat. During that time he never missed one day through injury which is remarkable for a wicket-keeper.

He was part of Yorkshire's County Championship winning team in 2001 and captained them to victory at the C&G final in 2002. He also played in five matches for England, making his international debut against Pakistan at Lords in 1992. He scored close to 15,000 first class runs with a personal best of 223 not out off 206 balls against Northamptonshire in 2003 and after taking over as glove man from David Bairstow he claimed 835 victims.

In taking us through the highlights of his career, humour was never far away. The story of the young bowler who significantly contributed to Yorkshire winning the County Championship in 2001 was hilarious, particularly with the use of props!

None of our members could also ever go into a coffee shop in the future without thinking of Darren Gough!!

Richard was a person who made a highly significant contribution to cricket generally and to Yorkshire. He continues to make a contribution by recalling cricket in his era with great humour, skill and modesty.

Members went home with lots of stories to relay to their fellow cricket enthusiasts.

On behalf of all members we thank Mike Taylor for providing us with a superb season of speakers. The quality and variety has been excellent and continues the high standard established by the society over many years.