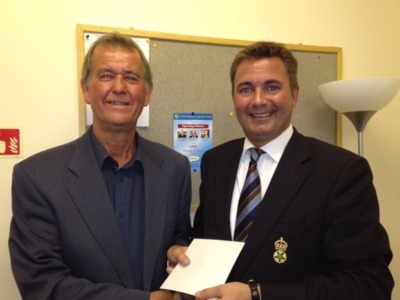 Dave Brittain receiving the Ray Buxton Service to Cricket Award from Derbyshire CCC Chairman, Chris Grant.
Picture: Mike Taylor
VISIT OF CHRIS GRANT AND TOM POYNTON ON 3RD APRIL 2012
Another large gathering of members welcomed the Derbyshire Chairman, Chris Grant, to our final Meeting of the Winter on 3rd April, It was almost a year to the day since Chris - then fairly new to the Derbyshire Committee - had found himself appointed as Club Chairman in succession to Don Amott. The situation cropped up, in fact, whilst Mr. Grant was on the County`s pre-Season tour to Barbados. He brought along with him to our meeting another most welcome guest, Tom Poynton, now the First Team Wicket Keeper.

It had been quite a momentous year for Chris Grant. Thanks in no small measure to the hard work of the Chief Executive, Keith Loring, and his staff, a financial loss of £180000 in 2010/11 had been turned around into a profit of £20000 - a superhuman achievement by the County. Success on the field had increased and membership was up. The Club was in a financially stable state and the Banks were much happier with the Club than might well have been the case with a few other Counties, some of whom appeared to have horrendously unhealthy debit balances. Chris was quick to praise his good friend, Don Amott, who for a number of years had kept the Club on an even business keel. Another good friend was John Morris, who lived and breathed Derbyshire Cricket and it had been one of Chris`s more difficult early decisions (in May 2011)to replace the Head Coach with Karl Krikken after much consultation with the playing staff. Then, at the end of last summer he had unexpectedly lost his captain, when Luke Sutton decided to retire from County Cricket.

Mr. Grant explained his "9-Point Plan" for the Club. One of these was to give youngsters the opportunity, if they warranted it, to make the First Team. There seemed to be so many talented players who had come up through the lower levels, but seemed not to have an easy opportunity to make the final breakthrough into the First XI. He also had ambitions for the County Team to be made up of at least nine players qualified to play for England - ideally as many as possible of them from Derbyshire or surrounding districts. He also wanted Derbyshire to play "fearless" cricket and not to be discouraged if occasional mistakes were made. He was optimistic that silverware could come our way within the next year or two.

Mr. Grant gave us a little insight into his own background, Derby-born, his first Clubs had been Alvaston & Boulton and then Spondon (where he had played alongside the young Johnny Owen and been coached by Mr. Owen Senior.) At Loughborough University the Cricket Captain had been Nick Knight. Chris then lived in London for many years, working in the City. When the opportunity to retire from business presented itself in 2007, he moved up to Swarkestone, where he became associated first with the local club and then the County.

Tom Poynton described to us his career path. As a youngster he had played with his small local Club, Rosliston, before moving on to the nearest Derbyshire Premier League Club, Lullington Park. From there he graduated to the County Ground and was full of praise for the coaches there, led by Howard Dytham. Tom played for Midlands and then England junior Age Group Sides. Although still only aged 22, he had had a long apprenticeship as Reserve Wicketkeeper for Derbyshire, behind a fairly long list of more experienced players, but Karl Krikken had now made him the first choice custodian for 2012.

Later in the evening Chris Grant fielded a number of questions from the floor, ranging from Queen`s Park`s role in the County`s programme, through the proposed restructuring of County Cricket following David Morgan`s report and recommendations to the ECB, to an explanation of the ECB`s efforts to encourage the Counties, via financial incentives, to play young English-qualified cricketers in the First XI.

During the meeting, David Brittain, from Somercotes, was presented with the Society`s "Ray Buxton Service to Cricket Award" for 2011/12 - a very popular choice with the audience.

A splendid evening to round off the Society`s 49th Season……….
Copyright © 2004-2017 Chesterfield Cricket Lovers' Society and CricketArchive