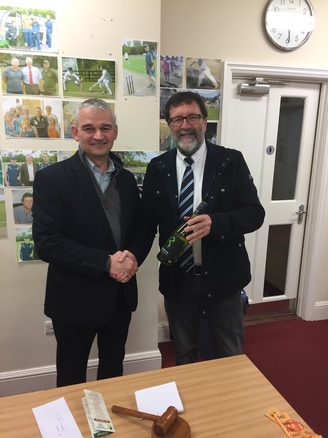 The photo shows Mike Taylor presenting a bottle of wine
to guest speaker, David Leatherdale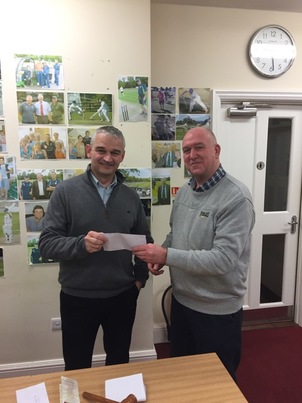 The photo shows 'Alan Burrows, Manager of the Worksop Branch
of the Society's sponsors, Copes the Jewellers, presenting
David Leatherdale with a donation from the Society to the PCA.'

Photos courtesy of Jonathan Brookes
VISIT OF DAVID LEATHERDALE ON THURSDAY 9TH MARCH 2017
In the final evening meeting of the season, members were delighted to welcome former Worcestershire and current Professional Cricketers' Association (PCA) Chief Executive, David Leatherdale to Queen's Park.

David started by telling members about a fond memory from his younger days, when he was picked to play for England Schools against Ireland Schools. England found themselves one wicket down early in the game and he walked to the crease to replace a certain player by the name of Mark Ramprakash!

Shortly after completing his A-Levels, David was given the opportunity to fulfil his dreams of playing county cricket. Although he was a born and bred Yorkshire man from Bradford, his big chance came to sign for Worcestershire at New Road. He recalled the local newspaper headline of the time which sang out 'Worcester sign three players for the 1987 season: Botham, Dilley and Leatherdale.' David was delighted to be associated with such illustrious company so early on in his career! His first-class debut came a year later against Leicestershire where he made thirteen with the bat and was proud to have claimed a catch that removed David Gower in the same game.

In a trophy-laden period of the club's history, David was part of the team that secured seven trophies in four years, including the County Championship itself. He spoke highly of the talented people he had played alongside and worked with at Worcestershire: from England stars such as Botham and Hick, to the brilliance of overseas players Zahir Khan and Glenn McGrath - the list was incredibly impressive.

During the 'Question and Answer' session members enquired about David's experience as CEO of Worcestershire and his present post as PCA Chief Executive. The topics covered were of a diverse nature. New and existing revenue streams to the game; free to air televised cricket; T20 Franchise Cricket; player earnings and conduct, as well 'Personal Development Plans' for players to plan their life after cricket were discussed at length. On every occasion, David's responses were thought provoking and fascinating. Members' enjoyment was such that no sooner had David finished answering one question, several more hands were up in the air eager to find out more.

With one hundred and thirty-two first class wickets to his name, a batting average of nearly thirty-three, combined with an impressive track record in the administrative side of the game, it came as no surprise that David was a thoroughly entertaining and articulate speaker. His insightful views on the game, both past and present, brought a fitting end to another fantastic season of speakers at the society.
Copyright © 2004-2017 Chesterfield Cricket Lovers' Society and CricketArchive