The photo shows The Mayor & Mayoress of Chesterfield
receiving a donation from CCLS to the Mayor's Appeal.
Mike Hendrick agreed to present this on behalf of the Society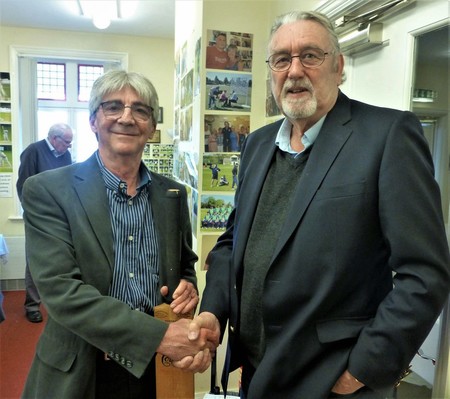 The photo shows Mike Hendrick with committee member Neil Swanwick
who was the successful bidder for a signed cricket bat
donated by member John Austin

Photos courtesy of John Windle
MIKE HENDRICK LUNCH MEETING ON TUESDAY 28TH MARCH 2017
For the second time the Society's Lunchtime meeting sold out within a few weeks of being announced. Those members lucky enough to get a ticket were more than satisfied by the visit of another 'one of our own' - Mike Hendrick.
Mike focussed his talk on his association with the Queen's Park and Chesterfield Cricket Club. Born in Darley Dale his father played for Darley Dale CC and his mother was involved in making teas. As a consequence of having to move as a result of his father's job his formative cricketing years were spent in Darlington and was further developed in Leicester, eventually with that county's 2nd XI. He eventually moved back to Derbyshire. It was strange that he would play cricket for the first time in his birth county (and the county that would go on to shape his career) at an age of over 20.
In 1969 it was suggested by Derbyshire that Mike spent some time playing with Chesterfield CC and this sealed his affection for the ground which he said had a profound effect on his career.
Just some of his Queen's Park highlights were:
In 1972 he bowled unchanged through the Northamptonshire innings on an overcast day to bowl them out for 97. He picked up 8 for 50 and with 2 more wickets in the second innings he acquired his first ten-for.
Later that season he had figures of 7 for 65 and 2 for 24 against Somerset
In 1973, in Derbyshire's opening match he picked up 8 for 45 and 3 for 53 against Warwickshire at Chesterfield. They remained his career-best innings and match hauls.
In 1980 he managed his first hat trick, against the West Indies.
Mike is a really engaging character who obviously really valued his days as a cricketer. Unassuming, humorous and thoughtful – he is a real credit to Derbyshire, England and cricket in general, a real ambassador for the game.
All attending thoroughly enjoyed the event and this was evident in the applause he received at the end.
This was a wonderful end to our 'season'. Two 'Proact' events, two lunch meetings and quality speakers throughout made it a memorable one.