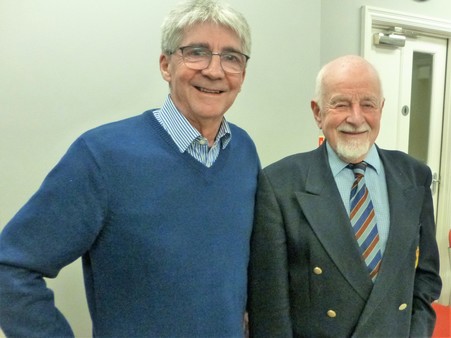 The photo shows Neil Swanwick - CCLS committee member with John M Brown

Photo courtesy of John Windle
VISIT OF JOHN M BROWN ON TUESDAY 20TH MARCH 2018
The last meeting of the Society's 2017/18 season saw over 50 members attending to hear John Brown, the Derbyshire CCC's scorer recall the major steps in his scoring career.

John recalled getting a cricket scorebook as a Christmas present in 1948 and from that time he was hooked. He scored every ball of every test at the Oval between 1949 and 1955 and still has the books (including the Christmas present) to prove it. He played cricket regularly and is proud that he was John Emburey's first captain in senior cricket.

He has travelled the world extensively following the England cricket team and has, of course always scored at the matches he attended.

He was appointed as scorer to Derbyshire CCC in 2000 and has progressed to be one of the most experienced and well respected scorers in the country. Amongst the many highlights of his career has been scoring for Test Match Special and appearing on the 'Eggheads' TV quiz programme.

In the second half of the evening John took us through the changes to the laws of cricket being introduced for the 2018 season.

He brought many scorebooks and other items for members to peruse and this caused an extension to our break in the middle of the evening.

At the commencement of the meeting Committee member Neil Swanwick welcomed Mike Taylor back to chair the meeting and presented him with a cheque from the Society to Chesterfield CC for their Junior Cricket section.

A most enjoyable evening and members went away in anticipation of a glorious summer of cricket and looking forward to the Society's new season in the autumn.