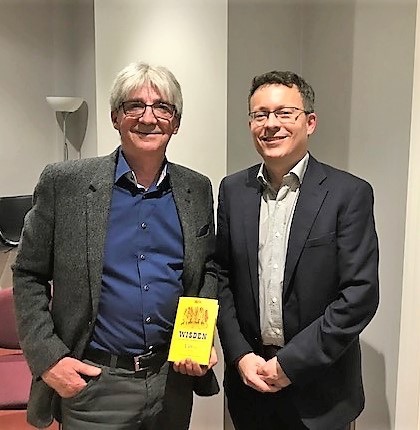 The photo shows Vice-Chairman, Neil Swanwick with Lawrence Booth

Photo courtesy of John Windle
VISIT OF LAWRENCE BOOTH ON WEDNESDAY 4TH MARCH 2020
The Society was very pleased to have Lawrence Booth, the editor of Wisden as their guest speaker for the last meeting of a very successful 2019/2020 'season'.

Lawrence spoke of his early years as a sports journalist and his seven years writing the Spin column for the Guardian. He was also a regular contributor to other newspapers and to Wisden Cricket Monthly.

In March 2013 he won the Scoop of the Year at the Sports Journalists' Association' s Awards after revealing that Kevin Pietersen had sent text messages to the touring South Africans the previous summer.

Lawrence spoke about his early interest in cricket and how he became a Northamptonshire supporter. He had lots of amusing stories about the errors that Wisden has made over the years, how these had been spotted by eagle eyed readers and how these were corrected.

He was asked a number of questions on the production of the Almanack and his views on current cricketing issues.

Lawrence was very well received by the members, his measured, yet humorous and at times self-deprecating manner should definitely make him a must for other Cricket Lovers' Societies.