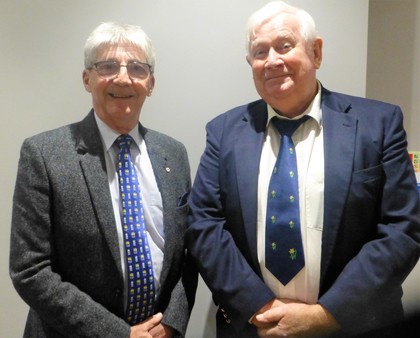 The photo shows CCLS Vice-Chairman, Neil Swanwick with Malcolm Nash

Photo courtesy of John Windle
VISIT OF MALCOLM NASH ON TUESDAY 15TH JANUARY 2019
Malcolm Nash, speaking at the meeting of CCLS, admitted that he would be remembered 'for just 5 minutes in my life', but at the end of the meeting those present realised that there was so much more to admire in a career which spanned 17 seasons. During this time he played 336 first class matches, scored 7129 runs, held 148 catches and took 993 wickets.

Inevitably he talked about that over on 31 August, 1968. At the start of the over he had taken 4-64 but after six more balls this became 4-100 as Gary Sobers became the first batsman to hit six sixes in an over in a first-class cricket match. The venue was St Helens, Swansea and the bowler Malcolm Nash.

Malcolm observed that he had met so many people since then who said they were in the ground on that day that the attendance must have been around 300,000 when the TV recordings suggest that it was nearer three hundred.

In speaking to Gary Sobers about his world record, Malcolm had reminded him 'you couldn't have done it without me'.

He also talked about the controversy regarding the ball that was auctioned by Christies as the 36 ball – he made it quite clear what he thought about the validity of the auction!

Malcolm enjoyed playing cricket at the Queen's Park and related some incidents on the ground – most significantly Eddie Barlow's reaction to a Nash stroke that smashed straight through Phil Russell's helmet grill.

He answered members' questions and made it plain what he thought of current cricket when compared to his era.

Another 'full house' enjoyed the ex-Glamorgan cricketer and his firm opinions about the state of the game.