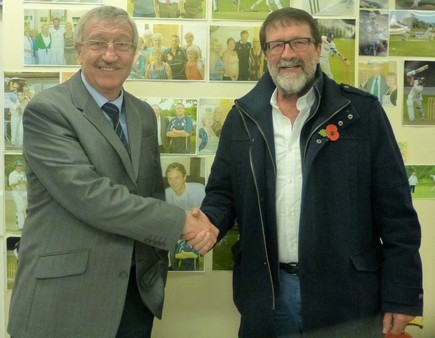 The photo shows guest speaker, Alan Hill, with Chairman, Mike Taylor

Photo courtesy of John Windle
ALAN HILL LUNCH MEETING ON WEDNESDAY 2ND NOVEMBER 2016
The first lunchtime meeting of the Society was a tremendous success. A combination of a first class speaker who was 'one of our own' pie and peas followed by fruit crumble ensured an audience hugely satisfied in every respect.

Alan 'Bud' Hill is one of Derbyshire's most appreciated cricketers and is a 'must have' for every Cricket Society. On home turf he excelled with stories of his playing days and the wonderful characters that were around.

Alan and his opening partner, Tony Borrington were known as Nick and Block. Alan was known as 'Block' because he'd compile an innings at a steady 30, 40 runs per session to ensure that his side's total would give the bowlers something to work with. He remembered a journalist writing about a particular innings of his and saying he 'batted with the reckless abandon of a stalactite'

He thought the period he played was a golden era of the County Championship – home and international test players at every county. Players were up against the best in the world and spectators had relatively easy access to see the great players of the time at their home grounds.

Looking to the future of the game, Alan thought it essential to get cricket into schools and to supplement this by major cricket being available on terrestrial television.

Alan remains a warm and self-deprecating, honest man who continues to thrive to do everything to the best of his ability. He was a great servant to Derbyshire and the game of cricket in general. Alan had a great many friends in the audience and it was testament to his availability as a player that so many members knew him as a player and have remained friends during the years.

He is an excellent speaker who is much in demand (many more members wished to attend than could be accommodated). Everyone who attended the meeting agreed that it had been an excellent first luncheon meeting and fitting that it was 'one of our own' who had played a great innings.