VISIT OF DARYN SMIT ON WEDNESDAY 26TH JANUARY 2022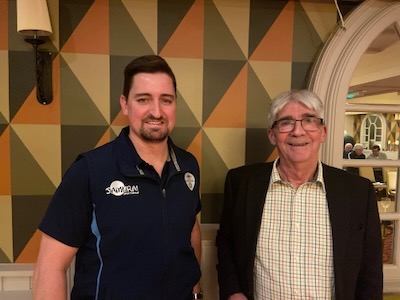 The photo shows Daryn Smit with Vice-Chairman, Neil Swanwick

Photo courtesy of Paul Hand
Those members present at the January meeting of the Society were pleased to give a warm welcome to Daryn Smit, the Head of Talent Pathway at Derbyshire County Cricket Club. His post is seen as an important part of an integral long-term project, preparing young players for county and international cricket. He clearly sees the arrival of Mickey Arthur as the new Head Coach at the County Ground as a really encouraging development for young Derbyshire players. He was first aware of his abilities as a young cricketer in South Africa at a time when Mickey Arthur was in charge of one of the four international sides for which he has been responsible.
Interviewed by Neil Swanwick, Daryn talked about his experience in South African cricket and his role as captain of the Dolphins, and then later of his six years with Ramsbottom in the Lancashire League. Though known as the "Daryn of all trades" , with impressive figures both as a batter and a leg spinner, he made no secret of the fact that his first love was wicketkeeping. He talked of his move to England and his years playing for Ramsbottom in the Lancashire League before joining Derbyshire, where his interest in coaching first began with the Second Team under Mal Loye. He finished the first half of the evening by talking about some of his favourite cricketers - mainly wicketkeepers of course! - and in some detail about his new post at the County Ground. He welcomed the breadth of the way Mickey Arthur saw the role with opportunities for working other aspects of coaching, helping with area teams when appropriate and developing scouting systems across the county. Daryn spoke of his hopes for a Derbyshire future with a more realistic chance of success being with white-ball cricket before this might lead on to promotion to the First Division in four-day cricket.
Whereas all he said was very encouraging for Derbyshire followers to hear, all members present were greatly impressed with the thoughtful and considered way he answered some searching questions about current issues and the many considerable problems that English cricket is having to face in the near future. We were all grateful to him for giving us such an interesting and thought-provoking evening.