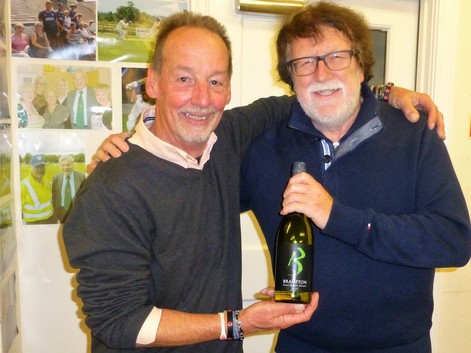 The photo shows Mike Taylor presenting a bottle of wine
to guest speaker, Jeremy Lloyds

Photo courtesy of John Windle
VISIT OF JEREMY LLOYDS ON TUESDAY 14TH NOVEMBER 2017
Another 'full house' for the latest meeting of Chesterfield Cricket Lovers' enjoyed an evening with umpire Jeremy Lloyds.

In his introduction the Chairman read out glowing tributes to Jeremy from three county players also playing with Chesterfield Cricket Club. Ross Whiteley, Ben Slater and Matthew Critchley all said that Jeremy was their favourite umpire.

Jeremy initially talked about his early life – he was born in Malaysia and when he moved to the UK he attended Blundell's school. He was a late starter in county cricket and after a long period on the MCC cricket staff at Lord's he made his debut for Somerset in 1979, by which time he was 24. During his thirteen years as a county cricketer he scored over 10,000 runs and took 333 wickets for Somerset and Gloucestershire. After finishing playing he went into coaching in South Africa before Barrie Meyer, the former umpire suggested he should think umpiring.

He was appointed to the first class list in 1998 and 'has enjoyed life immensely since then'.

Skilfully interviewed by Mike Taylor, Jeremy went on to describe some of the highlights of his umpiring career and the characters he had come across on the way. He also gave an insight in the art of umpiring and the secrets of what he takes out on the field with him. What he uses to count the balls in an over was fascinating – but only revealed if you hear him speak at a similar event!

He had firm views about how the game should be played and how it should be officiated. He believes that the best umpires go unnoticed.

He had a testing first experience as a Test umpire giving a batsman out lbw to the first ball of the Test, only to repeat the same (same bowler, same batsman) in his second Test as an umpire. At that time there were only five instances of a player being leg before to the first ball of a Test, two given by Jeremy!

The evening was enjoyed by all attending to see a real character of the game.