VISIT OF COLIN TUNNICLIFFE - 9TH FEBRUARY 2011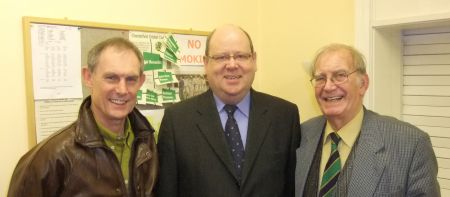 Guest speaker Colin Tunnicliffe flanked by former Derbyshire players Harry Cartwright (left) and Jim Brailsford at the Society's February meeting.
Picture: Mike Taylor

There was a large and enthusiastic gathering to greet an old Derbyshire favourite to our February Meeting - the former left arm seamer, Colin Tunnicliffe. We were also pleased to welcome in the audience one of Colin's old County team mates, batsman Harry Cartwright.

Colin played for Derbyshire from 1973 until 1984. There then followed a five years' stint as the County's Commercial Manager, before he took up a similar post with Derby County F C. (During his time there he saw the move from the Baseball Ground to Pride Park). He reminisced light heartedly about his time as a cricketer, never ceasing to be amazed at the fact that he found himself playing with or against some of his boyhood heroes, such as Colin Cowdrey, Garfield Sobers and Michael Holding. Mr. Tunnicliffe made especial mention of Eddie Barlow, under whose captaincy he had served and who had apparently seen sufficient in him to encourage the young man to become a County cricketer. The bravest innings he had ever witnessed was one by John Wright (the current New Zealand Head Coach) who, in May 1980, had battled it out on a lively Queen's Park pitch against the might of the West Indies pace attack (Holding, Marshall, Roberts, Garner, etc.) and had become black and blue in scoring a superb 98. An eventful Match for John Wright culminated in him taking a wicket with his first ever delivery in First Class Cricket - not a "rabbit" either, but the West Indies' opening batsman, Bacchus.

Mr. Tunnicliffe had happy memories of Queen's Park, having achieved his best First Class bowling figures there (7 for 36 against Essex). Then, of course, there was the famous afternoon when Derbyshire were heading towards seemingly inevitable defeat against Surrey in a 40 overs a side Sunday League Match. At the end of the 39th over of Derbyshire's innings they were still 17 runs adrift of victory and had only one wicket in hand. At that point "batsman" Tunnicliffe knocked off the runs (with the aid of two sixes). As he walked triumphantly from the field to great acclaim the distraught visiting team was already starting to conduct its inquest in to where things had gone so badly wrong!

Of course, mention had to be made of the "most famous leg bye in Derbyshire's Cricket history", which enabled the Club to claim the Nat West Trophy from Northants off the last ball of the Final (Colin was batting in partnership with the current National Selector, Geoff Miller, at the time). Our guest mischievously told his audience that it had not really been a leg bye at all and that he had managed to get some bat on ball. With a twinkle in his eye he confided to us that the BBC had a piece of footage indicating a "hot spot" on the bat. (I hadn't previously appreciated that such sophisticated technology was available to the broadcasters back in 1981!).

Another thoroughly enjoyable and memorable evening...
Copyright © 2004-2017 Chesterfield Cricket Lovers' Society and CricketArchive