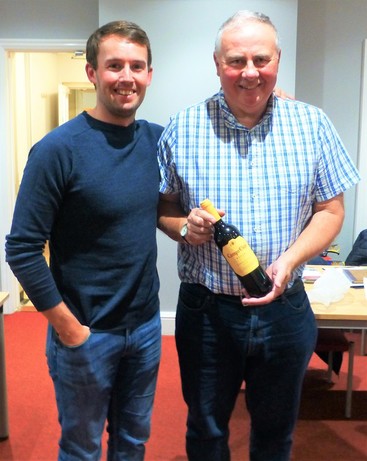 The photo shows Tony Palladino with CCLS committee member, Martin Willows

Photo courtesy of John Windle
VISIT OF TONY PALLADINO ON MONDAY 15TH OCTOBER 2018
The Society opened its 2018/19 season welcoming the very popular Derbyshire player, Tony Palladino, in his testimonial season.

Another full house heard of Tony's first involvement with cricket in the London area and his first years with Essex. He had a major setback early in his career with Essex when a damaged shoulder resulted in him not being able to play cricket for two seasons. He fought his way back to fitness to resume his career with Essex and talked about the characters in the dressing room.

He talked very openly about his role in providing evidence in the spot-fixing case at Essex that exposed Mervyn Westfield and Danish Kaneria.

His move to Derbyshire came shortly after that and his first season saw him taking 52 first class wickets at an average of 26.51 placing him top of the Derbyshire averages as the leading wicket-taker. He continued to flourish helping Derbyshire seal promotion in 2012, when he was leading wicket-taker with 56 victims at 24.14.

He talked about his favourite players in the game past and present and his views on the current structure of cricket.

He showed himself to be very self – effacing, extremely knowledgeable and an excellent ambassador for Derbyshire CCC.

The enjoyment of members was evident by the number of questions he was asked and the show of appreciation at the end.

The Society and individual members contributed to his very well deserved testimonial fund.

This proved to be a splendid start to the new season from a very genuine and well respected cricketer.