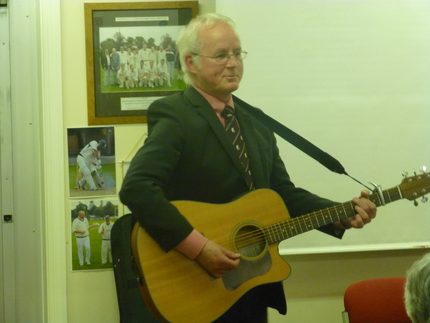 The photo shows Grahame Lloyd playing the Guitar & Singing.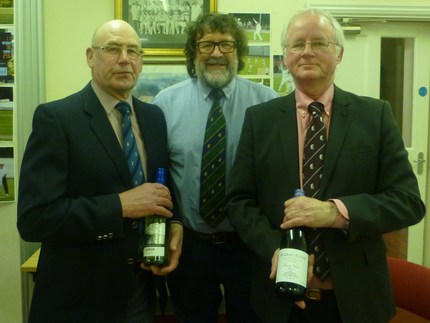 The photo shows John Parkin, Mike Taylor & Grahame Lloyd

Photos courtesy of John Windle
VISIT OF GRAHAME LLOYD & JOHN PARKIN ON TUESDAY 13TH JANUARY 2015
Sobers – Six Sixes Over – 'Don't Mention the Ball'
That was the instruction from the organisers to Peter Walker, the Glamorgan player who was involved in the 1968 game and was due to host a 40th anniversary celebration which included him interviewing Garry Sobers.
Why that instruction was given and the events surrounding one of the iconic moments in cricket history was the basis of the talk given by Grahame Lloyd and John Parkin at the meeting of the CCLS.
Controversy surrounded the authenticity of the ball sold by Christie's for £26,400 in 2006 and subsequently offered for sale by Bonhams in 2012. This ball was supposedly launched by Sobers for six sixes off six balls for the first time in the history of the game at Swansea in 1968.
The ball sold was made by Duke & Son but Glamorgan only used Stuart Surridge balls at the time.
With the use of video clips, poetry and the world premiere of a song Grahame entertained the members with the story of the detective work he had undertaken to attempt to solve this mystery.
He was joined by John Parkin who was the Nottinghamshire batsman at the non-striker's end who had the best view of this extraordinary feat by his skipper. John was not expecting to play in that match and unfortunately did not go on to play too many other games for Notts First XI. The fact that he has a place in the history of the game is entirely appropriate for such a modest, unassuming and self – effacing man.
Members were in good voice singing the chorus of Grahame's new song:
Pure collectable gold- but the truth must be told
The ball that was sold was not the ball bowled
The two of them provided a great evening for society members who attended in good numbers despite the distraction of another sport being played on the same evening in Chesterfield.
Grahame's two books are: Howzat? The Six Sixes Ball Mystery and Six of the Best: Cricket's Most Famous Over