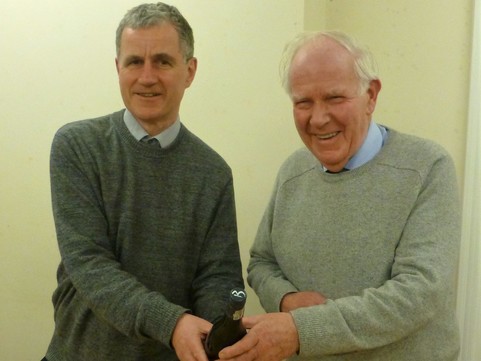 The photo shows Society President, David Marshall presenting a bottle of wine
to guest speaker, Richard Tomlinson

Photo courtesy of John Windle
VISIT OF RICHARD TOMLINSON ON THURSDAY 25TH JANUARY 2018
The Society welcomed Richard Tomlinson, the author of 'Amazing Grace: The Man who was WG' to their first meeting of 2018.

Richard gave a fascinating insight into WG, the 'two parts of his life' and his changing opinion of the man during the three years it took him to research and write the book. Richard interestingly shared the fact that in compiling the first section of the book he had not warmed to Grace but reversed his view when he dealt with the second half of his career.

He talked very movingly about the psychological aspect of Grace's drastic physical deterioration, which set in by his early 30s, associated with the sorrow and grief in his life.

Richard defended Grace as a true Corinthian stating that during his research he found only one direct source of WG cheating and that the many other stories about this were pure hearsay. The story of him giving himself not out and declaring that the crowd had come 'to see me bat – not you bowl' was also unattributed.

Proof of the enjoyment of CCLS members was demonstrated by the number of questions that Richard had to answer and the fact that he completely sold out of copies of his book that he had brought with him. He went away with orders for copies to be sent to members.

Some CCLS members had already read the book and were enthusiastically recommending it as a really good insight into the life and times of the great man. They endorsed the view of David Kynaston, the famous historian, writing a review on the book which stated 'Amazing Grace is a fluently written study, imbued with humour and sympathy, that yields many insights as well as much pleasure'

This was an excellent start to the New Year from an unassuming and impressive writer and researcher whose enthusiasm for his subject made quite an impact on members.