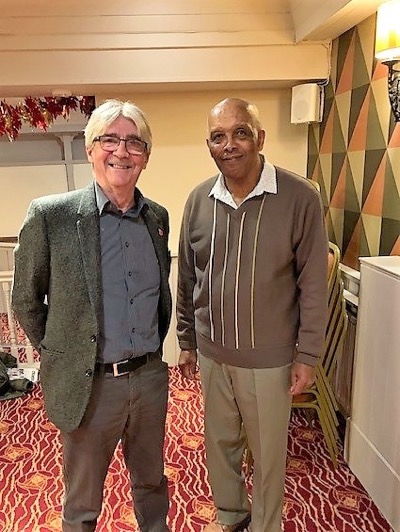 The photo shows Vice-Chairman, Neil Swanwick with John Holder

Photo courtesy of John Windle
THE VISIT OF JOHN HOLDER ON MONDAY 15TH NOVEMBER 2021
The Society were pleased to welcome John Holder to the second meeting of the 2021/22 season. After a good attendance at the October meeting this was exceeded at this second event at our new venue. Changing venues is always a stressful time and your committee are extremely pleased that members report that they are happy with this change.

John Holder is a man who is universally liked and respected throughout the cricket world and the reasons why were on display as he spoke about his life in cricket. In an innovative presentation, with the assistance of a PowerPoint presentation he put some of the cricketers he had dealt with into categories of temperament and behaviour. In doing this he managed to highlight the many aspects of the responsibility of an umpire – both on and off the field.

Whilst we cannot report the names of cricketers in any of the categories it was a fascinating list and was a great format in which to have an insight into John's work as an international umpire.

The fact that he was the only black British umpire in 150 years of Test cricket was discussed and became all the more pertinent given the fact that the 'Yorkshire situation' was beginning to emerge. He had firm and clear views on the fact that there should zero tolerance of racism anywhere in society, not only in cricket.

A thoroughly enjoyable evening containing lots of humour combined with a display of John's values and considered views. He displayed the characteristics of the honesty, frankness and humour for which he is known.