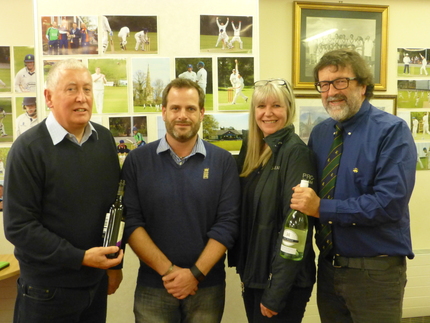 The photo shows (L-R) Niven Roper, Paul Baldwin, his partner, Emma and Mike Taylor

Photo courtesy of John Windle
VISIT OF PAUL BALDWIN ON THURSDAY 10TH DECEMBER 2015
The Society was pleased to welcome Paul Baldwin as the speaker at its latest meeting. Paul was appointed to the First Class Umpires List for 2015.
His first season included officiating at the Chesterfield Festival in July. Paul stated he would remember umpiring at Chesterfield for a number of reasons :- the warm welcome he was given by the County Club and by members of Chesterfield CC, the new friendships he formed and for one spectator at the Lake End who continually gave him advice during the badly rain affected Championship match. The sound of 'Just get on wi'it' greeted Paul on numerous occasions during the week.
Paul has joined four other 'non ex professionals' on the First Class List. He told the fascinating story of his unique pathway to his 2015 appointment, starting out in Germany, officiating at the ICC Trophy in Canada in 2001 and then being appointed to the ICC's Associate and Affiliate Panel.
Paul stated that his ultimate goal would be an appointment to the ICC Elite Panel, but at present he was focused on his short-term and achievable goals; to work hard and consolidate his position with the ECB.
Asked why he wanted to become an umpire, Paul said it was because he loves the game.
That love and enthusiasm for cricket, combined with a self-deprecating humour, warm personality, integrity and strong values were much in evidence during his talk. These will assist in making his ultimate goal very realistic.
Another enjoyable evening thoroughly appreciated by yet another good attendance.