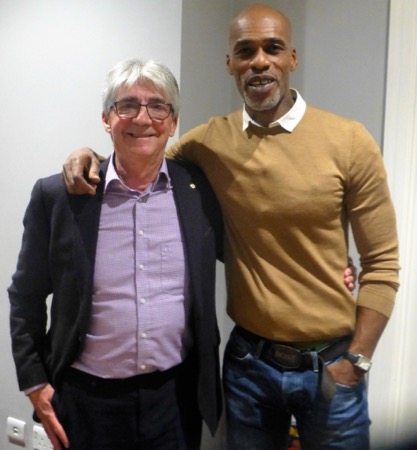 The photo shows Vice-Chairman, Neil Swanwick with Chris

Photo courtesy of John Windle
VISIT OF CHRIS LEWIS ON MONDAY 2ND DECEMBER 2019
The Society enjoyed a memorable evening with Chris Lewis with many members saying it was one of the best meetings the Society has had in its long history. In a very poignant presentation Chris recalled his journey through a cricket career and a well-publicised downfall resulting in him serving a prison sentence.

Throughout the evening Chris spoke with candour, directly addressing and analysing the decisions through his life – some of which had brought great joy and others deep regret. In an enthralling presentation he talked about his life growing up in Guyana, coming to England to live with his parents and his early cricket progress.

He constantly spoke of his amazement that other people thought he was a far better cricketer than he did and he never really changed that attitude throughout his career.

Chris gave lots of insights into his cricket career and provided many humorous anecdotes which members are sure to remember and repeat.

It was in his description of the poor decisions he started to make in his life that it became truly mesmerising – there can never have been a meeting where members have been so gripped with a narrative where a speaker has analysed his mistakes so rationally.

After the break Chris answered questions, many of them regarding his time in prison. He continued with very honest assessments of his situation at the time.

This was a truly remarkable evening – with a truly remarkable man. Well done Chris – you certainly have had a remarkable journey and we wish you every happiness and success in the future.