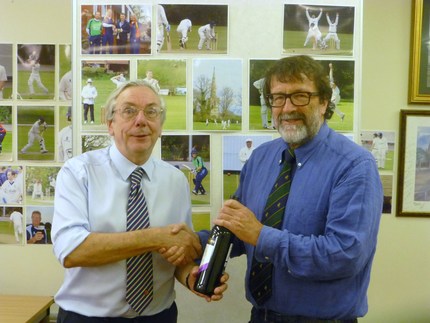 The photo shows Mike Taylor presenting a bottle of wine
to guest speaker, Stephen Chalke

Photo courtesy of John Windle
VISIT OF STEPHEN CHALKE ON WEDNESDAY 11TH NOVEMBER 2015
Over sixty members and guests were thoroughly entertained by the splendid Stephen Chalke who demonstrated why he is such a favourite speaker for Cricket Societies. The seemingly endless stories and interviews recalled and told with such humour and reverence, totally without notes, was a performance of the highest quality, displaying Stephen's boundless enthusiasm for the sport he loves so much.
The stories, characters and statistics came from his latest book – 'Summer's Crown – the story of the County Championship'. This is a book which is sponsored by the England and Wales Cricket Board and sales of it were very high on the night. A 'must have' book for any cricket enthusiast.
Stephen recalled an era when County Championship matches were attended by large crowds, when England players appeared regularly for their county side and when newspapers carried reports of each match being played.
In commencing the book Stephen soon discovered that there was some dispute around when the Championship started but he now reveals that the definitive year was 1890 with eight counties competing.
Derbyshire members of the Society were reminded of the County's disastrous 1920 season when the side played twenty matches, losing nineteen of them with the other match being abandoned. The Society's Nottinghamshire members fared better with Stephen stating that Chris Read would be in his 'Best X1'
During the meeting Stephen was presented with the Wombwell Cricket Society Cricket Writer of the Year award – Brian Workman from that society attending to make the presentation.
The members present thoroughly enjoyed themselves and as always with Stephen Chalke evenings were pleased that once again that the Chairman allowed a late finish!