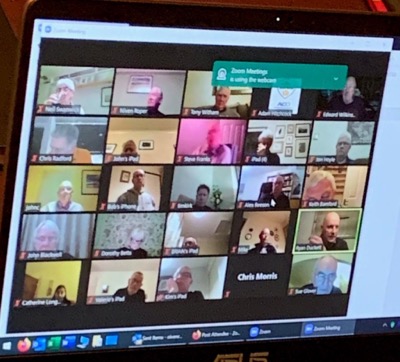 The Zoom photo was courtesy of Mark Roper
ZOOM MEETING – RYAN DUCKETT MONDAY 9 NOVEMBER 2020
The Society held its first Zoom meeting featuring Ryan Duckett, the Chief Executive of Derbyshire County Cricket Club, as guest speaker.

Over 40 people participated in this new initiative and feedback from the event has been excellent.

Ryan was quizzed on his early life before arriving at Derbyshire CCC. A very accomplished sportsman in his own right, after University he joined the management staff of Bradford Bulls, eventually becoming Chief Executive. He first joined DCCC as Commercial Director and then became Chief Executive in January 2019.

He described how Derbyshire CCC had been selected as a training base for the Pakistan and Australian cricket teams in the summer plus hosting the England Women's Cricket team in providing both a training base and a venue for their international matches. This had all been done within a Covid 19 secure environment following strict guidelines.

He answered questions on the new County Championship structure, the Hundred and the effect on the finances of County Cricket Clubs following a season without supporters in their grounds.

He was able to announce some good news for Chesterfield in that Derbyshire CCC and Chesterfield Borough Council had commenced discussions on a new five-year contract to retain the Chesterfield Festival of Cricket at the Queen's Park.

Ryan impressed the participants as an amiable, thoughtful and effective Chief Executive who was as open as he could be in such situations. The general view was that Derbyshire CCC was in good hands with him leading the management team at the Incora County Ground.