VISIT OF MICK NEWELL ON 1ST DECEMBER 2011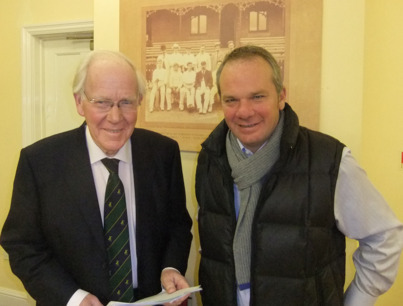 Chairman David Marshall & Mick Newell, Head of Cricket at Trent Bridge pictured at Queen's Park.
Picture: Mike Taylor

The Society's final meeting before the Christmas break saw a welcome return visit by Mick Newell, the former Nottinghamshire batsman who, for the last decade has been the Head of Cricket at Trent Bridge, during which time the County has enjoyed considerable success. A number of high profile players have been attracted to the Club in recent years - an announcement had been made only that morning of the signing from Leicestershire of the young star batsman, James Taylor - and so well respected has Mr. Newell become on the management side of the Game that he has coached England Under 19s (on tour to Bangladesh) and also the English Lions.

Mick began by jokingly telling us that one of his less welcome records as a player is that he scored more career runs in County Second X1 Cricket than anybody else, narrowly surpassing the late Neal Abberley, of Warwickshire (who sadly died earlier this year). What that told us, said Mick, was that he had spent too much of his playing career in the Second Team rather than with the Firsts. To what did he attribute his success as the Nottinghamshire Coach? He felt that every excellent Sports Team needed a good backroom staff. Mick felt he had achieved this by having in place specialist coaches to cover all of Cricket's disciplines. His own knowledge of how to coach fast bowling, for instance, was nowhere nearly as strong as that relating to batting, but the ace up his sleeve was that he knew Mike Hendrick's phone number.

In learning how to become a highly successful top class Coach/Cricket Manager Mr. Newell was quick to praise a number of people who had been on hand to guide him, but he had especial praise for the former Head of Cricket, Ken Taylor, whose wise counselling had been invaluable. He had kind words, too, for the Trent Bridge Groundsman, Steve Birks, who, he reminded his audience, had learned his craft at Derby.

A perennial headache for the Manager was the fact that several of Nottinghamshire's Test stars seemed to be so rarely available for County duty. Broad had played in, perhaps, ten or so Championship Matches over the past four years; Swann in even fewer. Mick was obliged constantly to keep his eyes peeled for worthwhile (and available) short term replacements - often overseas players - for these absentees.

Our guest disagreed with the frequent tinkering by the "Powers-that-Be" with the format of the domestic County programme. He felt that Championship Cricket should be kept at 16 Matches per Season and not reduced any further, as had recently been suggested. There was nothing wrong, either, with 40 overs per Side domestic One Day Cricket. Leave the present structure alone!

Another articulate and thought-provoking Speaker, with a friendly sense of humour. As David Marshall summarised at the end, we had enjoyed the company of several excellent guests at recent Meetings, although none better than Mr. Newell.

Earlier Mr. Marshall had outlined to members an updated report on progress towards the Society's 50th Anniversary Celebrations in 2012/13 and names were taken of those who expressed interest in attending the first major event , which was to be a visit (with pie and pea supper) to Chesterfield F C's B2Net Stadium of Christopher Martin-Jenkins in October 2012.
Copyright © 2004-2017 Chesterfield Cricket Lovers' Society and CricketArchive