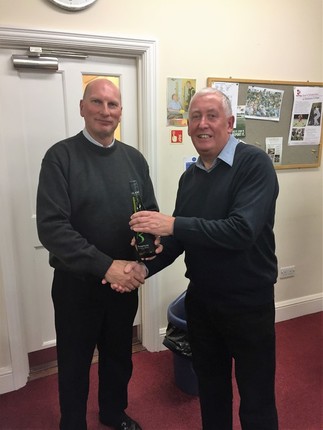 The photo shows Treasurer, Niven Roper,
presenting a bottle of wine to Neil Mallender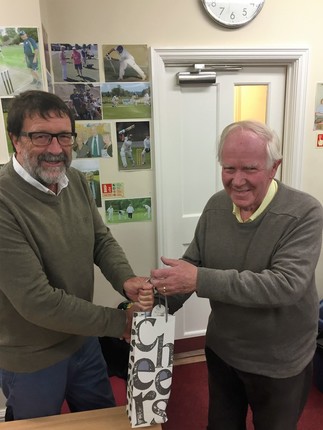 The photo shows President, David Marshall,
presenting a gift from Society members,
to Chairman, Mike Taylor, marking a significant birthday

Photos courtesy of Jonathan Brookes
VISIT OF NEIL MALLENDER ON WEDNESDAY 9TH NOVEMBER 2016
Members were pleased to welcome former right-arm fast-medium bowler and widely respected current umpire, Neil Mallender to our third society meeting of the season at Queen's Park. His thoughtful and considered manner, mixed with a wonderfully dry sense of humour engaged the audience throughout the evening.
Neil started by paying tribute to both of his parents, stating that it was their love of sport that first inspired him to participate in both cricket and football at an early age. However, it was during his time at Beverley Grammar School that he really began to excel at cricket. From here he progressed to representative honours via Humberside Schools, to England Schools and ultimately to captaining England U19's on their tour of the West Indies. He spoke of his happiness at being offered a two-year professional contract with Northants and how, in those early days, he dreamt of 'moving across from the uncapped to the capped dressing rooms.'
It was clear that his ten-year playing time in New Zealand for Otago brought back particularly poignant memories for Neil. He remarked that he had and still has a great 'fondness for the country', and that it was 'a special place, at a special time.'
Neil also recounted his delight at being called up to the England Test squad. Thrilled with his eight wickets on debut, he said that he felt that the Headingley crowd had treated him as 'one of their own,' during the Test match. Unfortunately a flat track at the Oval in the final game of the same series didn't offer the same level of reward for Neil and the curtain came down somewhat prematurely on his England Test career.
An extended question and answer session proved fascinating, as members asked for opinions from Neil about the fineries of top-level umpiring, the ICC Elite Panel and the use of modern day technology within the game. It was almost inevitable that in an audience packed with Derbyshire supporters, there would also be questions about the famous 1981 NatWest final triumph over Mallender's Northants at Lord's. Needless to say he responded with typically good humour every time he was reminded of the occasion!
With 937 first-class wickets, nearly 5000 runs and extensive top-level umpiring experience, Neil Mallender gave members an enjoyable, excellent and thought-provoking evening that included lively discussion across a broad range of cricketing topics.