Visit of Don Shepherd and Edward Bevan to Queen's Park on 10th November 2010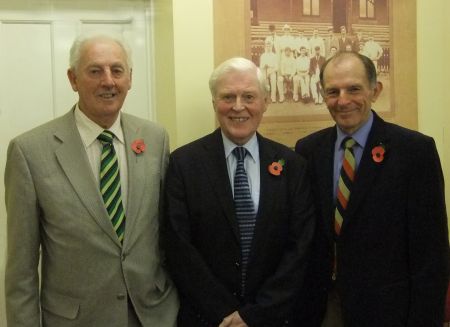 Award winning Derek Oldman flanked by Don Shepherd (left) and Edward Bevan.
Picture: Mike Taylor

We were doubly pleased to welcome to our most recent Meeting, on 10th November, two of the more eminent Welsh cricketing personalities. DON SHEPHERD is perhaps the most legendary Glamorgan player of all time - having in a career spanning the years from 1949 to 1972 notched up a little matter of 2218 First Class wickets - the highest number of victims ever achieved by any player not invited to appear in Test Cricket. EDWARD BEVAN, a distinguished journalist and broadcaster, has been the voice of Welsh Cricket on the BBC for three decades.

In introducing Don Shepherd Edward Bevan drew similarities between his fellow guest and his Derbyshire contemporary, Derek Morgan, who also took a phenomenal amount of wickets (to which he had added many runs and close-to-the-wicket catches) without ever getting even a "sniff" of a Test cap. Mr. Bevan felt that, had they played for more "fashionable" Counties both men might reasonably have expected to secure 30 England appearances.

It was clear, however, that Mr. Shepherd was far less interested in statistics than in the "Spirit" of the Game. His life-long enjoyment at having played First Class Cricket and the camaraderie and the many friendships that he had made meant a great deal to him. A bowler of off-cutters in his earlier days he had later switched - with enormous success - to off breaks. He had always relished his visits to Chesterfield - he had played no fewer than 11 times with Glamorgan in Queen's Park, the one major disappointment having been when the Team had once been more or less confined to barracks for four days in The Portland Hotel, heavy rain having meant that they never even managed to open their cricket bags.

The two speakers mulled over a range of cricketing topics - on which they were not always entirely in agreement - including covered and uncovered pitches, four day against three day matches, the One Day Scene and Twenty/20 - a format with which Mr. Bevan, in particular, had grown rather disenchanted. Inevitably, the famous 1968 Fixture between Glamorgan and Notts at Swansea - a Match in which Don Shepherd had played - received an airing. Interestingly, Edward Bevan told us that the Session of play during which Garfield Sobers hit his six consecutive Sixes was not broadcast live, but in order to allow trainee technicians to hone their art the BBC had allowed the Cameras to roll anyway and thus it was by sheer fluke that this epic slice of history was recorded for posterity.

During the evening Don Shepherd, on behalf of The Society, presented the annual 'Ray Buxton Service to Cricket Award' to Derek Oldman, in recognition not only of his lifetime contribution to the game in general, but more particularly his outstanding efforts over recent years in managing the significant development of both the infrastructure and playing activities of Hundall Cricket Club.
Copyright © 2004-2017 Chesterfield Cricket Lovers' Society and CricketArchive