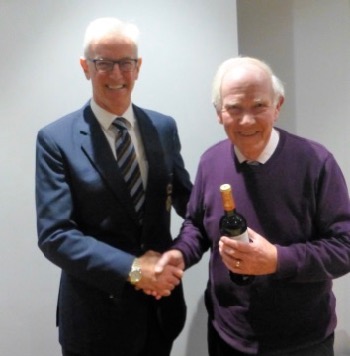 The photo shows Tim with Society President, David Marshall

Photo courtesy of John Windle
VISIT OF TIM O'GORMAN ON WEDNESDAY 20TH NOVEMBER 2019
Another packed house welcomed Tim O'Gorman to speak at the latest Society meeting. Tim, a Derbyshire favourite played for the County between 1987 and 1996 scoring over 5000 runs. He was pleased to be back at Queen's Park where he had scored a century in his last match for Derbyshire. After finishing his playing career he has remained involved in cricket whilst also combining a successful career as a solicitor working in senior positions in a number of top commercial companies. He has been chairman of the Professional Cricketers' Association, and served as a member of the General and Cricket committees of the MCC. Tim was appointed Chair of the ECB Independent Cricket Discipline Committee which dealt with the Ben Stokes / Alex Hales case.

In the first half of the evening Tim spoke on gambling and match fixing in cricket and the wider sporting world. He gave many examples of the betting taking place on elements within matches and the way the authorities were responding to ensure that the game was not being manipulated. The increasing market in betting on cricket was evidenced by the fact that there were £10 million bets on the IPL in the UK alone.

In the second half of the evening Tim spoke about playing for Derbyshire and gave many amusing anecdotes about a time if his life he clearly thoroughly enjoyed. He also answered many questions about his current roles in cricket and was as open as he could be about past cases he had been asked to adjudicate.

This was a very enjoyable evening with Tim projecting his love of the game in a very unpretentious way. He is a modest man who is entirely suited to the current roles he has in cricket.
Copyright © 2004-2017 Chesterfield Cricket Lovers' Society and CricketArchive