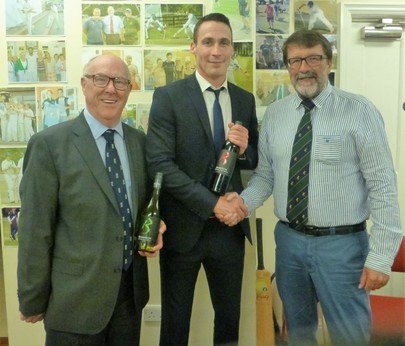 The photo shows Mike Taylor presenting a bottle of wine
to guests, Malcolm Ashton & Simon Jones

Photo courtesy of John Windle
VISIT OF SIMON JONES & MALCOLM ASHTON ON MONDAY 3RD OCTOBER 2016
Simon Jones, the Glamorgan and England fast bowler provided a great start to our 'season' with an engaging insight into his career. The evening was enhanced by Malcolm Ashton, the ex TMS statistician, acting as a skilled and humorous interviewer. A fine 'double act'
Although his father, Jeff Jones was obviously a huge influence on Simon he said he was never pressurised to play cricket as a young boy. When his talent eventually emerged he went on a scholarship to Millfield School and his career developed from there.
Simon also named Rod Marsh as a crucial person in his cricket development, returning from an England Academy training camp run by Marsh as 'a more confident, fitter and focussed individual'.
After a debut for England against India in 2002 Simon was chosen in the Ashes squad to tour Australia later that year. On the first morning of the first Test at Brisbane Cricket Ground he suffered a severe injury, rupturing an anterior cruciate ligament while sliding to field a ball.
He talked at length and with openness about his feelings immediately on realising he had a bad injury and his subsequent rehabilitation. His immense determination, courage and total focus on recovery were evidenced in what he said.
After returning to the England team to play the West Indies in the Caribbean he was then part of the historic Ashes series in 2005. He gave a fascinating insight into the team ethos of that Ashes side, particularly regarding the roles of the captain and coach. He gave praise to Ashley Giles for his role during that series saying he was a vital member of the bowling team yet did not get the same plaudits as the 'quickies'. Simon was very modest about his own contribution of 18 wickets at an average of 21.00 in the four tests he played. Unfortunately an injury during the fourth test was eventually to result in that being his last Test match.
He was genuinely moving about the role his wife and two sons had played in helping him deal with his injuries.
A packed house of over 80 members and guests gave Simon and Malcolm a richly deserved round of applause and agreed this had set a high standard for the season.